Elevate Your Museum's Online Presence with Top-Notch WordPress Themes
In the digital era, establishing a robust online presence for your museum is a breeze with these museum WordPress themes. (And the best part? You'll save a substantial amount of money!)
Redesign with Confidence
Even if you already have a website, consider a redesign as a strategic move. Fortunately, the process is no longer a hassle; in fact, everything is geared towards simplifying your journey right from the start.
Unleash the Power of Themes
These themes come packed with a plethora of features:
Drag and Drop Magic: A powerful drag-and-drop page builder empowers you to craft professional page layouts effortlessly.
Third-Party Plugins: Advanced third-party plugins ensure seamless website functionality. GDPR compliance and WooCommerce support are a given.
Events Calendar Integration: Every museum hosts events, and the Events Calendar plugin is the perfect tool for seamless event management.
Embrace the confidence that comes with having it all.
1. Ozeum | Art Gallery & Museum WordPress Theme +RTL
Embark on your journey into the world of museum WordPress themes with Ozeum. Its clean and attractive design brings the essence of your museum to life online.
Key Features:
Multilingual Support: Ozeum supports RTL, making it a truly multilingual option.
Elementor Integration: Craft beautiful designs effortlessly with Elementor.
Pre-Designed Homepage Styles: Choose from 6 attractive pre-designed homepage styles.
Events Calendar Plugin: Seamlessly manage your events with the Events Calendar plugin.
GDPR Compliance: Ensure your site runs smoothly across modern devices and platforms while adhering to GDPR regulations.
WooCommerce Compatibility: Start selling online immediately with WooCommerce compatibility.
2. Kicker | Arts Museum WordPress Theme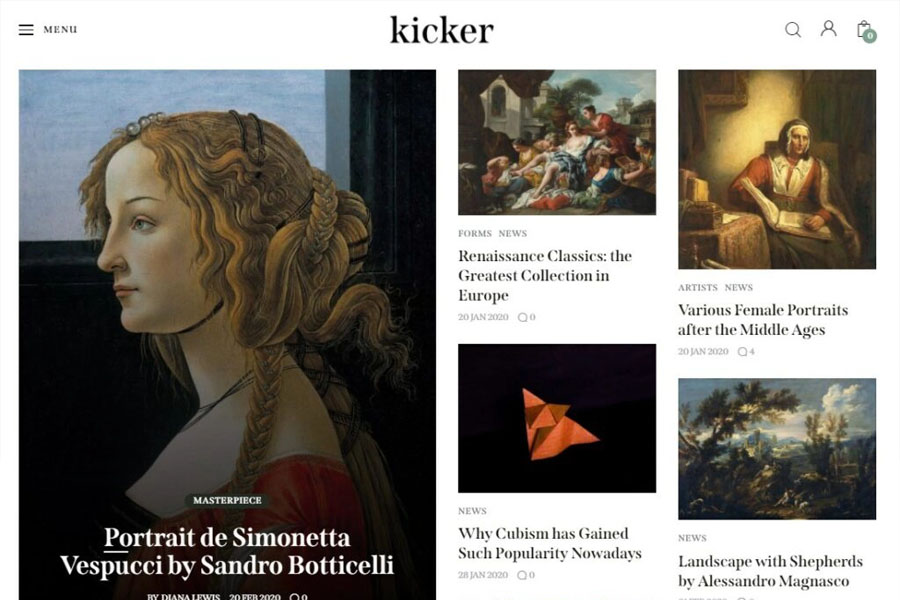 Opt for Kicker, and you'll experience nothing but the best. This premium WordPress template boasts lightning-fast loading speed for optimal performance.
Standout Features:
SEO Optimization: Built with SEO in mind to improve reach and elevate your site to the top.
Gutenberg Editor Compatibility: Optimized for the Gutenberg editor for added convenience.
Elementor Integration: Craft stunning designs effortlessly with Elementor.
WooCommerce Support: Increase reservations online with seamless WooCommerce support.
Ready-Made Websites: Access 25+ ready-made websites for easy installation and customization.
3. ConFix | Expo & Events WordPress Theme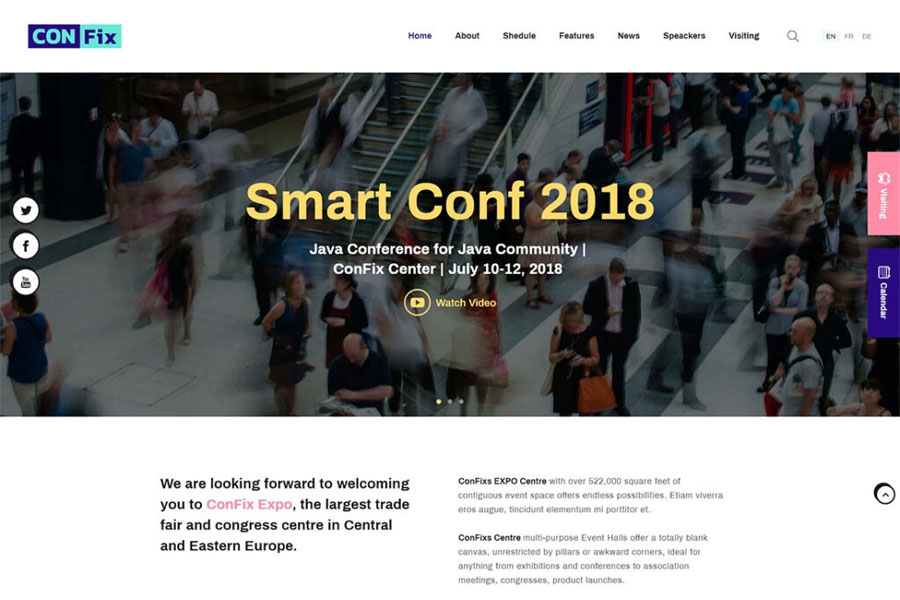 Build a website you'll love with ConFix, tailored for exhibition centers, art galleries, or museums.
Highlights:
SEO-Centric Design: ConFix is crafted with SEO in mind to dominate search results.
Elementor Integration: Simplify page creation with Elementor.
Events Functionality: Easily arrange your events hassle-free with the built-in events functionality.
GDPR Compliance: Aligned with the latest GDPR rules for a smoothly running website.
4. Crown Art | Drawing WordPress Theme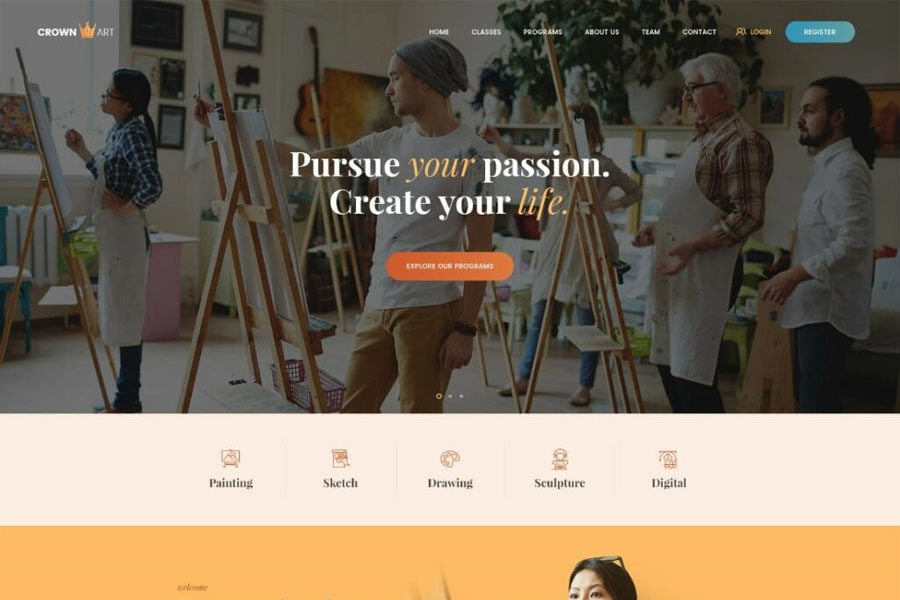 Crown Art is a stellar museum WordPress theme with a clean layout that reflects the uniqueness of your establishment.
Noteworthy Features:
Fully Responsive: Ensure your school site shines on all modern mobile devices with a fully responsive layout.
Events Calendar Integration: Keep users informed about news and events with the Events Calendar plugin.
WPBakery Compatibility: Create unlimited page layouts with WPBakery.
WooCommerce Support: Monetize your website effectively with WooCommerce support.
5. OsTende | School of Arts & Theater WordPress Theme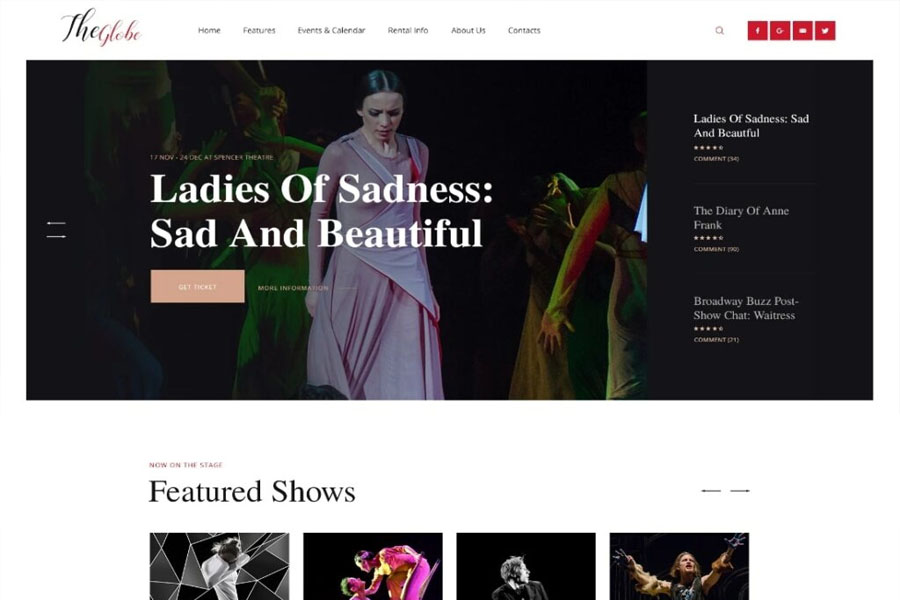 For a successful museum website, consider OsTende. Ideal for theater or museum websites, art agencies, or other entertainment projects.
Key Points:
Elementor Integration: Craft pages effortlessly with the powerful drag-and-drop capability of Elementor.
Events Calendar Integration: Display upcoming events seamlessly with the Events Calendar.
Class Notifications: Notify users about events, workshops, class details, and more with handy Classes.
WooCommerce Support: Allow users to make reservations and buy tickets online with WooCommerce support.
6. Kings & Queens | Historical War Medieval Reenactment WordPress Theme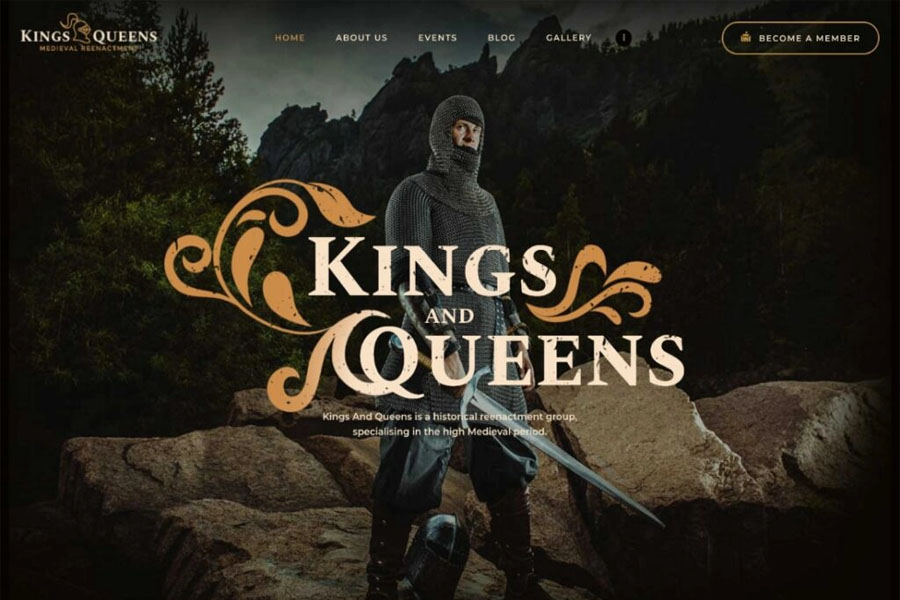 Create a stylish and sharp website with Kings & Queens, perfect for historical recreations, museums, or theaters.
Standout Features:
Essential Grid Power: Arrange your galleries effortlessly with the power of Essential Grid.
WooCommerce Compatibility: Sell products online seamlessly with WooCommerce support.
Events Calendar Integration: Manage and display events with ease using the Events Calendar.
Multilingual Support: Translate your website into any language with ease.
In Conclusion
The quickest way to establish your museum's online presence is by opting for a premium WordPress theme. With numerous options available, we've curated the best museum WordPress themes to save you time.
These themes provide an excellent starting point as you enhance your online presence. Capture the passion of art, history, and heritage enthusiasts and make it your mission to entertain them.
Sponsored Content