All of the top quick loan WordPress themes for your lending firm can be found here. All of the themes have a stunning look and several modification possibilities, making website creation easier than ever.
Life is truly full of surprises. Some of them are pleasant, while others are not. Modern civilization takes every attempt to mitigate the effects of ill luck. As a result, we may observe a rapidly rising insurance and money credit businesses that promise to be our life's airbag on the bumpy and arduous road ahead. You feel much more protected after you have a solid insurance package. However, as the insurance industry grows overloaded, we don't know which one to trust with our money and health.
This condition complicates the life of financial specialist salespeople even more because there are less opportunities to impress a customer. You must be credible and effective, sharing the most appealing and inspirational information that will relax your potential customers and allow you to create genuine connections with them.
It may appear challenging, but with serious objectives and a premium WordPress theme, you will achieve your big entrepreneurship breakthrough. Choose a template that is tailored to your finance niche's unique needs. These themes provide all of the necessary features, such as loan calculators, price tables, and several plugins for scheduling. Today's most popular and best WordPress themes are all about rapid loans and finance, and they'll help you develop a successful online business in 2022. It will assist you in effectively promoting your organization online from the very beginning.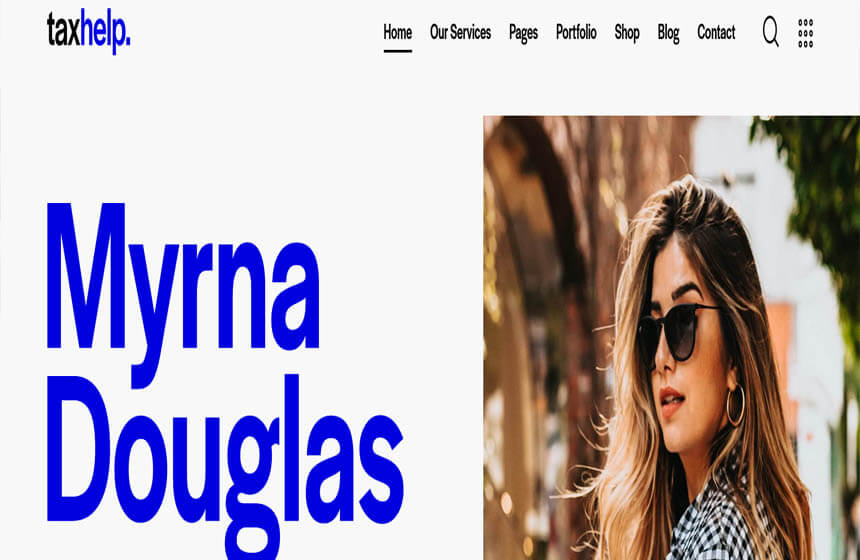 Tax Help The WordPress theme is a professionally developed web design solution for financial and legal firms, individual financial adviser agencies, and accounting company bureaus. The Elementor page builder is used to create the theme and allows you to make rapid adjustments to any pre-designed page or layout in a code-free environment. The theme supports WooCommerce and allows you to create a conversion-optimized online resource without having to spend on additional design or functional aspects. The Elegro plugin is entirely compatible with the theme, allowing your consumers to pay for your services using cryptocurrency.
QuickLoans | Loan Company WordPress Theme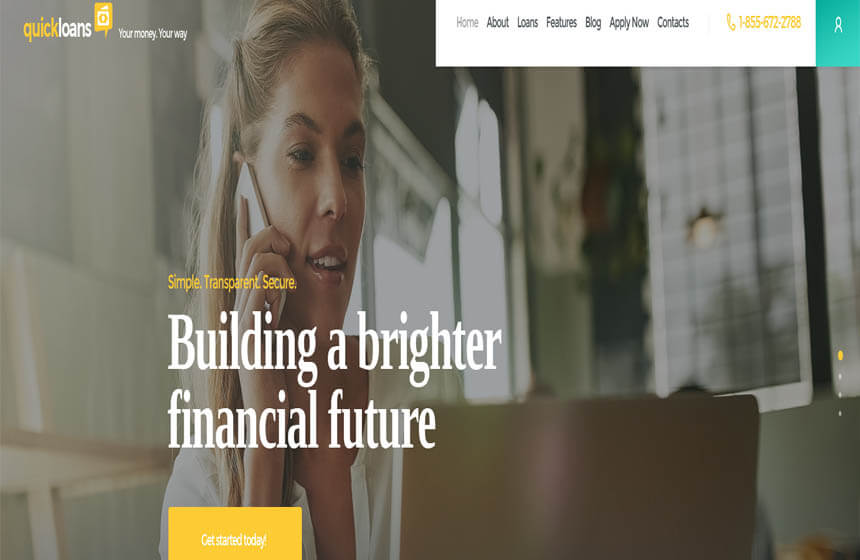 QuickLoans was created specifically for lending companies, with unique features to meet their unique requirements. It comes with a drag-and-drop website builder so you can simply customize the design of your website. You also receive three HomePage layout alternatives, which come in useful for individuals who are pressed for time and require a fully functional, professional-looking website right away. More than half of all Internet users use their mobile devices to browse the web. You'll get cutting-edge mobile performance with Retina Image Support and the mobile-friendly functionality. A clever Ajax search displays results while typing the request in the search field, saving you and your visitors time. Today's expert are recommend always most popular WordPress themes.
Quick Cash | Loan Company & Finance Advisor WordPress Theme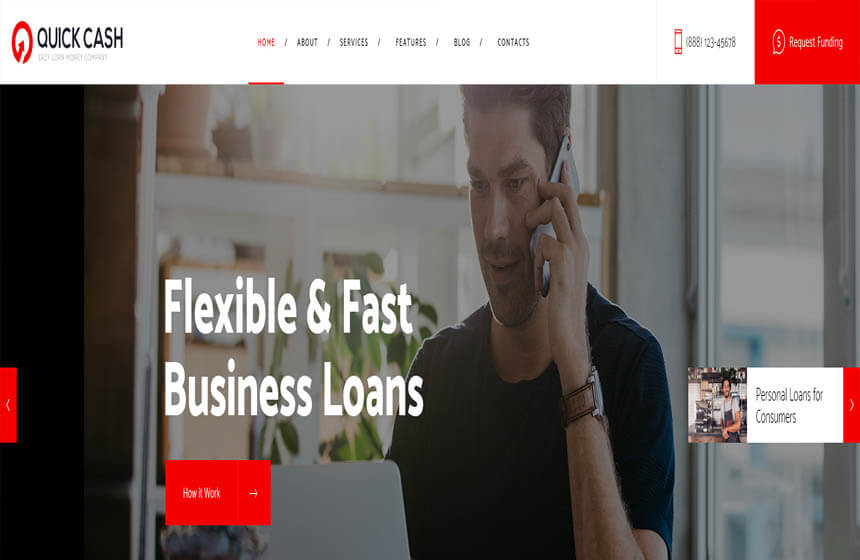 Developing a financial website necessitates the use of certain web technologies as well as a serious approach. This template was created by Envato Power Elite Author. You may be confident that you'll have everything you need to create an efficient web marketing campaign for a loan business, broker, loan adviser, or tax aid agency. It includes a loan calculator and a payment information form, which cater to the niche's special demands. You may utilize pre-made layouts or use the WPBakery page builder to create your own and customize the appearance to your liking. The template is also HTML5 and CSS3 coded, making it simple to interpret for the most prominent search engines.
Furthermore, you have the option of creating a blog of any complexity and design.
You can also track article views and manage likes and sharing buttons with sophisticated blog settings.
 These factors will aid in the development of a relationship between you and your consumer.
Insurance Agency & Business WordPress Theme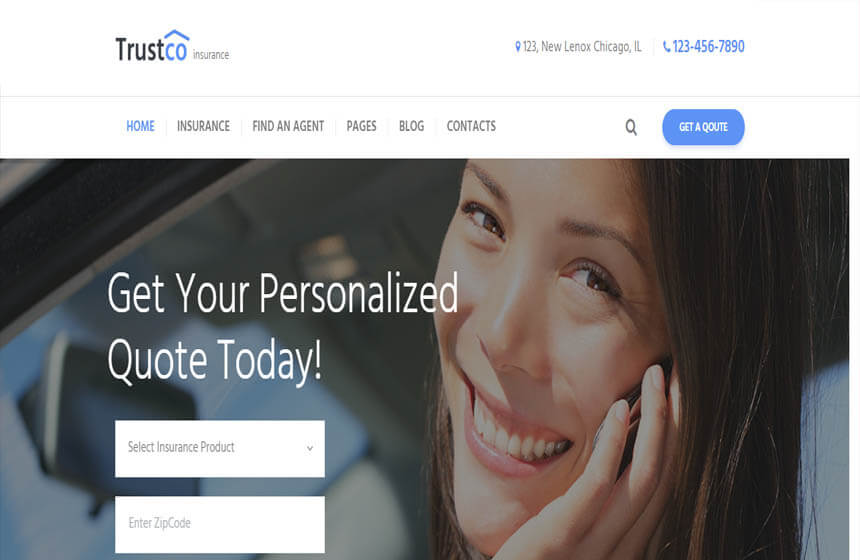 In the insurance sector, you must demonstrate high levels of professionalism and dependability; otherwise, you will fall behind your competition and your agency will go ignored. Take good care of your web presence if you want to avoid a sad conclusion to your business. Choose a simple, easy-to-install, and navigate design with a variety of modification features to create a stunning online business card for your company.
This theme includes the WPBakery Page Builder, which provides a wealth of possibilities for building and updating pages without the need for coding knowledge. You also receive a massive shortcode library, including components like Content Slider, Video List, Scroller, Timeline, Testimonials, Team, and Google Maps, to name a few. Your visitors will obtain search results while typing using an interactive Ajax Search method. As a result, you may demonstrate that you value your visitors' time and strive to resolve their difficulties as quickly as feasible.
ShieldGroup | Insurance & Finance WordPress Theme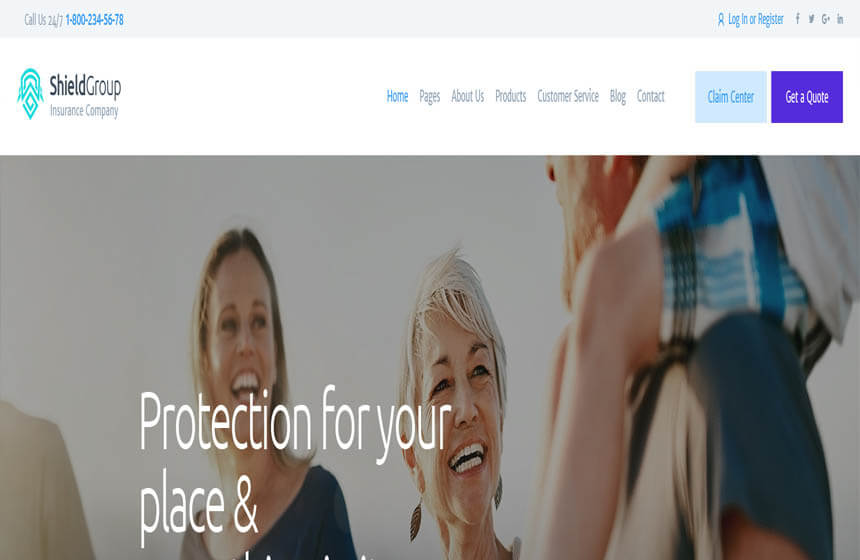 ShieldGroup is a fantastic WordPress theme with a smart style that promotes a sense of trust and expertise. Drag-and-drop functionality is one of its main advantages, which means you may use a precise page builder to create a unique website design. This template features a well-structured HTML code that complies with all recent search engine requirements. Your visitors will discover all the information they need with features like Sticky Menu and MegaMenu. The MailChimp plugin is also supported by the ShieldGroup theme. Even though the template customization procedure is code-free, you may have questions during theme administration, which is why you get a package of template documentation and free help. As a result, there are no more justifications for delaying the creation of your insurance website.
Cash Bay | Loan & Credit Money WP Theme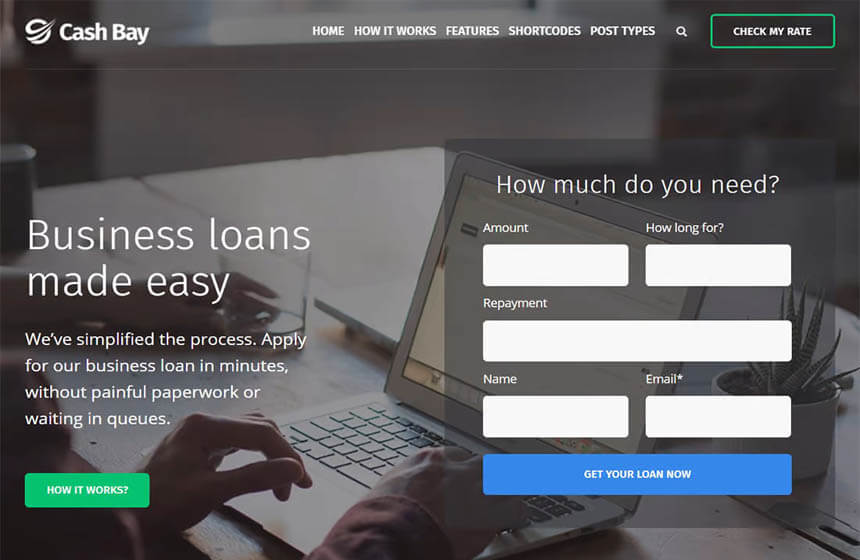 Cash Bay is a bright, clean, and minimalist design with the ideal set of features for an online loan company. A highly customizable template skin allows you to advertise your services in a number of ways. Use a collection of beautiful Portfolio Types and Blog Layouts to increase your SEO by delivering helpful and engaging content. Your clients will save time by utilizing a Loan Calculator to apply for loans using a simple web form. Get over 99 shortcodes and construct content blocks in a fun way. Furthermore, all of the material is organized into categories that you may manage and emphasize the most important.
Cash Bay is also plugin-friendly and compatible with the most common plugins. As a result, you may instantly improve the functioning of your website. With Cash Bay, you may get a quality WordPress development.
Autema | Quick Loans, Bitcoin, Business Coach and Finance Consulting WordPress Theme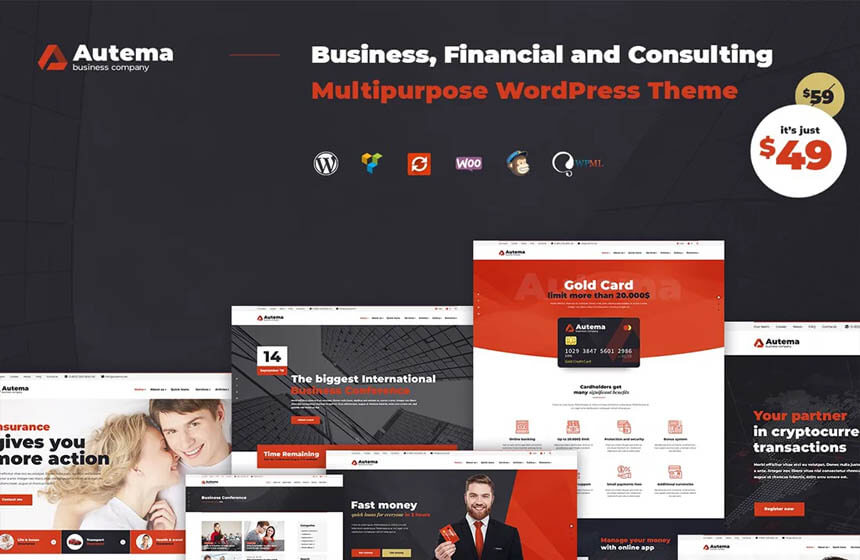 Using the Autema template's cutting-edge capabilities, you can create an amazing design in no time. This is a multi-purpose web solution that includes over six demonstrations and over 32 inner pages. View a video lesson on how to set up the demo. We'll give you a hint: the demo import procedure just takes one mouse click. You may sell your products and services online with this template. Because a Multi-level menu improves the navigation capabilities of your website, your customers will have no problems utilizing it. Create an Event Calendar and inform your clients about the next business conference or financial lecture. It also includes over 20 bespoke WPBakery Page Builder elements that you can drag-and-drop to customize.
A basic color customizer along with Google fonts can assist you in emphasizing your brand's ideology.
Borrow – Loan Company Responsive WordPress Theme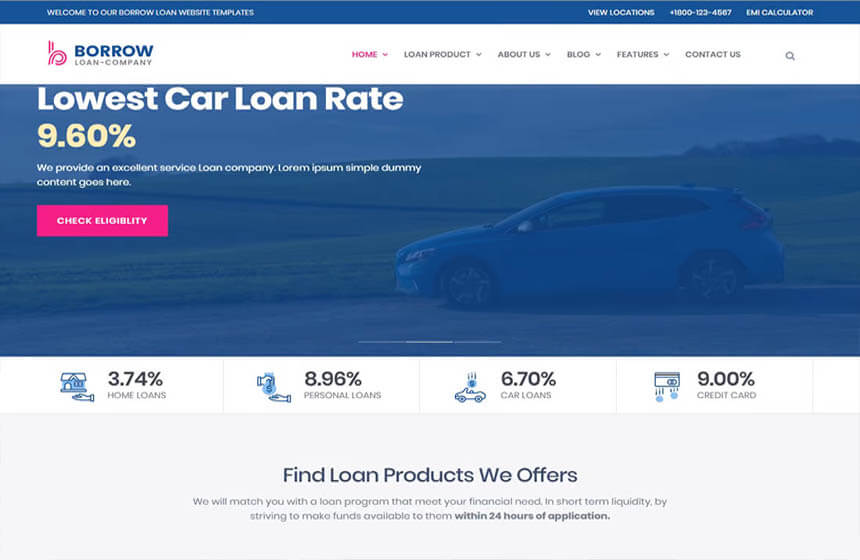 Do you own a small lending agency and wish to expand your reach online? Then select Borrow to showcase your services in the greatest possible light. It features a professional and responsive design that promises to provide you the best online performance and assist you in accumulating a large number of likes, shares, and positive feedback. It also includes tools like the Loan and Amortization Calculator and the EMI Calculator, which allow your clients to quickly calculate their needs.
It also includes three homepage layouts, as well as Contact Us, Location, Loan Compare, and Loan Details pages. The theme is also built with a solid and clear HTML code that is readily legible and Googlebot-friendly. You may also make it appear more committed and individualized with the simple page builder. This design also features a stunning parallax scroll effect for your visitors to enjoy. Enjoy the responsiveness and efficacy of a Borrow template by importing all of the demo material with one click.
Payday Loans | Banking, Loan Business and Finance WordPress Theme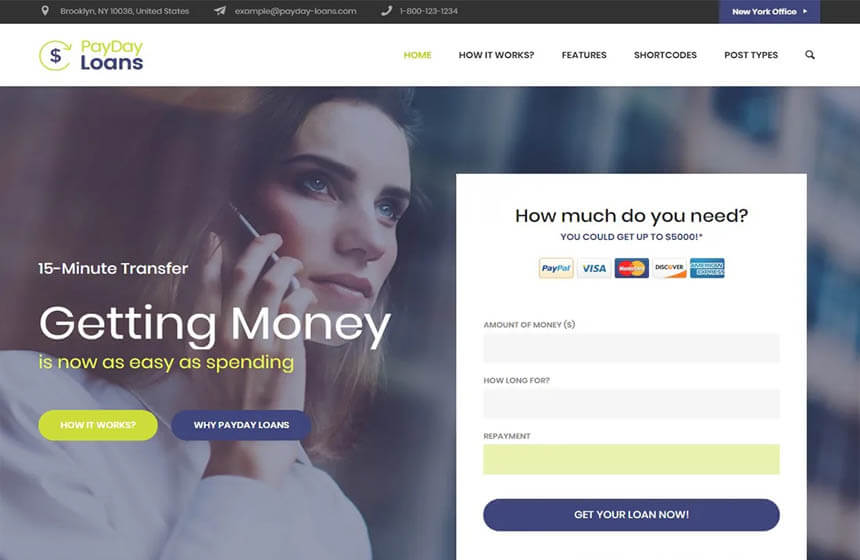 Make a stylish contribution with your cash payday loan services. The Payday Loans theme has amazing calculating features that will wow your clients with their precision and ease. It contains all of the necessary specialty features as well as a stunning template design. This theme includes the Layer Slider and Revolution Slider plugins; the greatest thing is that you get both pricey plugins for free.
Make your website stand out by using Google fonts. You can squeeze a lot of useful information into your sidebars, so make the most of it. You can develop a one-page website if you don't want to deal with numerous pages of customizing. The key to your success is valid HTML code, and this template comes with an optimized structure to avoid any search engine ranking issues. Payday Loans provides premium help via personal tickets, which is great news for folks who aren't experienced with web design.
BiziPress | Finance & Insurance WordPress Theme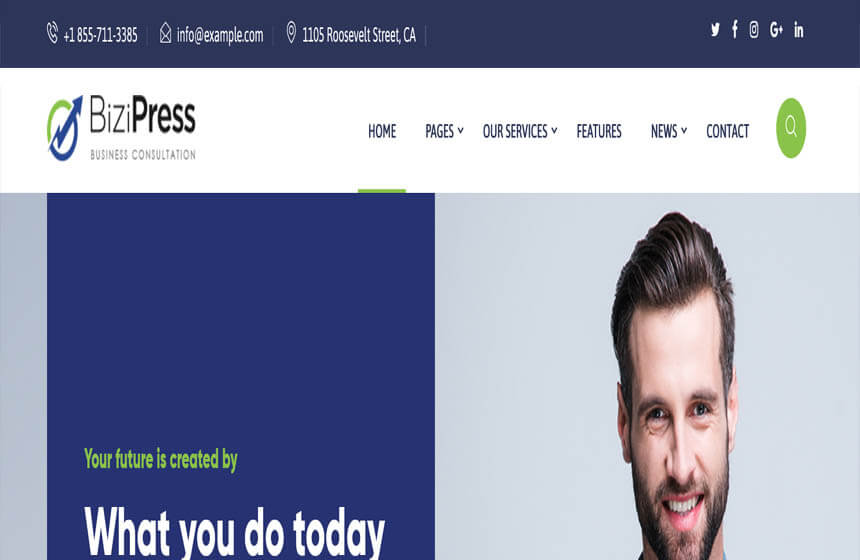 BiziPress is a top-level WordPress template designed for financial and insurance firms. Because this template offers the maximum speed performance, your hurrying clients will remain calm and happy. It also allows you to play with with colors, styles, and header and footer choices. You'll receive cutting-edge functionality since you'll get a number of bespoke widgets with this theme, including BiziPress Recent Post, BiziPress Contact, BiziPress Social, and Services Menu. A MegaMenu plugin will streamline website navigation so that your customers can always access the information they need with minimal effort. You may structure your information in a flexible, code-free fashion using Visual Page Builder. Furthermore, BiziPress is built with high-quality HTML5 code, so you can count on its responsiveness and efficiency.
The Finance | Payday Loans, Finance and Business WordPress Theme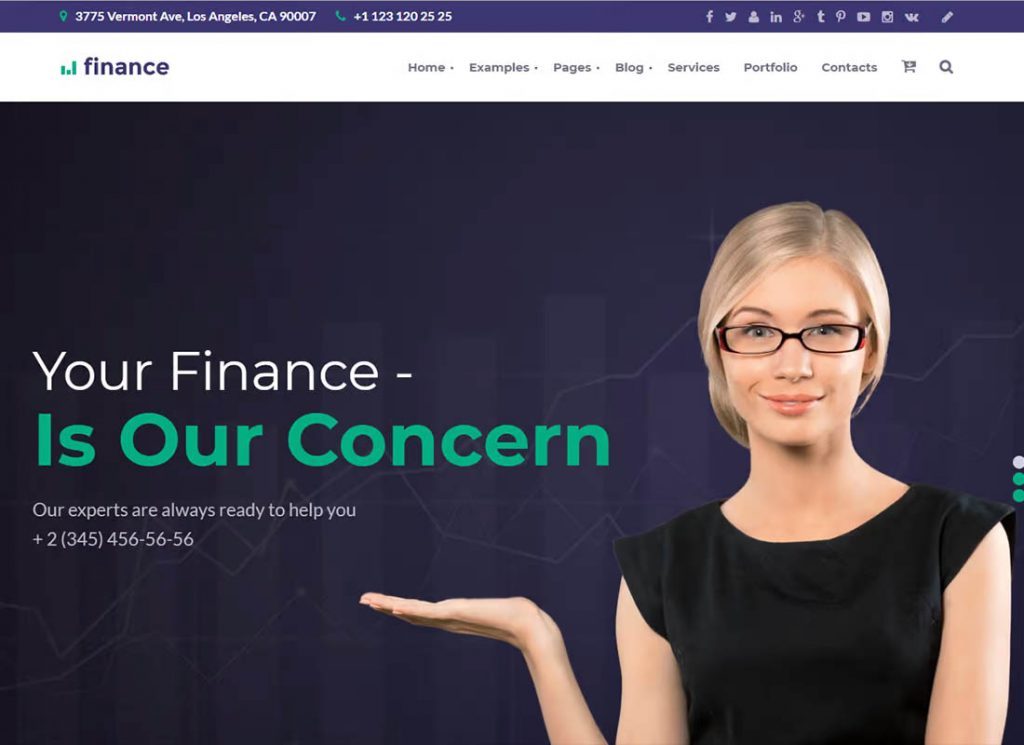 The Finance is a highly configurable and responsive WordPress template designed for financial institutions of all types. It combines the expertise of experienced web designers and developers with strict adherence to the needs of specialty representation. The mobile-friendly and responsive design adapts to any device and gives visitors with a quick loading time. This design has three homepage layouts and seven header variations, all of which can be customized using a simple drag-and-drop builder. You may organize your sidebars, alter the background, and establish a slider for each page using its advanced page options. It also comes in an infinite number of color combinations, allowing you to create the perfect look for your company. Choose this SEO-friendly design to easily grow your customer base.
Quirky – NFT, Token & Blockchain WCFM Marketplace WordPress Theme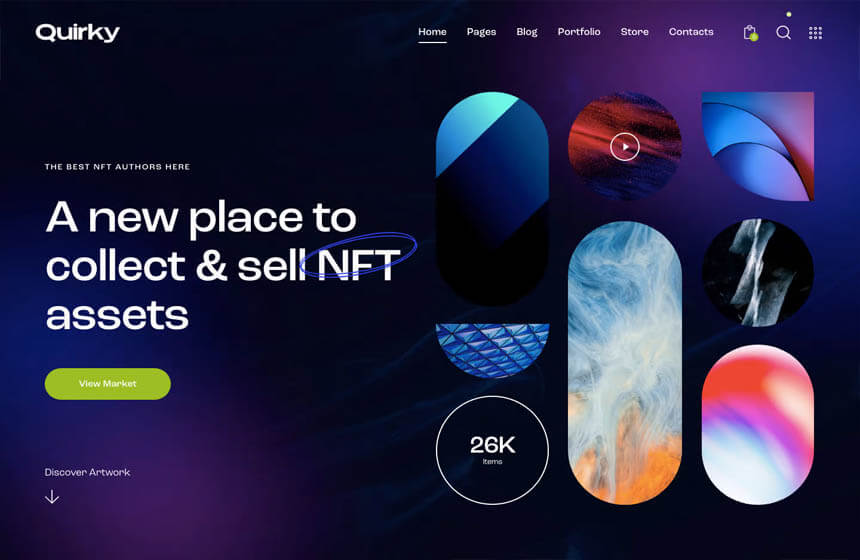 Use the Quirky WordPress theme as a jumping-off point for your cryptocurrency, token, or blockchain website. It's a flexible, multi-functional web design solution with five beautiful homepage samples. NFT marketplace, NFT artist, NFT collection, marketplace landing page, and artist portfolio websites all have ready-to-go homepages in the theme. It was created using the Elementor page builder, which allows you to make rapid modifications to the theme's layout using drag-and-drop. Many interior pages and ready-made layouts are traditionally supplied. The theme has been designed to look great on both desktop and mobile platforms.
Sponsored Content