With Amazon and other online book retailers gradually taking over the publishing world and bookstores collapsing left and right, it's safe to say that now is the best moment to take your bookshop online. Due to rising costs, only a small percentage of present local bookshops will survive, whereas Amazon and others are lowering prices to the bare minimum.
Amazon has forever altered the perception of bookshops, and you should capitalise on this e-commerce craze by opening online bookstores to offer hardcover and e-books. While many experts believe that the iPad, Kindle, and other tablets and e-readers will eventually replace hardcover books, many others believe that physical book copies will always hold a special place in people's hearts.
We've decided to compile a list of the best bookstore and e-book selling themes today. The majority of these themes use WooCommerce, however there are plenty of additional e-commerce options for WordPress.
We are confident that you will find the theme you have been looking for to help you take your business to new heights of success.
Without further ado, let's take a look at some of the greatest bookshop WordPress themes available right now.
Best WordPress Bookstore Themes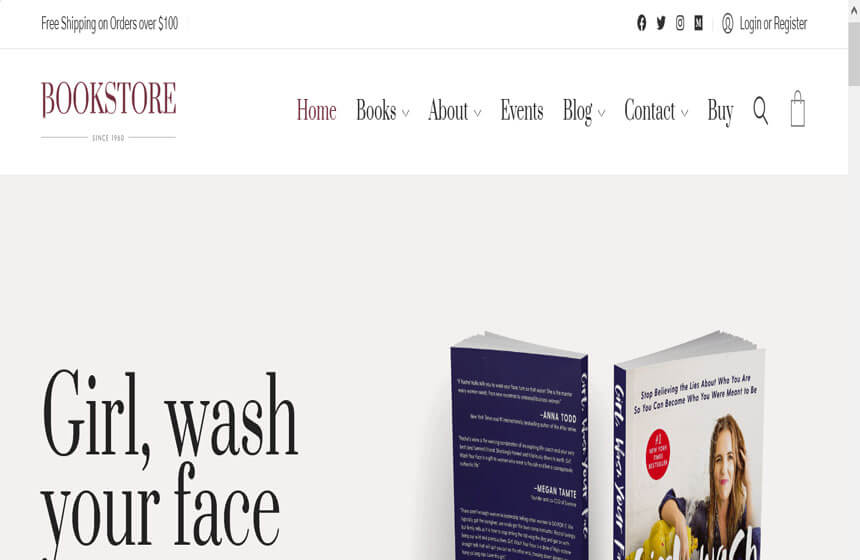 Do yourself a favor and check out the excellent Kalium, whether you're an author or merely a bookseller. You may get started on the web sooner rather than later with this WordPress bookshop theme. Let's face it, Kalium allows you to avoid doing most of your work. It includes everything you'll need to get a new website up and running quickly. It's a multi-purpose tool for creating almost any page you want.
Kalium also includes a drag-and-drop page construction feature that opens up a whole new world of possibilities. WPBakery page builder will come in helpful, especially if you don't know how to code.
Revolution Slider, ACF Pro, RTL support, great performance, and a 100 percent responsive layout are among the other features. Kalium is also available in 16 languages, though it can yet be translated into other languages.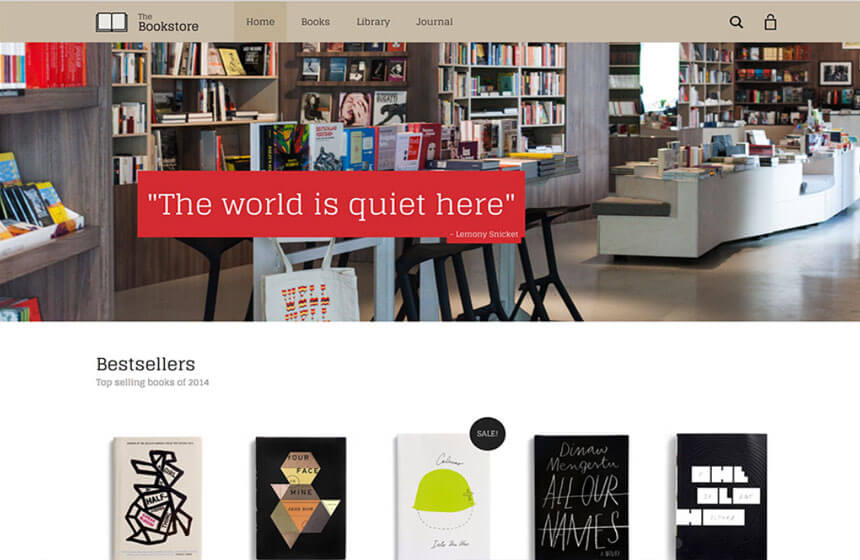 Aurum is a modern WordPress bookshop theme that makes shopping easier for visitors. The UI is very intuitive, making it simple to use and instal. Aurum, like many commercial themes, includes the popular WooCommerce plugin, which allows you to create an attractive online store. This is a versatile theme that may be used in a variety of circumstances. It can also be used to improve the websites of online stores, bookstores, boutiques, electronics stores, jewellery and apparel stores, and other similar businesses.
It comes with numerous pre-built website versions that look amazing right out of the box, but if you want to customise your own skin, you can do so with simplicity. There are now four demo variations for this theme, with more to follow in the future.
The attentive and willing personnel make this bookshop theme's support system genuinely stand out. You should not be afraid to inquire, regardless of the topic of your query. Also, take a look at the extensive theme documentation, which can really help you understand what's going on.
Aurum can now support multilingual plugins, making your content and products more accessible to a broader audience. It offers RTL support for Hebrew and Arabic, among other languages.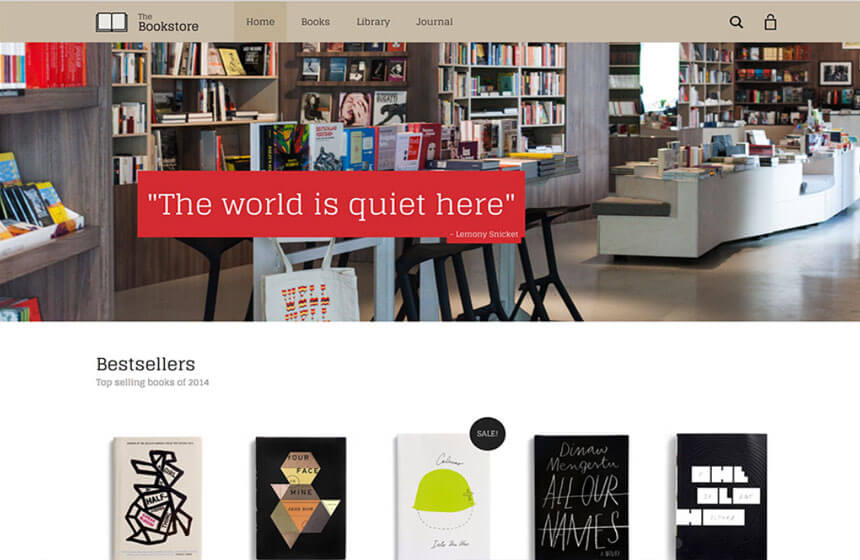 ChapterOne is a beautiful WordPress bookshop theme with six ready-made demos for your brand new project. And if you're rebuilding an existing website, go for it with ChapterOne's eye-catching and gorgeous design. The web design is incredibly pleasant to the eye, ensuring that all of your books and publications are displayed in the finest light possible. ChapterOne is also responsive and mobile-ready, ensuring consistent high-quality performance across all devices. Every ChapterOne user will also have access to a slew of other features that will ensure a quick and outstanding launch of a bookshop website. Everything is included, including index and internal page layouts, shortcodes, configurable backgrounds, header styles, smooth scrolling, and social sharing. Make the books you'll be selling online sparkle and find their way into the appropriate hands.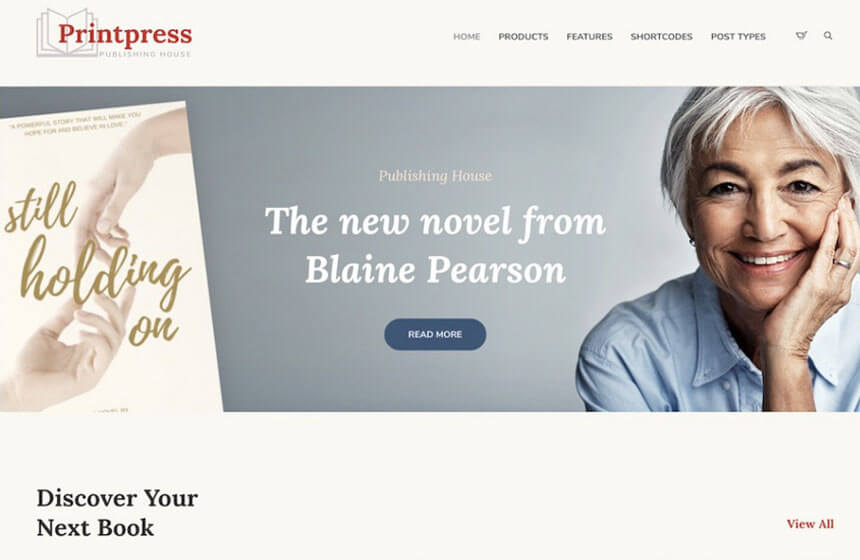 Printpress is the WordPress bookstore theme to consider if you want to sell books online. Stick to a resourceful theme and enjoy easy page execution instead of undertaking all the hard work from the ground up. Sometimes all you want to do is take a smart and strategic shortcut that allows you to create your dream website in a flash. And that shortcut is Printpress, which is both wonderful and impressive. It takes care of everything, so you can just mix and match what's available and call it a day.
Custom shortcodes, animations, form builder, mega menu, colour management, and portfolio layouts are some of the other features that will come in handy. Get some traction going right away and your book sales will skyrocket.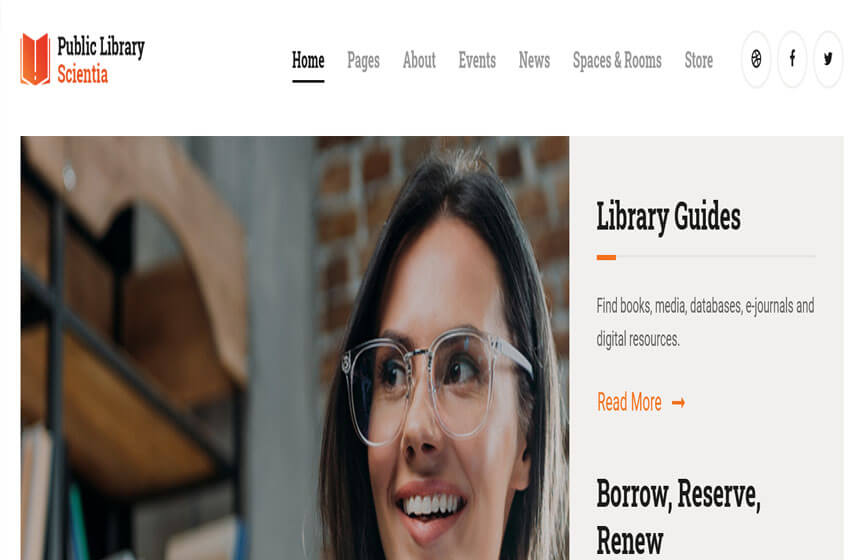 Scientia is a multi-purpose library and bookshop WordPress theme that may be used by anyone. To put it another way, you don't need any prior knowledge with page creation to make it work. With Scientia, you'll need to put in very little effort to produce a top-notch end result that will move mountains. Keep in mind that if you keep to the out-of-the-box look, you'll be done in minutes.
Scientia includes WPBakery page builder, Slider Revolution, an online booking system, donations, an events calendar, and a variety of other unique features. Everything, including the header and footer sections, can be customised. Introduce social sharing, develop a captivating blog, and watch your new bookshop website expand steadily.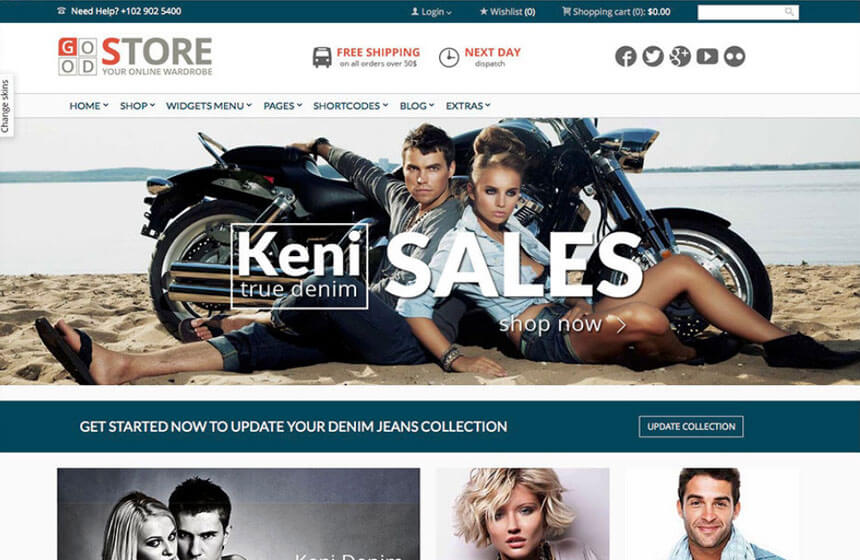 GoodStore is a dynamic and fully responsive bookstore WordPress theme with all of the features and settings you'd expect from an e-commerce site. It integrates with WooCommerce, allowing you to create a fully working online store. You may also make attention-getting slideshows and presentations with Revolution Slider.
This theme also includes Ads Management, which includes eight default locations, ad placement between posts, and advanced layout choices. For your e-commerce website, GoodStore delivers a solid and responsive foundation. Although this theme does not include books, it can be used to sell any tangible items, such as books and other printed materials.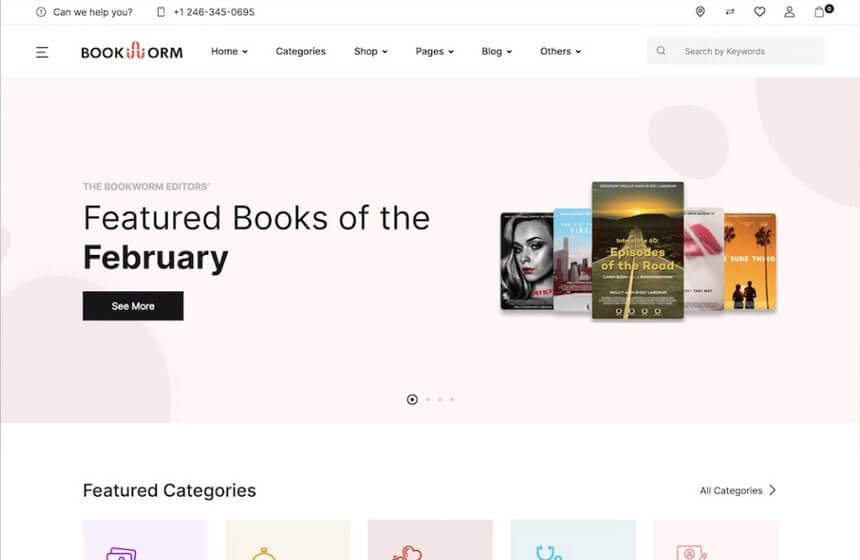 Bookworm is a WordPress bookshop theme that includes thirteen different houses as well as all of the essential internal page layouts. There are also seven distinct product pages and three different blog templates to choose from. Bookworm also includes different headers, Gutenberg compatibility, author pages, and more than thirty customisable blocks. While you can use the example as is, you can easily customise it to your preferences.
There's more to come. A slider, top bar, weekly promotions, new releases, email subscription, and social media icons are all included in Bookworm. You can also fully localise the experience by translating the theme. Begin with a bang and never look back.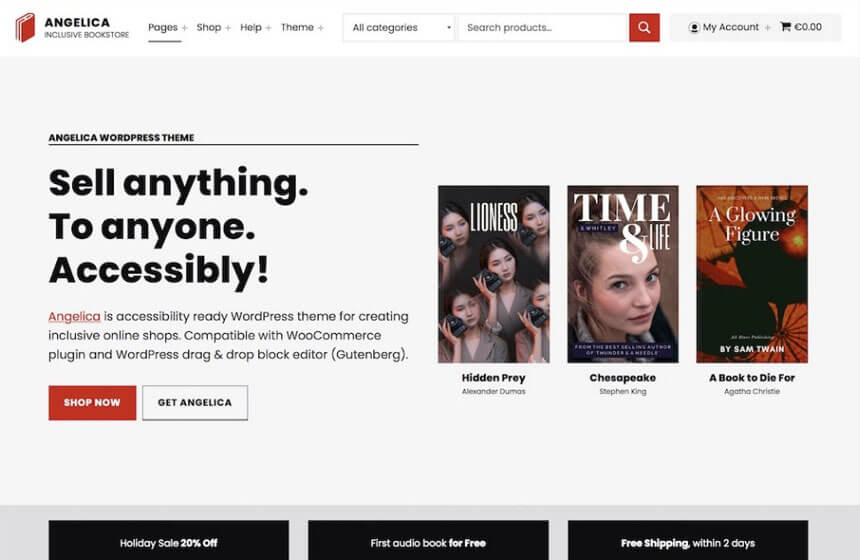 Angelica is a highly customizable and extendable WordPress theme for an accessible bookstore. If you're looking for a quick eCommerce fix, Angelica is the way to go. This web design provides you with a variety of index and internal page layouts. You end up with a magnificent online bookstore whether you mix and match the existing items or style it further.
Angelica's layout is designed to operate well on both mobile and desktop devices. Everyone will have a great time looking through your items thanks to the fantastic experience. It's also compatible with all of the common plugins for pushing things to their limits.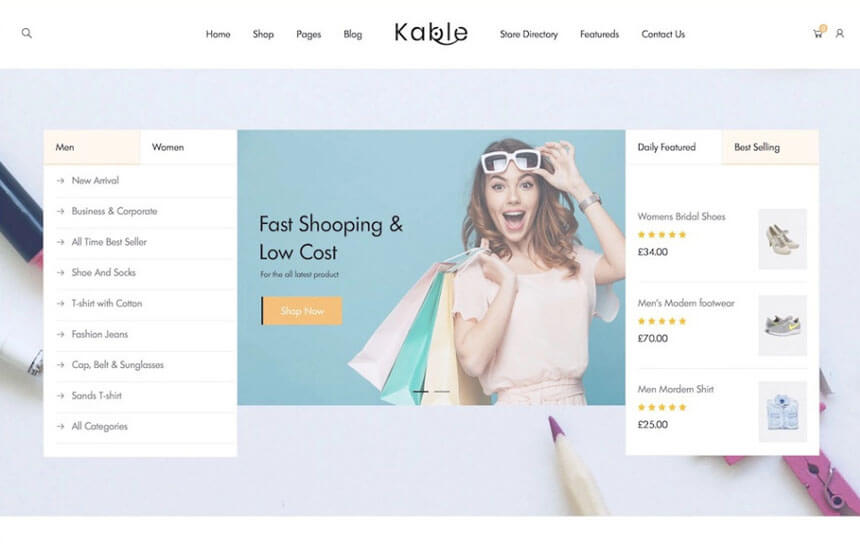 You'll notice that Kable isn't entirely focused on books out of the box, but that doesn't mean you can't use it to create your own online bookstore – you certainly can! Because of Kable's tremendous customization, you can make it into any WooCommerce-powered website you desire. And it's quite straightforward – even ideal – for someone who has never constructed an online store before. If you will, call it a user-friendly and beginner-friendly tool. There's only one rule: go into the process of creating a page with an open mind.
Kable comes with a variety of header and top bar designs, as well as Slider Revolution, a drag-and-drop page builder, boxed and full-width modes, cool parallax effects, and a slew of custom eCommerce capabilities. To summarise, if you want to sell books online, avoid starting from scratch and instead use Kable.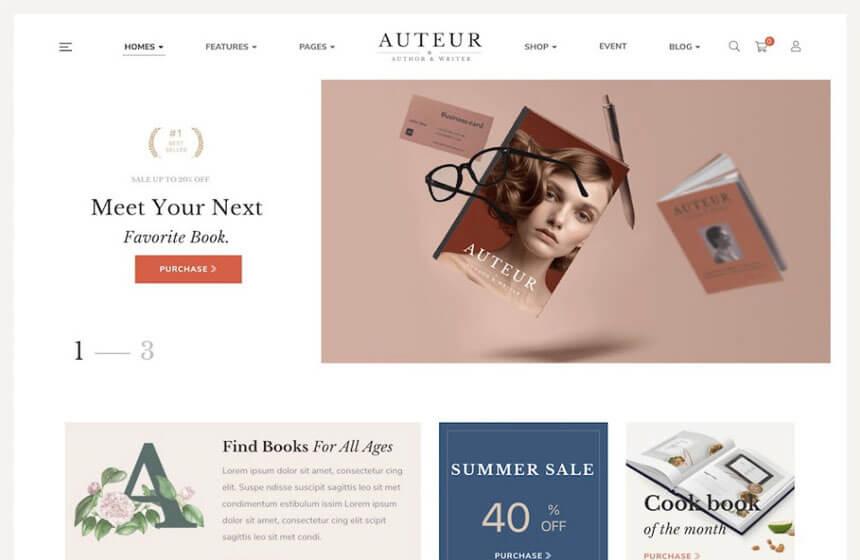 Auteur is a WordPress theme that caters to authors, critics, and even bookstores. This theme includes four stunning demos, all of which are unique, creative, and mobile-friendly. It's no secret that Auteur follows all of the modern web's current trends and rules. With this in mind, a website built on Auteur will function flawlessly at all times, regardless of the device or platform used. Furthermore, Auteur is SEO-friendly and fast-loading. With this theme, you'll be all ready to get things rolling right away like a pro.
Extra Auteur features ten blog and three shop layouts, the WPBakery drag-and-drop page builder, mind-blowing slideshows, more than 30 pre-made shortcodes, Contact Form 7, and a mega menu. You can always contact Auteur's support staff or look through the full documentation for further information.
Sponsored Content