Sometimes, making use of your photography online presence (website) to express your personality are not realistic. Perhaps this is because you cannot just do things anyhow, you want; there are policies that you must adhere to.
With this stated, employing the use of innovative WordPress themes for photography would be your best option. These WordPress themes were designed to fit into the latest standards of website design, and they give room for the addition of characters to your website from the day you start using them. The brain stress attached to coding is also removed when this method is adopted. In today's world, you can easily speed up the process of your site development, and fill in the things you want without any delay.
Bearing in mind how viral mobile browsing has gone in the present age, it is imperative to pay attention to responsiveness. You must ensure that your users receive enough level of care from you. They should not have to go through the old method of pinching and zooming to find their way around your website. You can arrange your features in the order of the current trends, using the perfect images. All of these would present your users with a good browsing experience.
The best Photography WordPress themes are listed below. Is your interest selling photos? You can absolutely do that! Want to wow every user who visits your website? Read along while we explore the "how" to achieving this.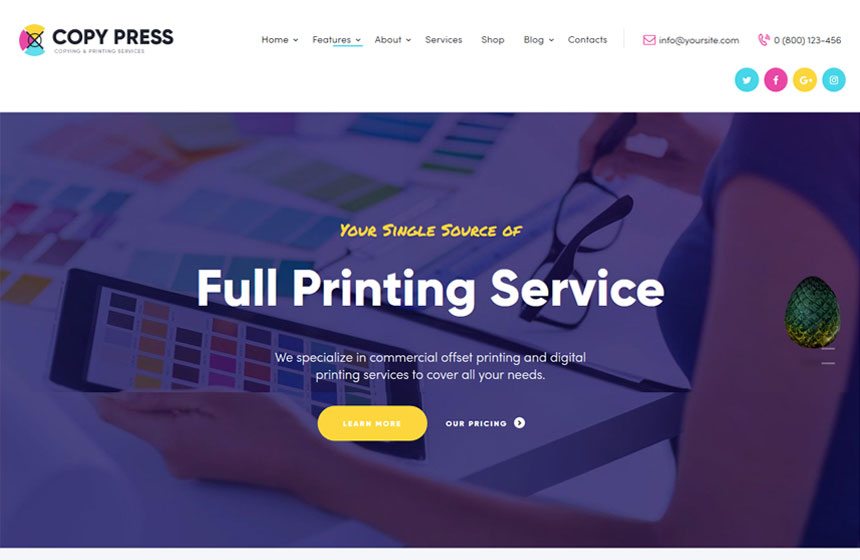 One crucial thing that you must not omit while building a photography website of your own (particularly your first), is CopyPress. Humans are known to almost always judge a book by how the cover looks. It is the exact way your audience or visitors to your website will make an inference on your photography business by the look of your photography website. CopyPress is second to nothing in photography services website. It is modern, clean and elegant, and it is the perfect aid.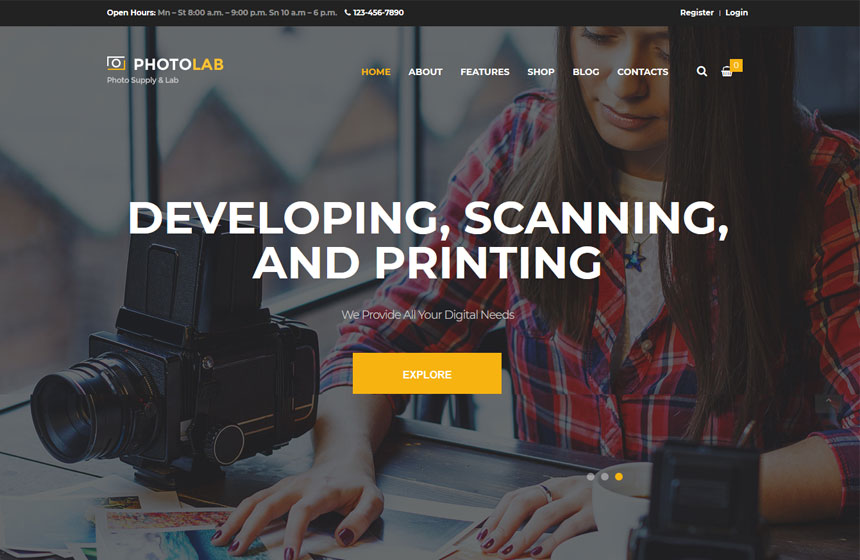 PhotoLab is not just awesome because of its name; it has amazing features, which are the reasons for the fame it has. You have probably opened some websites before, and realized that you just love them, and want to read every single thing that is posted on them. That is the kind of experience that PhotoLab would give to any visitor that checks your website. Ready-made pages for your use exist on this photography theme, and what they do is to engage your visitors such that they just want to keep navigating through, checking and reading/viewing all what is displayed on your photography website. As a result of this, individuals across different levels and sectors of life will have an affection for your business. They will read more about you and the things you offer.

Forms for getting more details about your visitors are also available on this theme, so that you can always connect, and stay in touch with whoever visits your website. The photography industry has very tough competition today. So, you definitely do not want to joke with anyone who visits your website, not even by a mistake.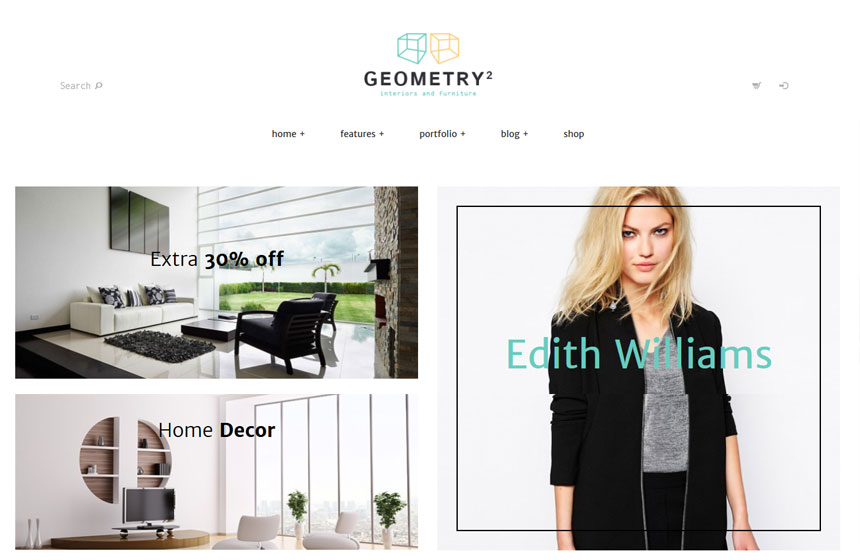 You should make use of Geometry when designing your website, it is one of the best themes there is in photography WordPress. Geometry is outstanding, it does not matter if you are an architecture, home service, or construction specialist. There are beautiful already designed layouts to select from for your homepage. Isn't that a better way compared to coding; where you have to put your brain to a lot of work? Why not save the time you will spend on coding by using photography WordPress themes? That way you can have more time to sort out many other things that require high level of attention.
Impress whoever visits your site by making use of WordPress photo gallery themes like Geometry, which uniquely allows you display your portfolio grid by grid.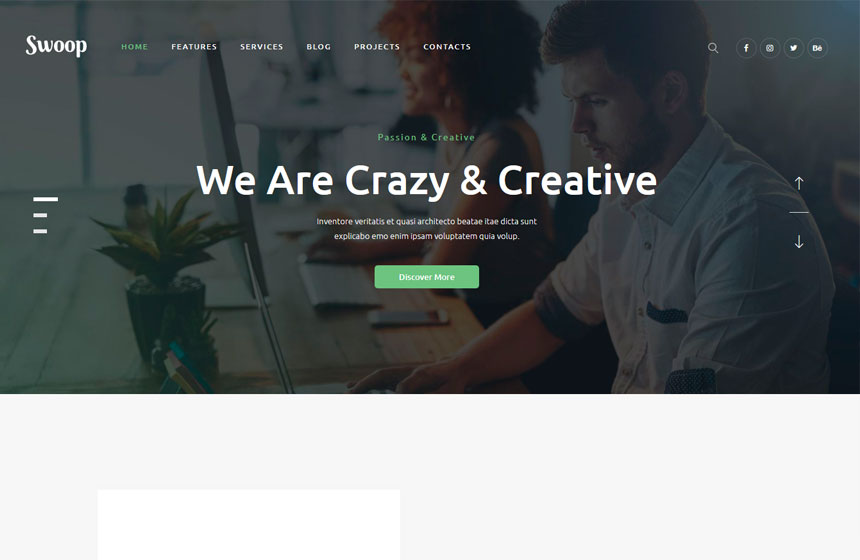 Photos are known to be displayed on museum walls, but you don't compulsorily need a museum wall before you can showcase your photos for people to see. With just a couple of clicks, you can build an excellent photography website of your own, and have your snapshots well displayed. WordPress themes for photographers exist to make the work of photographers easier, marketing inclusive. Do you need to build a portfolio? A blog or website? Or marketing bureau? All on your photography website? You can conveniently do all these things and more with Swoop. It is colorful, creative and responsive.
With the use of Swoop, users can easily see your photography work, know your values, and gain knowledge about you by reading on your website. With this also, your website visitors can swiftly connect with you without delay.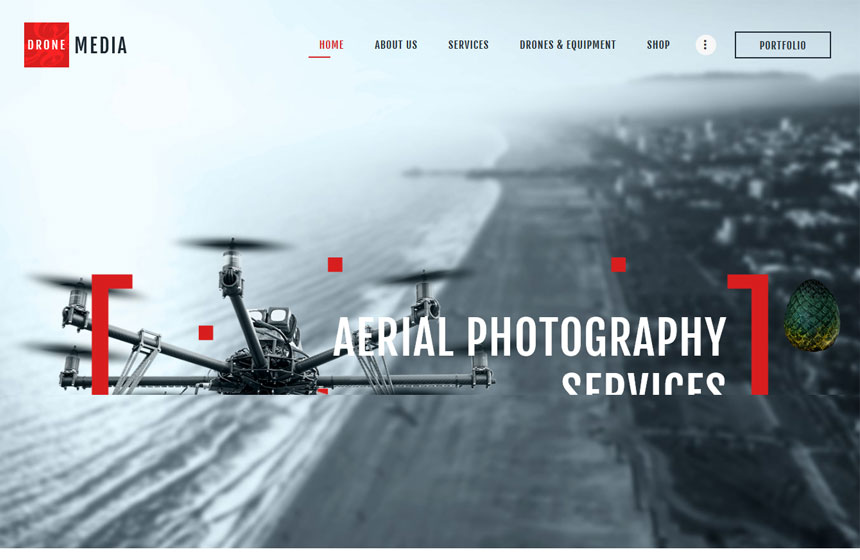 Drone Media is a photography theme that is right for your website because of the unique characteristics it possesses. The design is eye-catching, and it gives room for you to lay emphasis on the important elements that you want your website visitors or users to take note of. It has a superb layout, which can be conveniently displayed on any and every kind of modern device. This means that you can reach a bigger population on different kinds of modern device, you just have to craft your website in an astounding way.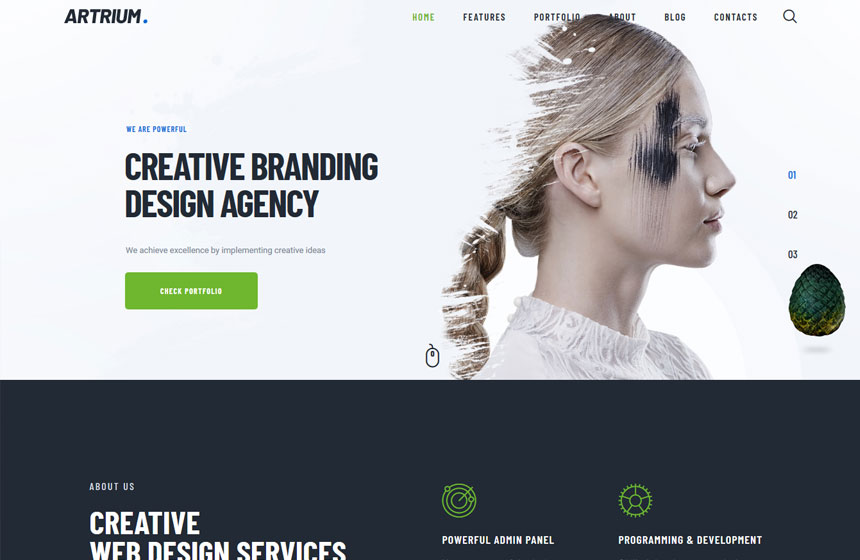 Do you desire an excellent experience for your customers? Then you should invest in excellent WordPress photography themes. Artrium is one of a kind, modern and stylish. It has worthy features, which will enlist your website amongst the best photography websites. Moreover, the features are laudable. Another interesting thing is that with the use of this photography WordPress theme, you can hasten the processes involved in building your site because it comes with a page builder called
Elementor
. You just have to drag-drop design elements wherever required. With this, issues associated with coding are also bypassed.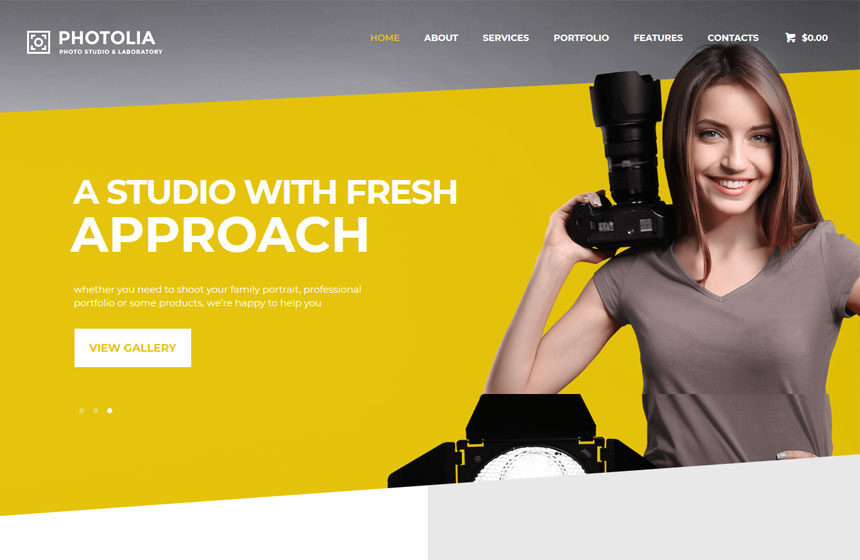 This photography theme is capable of spicing up your photography website with its catchy attribute. It works with any kind of photography website, making mere website visitors become potential clients. Photolia makes you the central focus in photography market, and it is SEO-optimized. Photolia is the best theme for photographers who want to boost their
digital brand innovation
, and earn more. Don't be rigid in how you use the theme, just keep trying your hands on it, you would be shocked at the beautiful outcomes you would get.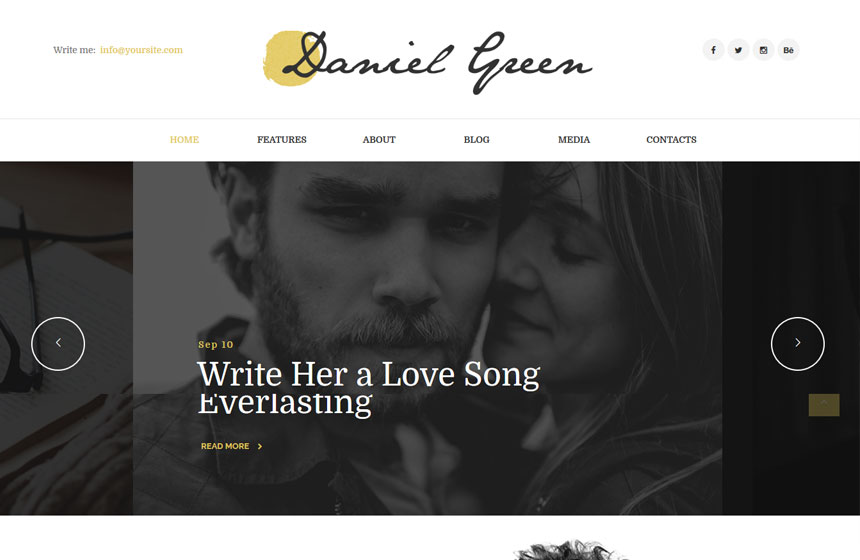 Tired of mediocrity content writing? Here is a modern and superb WordPress theme that you should use. It has been carefully designed to show you to people as a talented and professional writer, and in just couple of minutes people will begin to buy what you have to sell. With Daniel Green WordPress theme, you can have email subscription and directly send your content to the audience on your photography website. By so doing, you will always be at the 'top of the game'.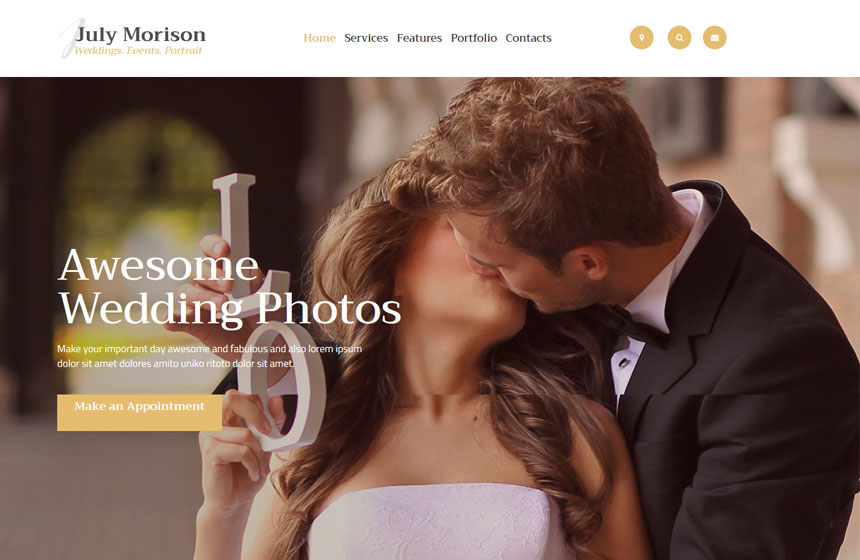 Deciding to redesign a photography website that features majorly wedding images is a long shot, why not just use July Morison? It is one of the best photography themes. A photography website is more than just having multiple photographs. The arrangement of the photographs should also be taken into consideration. You definitely do not want to get your website visitors disgusted or confused by the arrangement of your images. This is way you should make use of July Morison, to keep the audience in love with your website.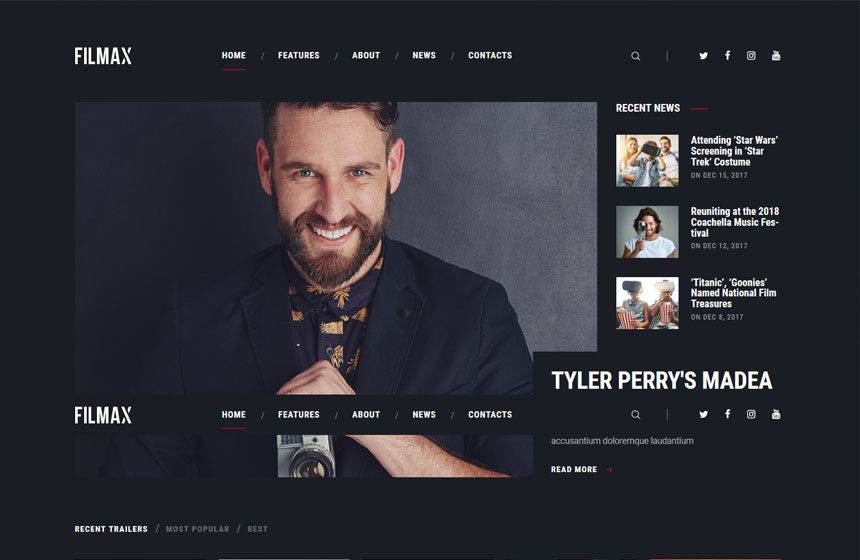 Give your brand a new and better face with the use of Filmax. Filmmaking has been made easy with the invention of Filmax, which is also one of the best photography themes for WordPress. Have you been worried on how to get film portal website or you need a movie magazine online? You need not worry anymore, Filmax has the capability to create websites that are related to movies or film. You can easily showcase your photos, articles and videos on your website in interactive ways, such that whoever visits your website will be able to comprehend and interact with it without any challenge.
Humans love images and movies, but it is one thing for you to have good business content, and it is another thing for you to know how to have an excellent online presence. As much as people like to view photos and movies, your manner of presentation, is also highly essential.
The best themes for photographers have been generously mentioned so, all you have to do is pick the photography theme you prefer, and ensure that no detail is left out, no matter how little it might seem. The thought of having your own photography website can be thrilling, but what is more thrilling is the fact that technologies that completely lift the rigor of website-development of you now exist.
Now, you can have a WordPress photography website of your own, give your website visitors a fascinating experience, turn website visitors into clients, and at the end of it all, add more money to your pocket.
Sponsored Content