In the realm of professional engineering services, the reciprocal curiosity between a visitor and your business is paramount. Crafting a website that not only answers their queries but captivates them is the key to success. Enter the realm of the best engineering WordPress themes, a realm where hours are saved, and the path to an effective website is paved. While the development journey may seem daunting in terms of time and cost, fear not, as assistance is at hand. The common woe with most website templates lies in their uncanny similarity. Our curated selection of top-notch WordPress themes aims to transcend the ordinary, providing your website with the opportunity to be extraordinary. After all, nothing is more dissatisfying and counterproductive than a website that fails to propel your business forward.
Unveiling the Advantages of Engineering WordPress Themes
1. First-Class Design Aligned with Web Best Practices
Our engineering WordPress themes boast a first-class design meticulously crafted in alignment with the best web practices specific to your niche. The aesthetics are not just for show; they serve as the visual embodiment of your professionalism and competence.
2. Robust Functionality for Seamless Operations
Next in line is the robust functionality that ensures your website operates seamlessly. Launching an online store has never been easier, thanks to seamless WooCommerce integration. Navigating through intricate issues becomes a thing of the past, allowing you to focus on what truly matters – growing your business. Revolution Slider steps in to add captivating homepage sliders that grab attention and usher in new visitors.
3. Effortless Online Store Launch
The integration of WooCommerce simplifies the process of launching an online store. The potential pitfalls and complexities are elegantly addressed, providing you with a smooth online retail experience.
4. Search Engine Optimization (SEO) Excellence
Our WordPress themes come armed with the best-inbuilt SEO practices, ensuring your website claims its spot at the zenith of Search Engine Results Pages (SERPs). This visibility is not just an ego boost; it's your gateway to global brand recognition.
Exploring Best Engineering WordPress Themes
1. Qwery | Engineering Business WordPress Theme + RTL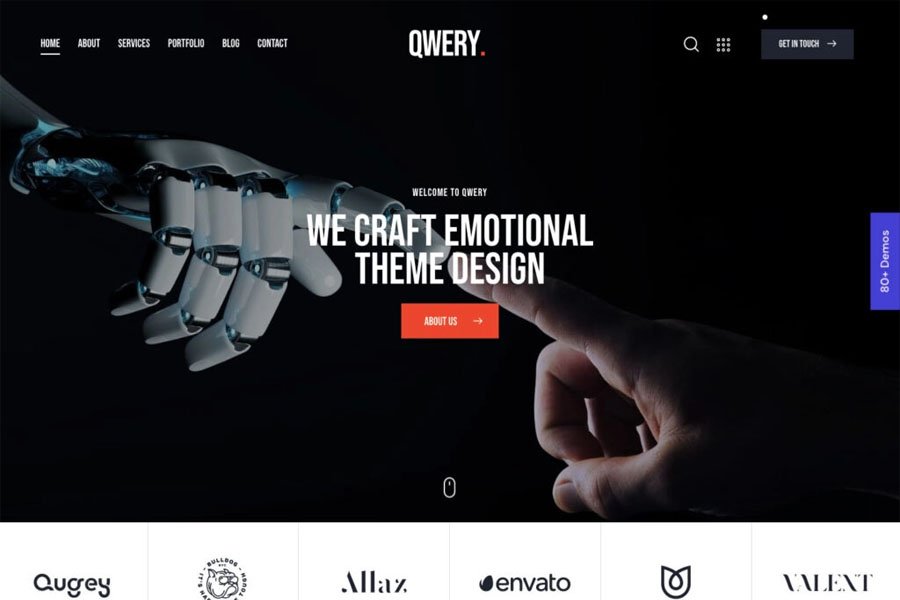 Getting your engineering brand's message across in a compelling way can be a daunting task, but Qwery is here to make it effortless. This best-seller doesn't just boast freshness and modernity; its true strength lies in its functionality and power. Qwery's features are so impressive they might leave you speechless – but remember, the goal is to make it serve you and your audience, propelling your business to new heights.
Key Features of Qwery:
Stylish, Trendy, and Clean Design
Versatility for Any Business & Corporate Website
Elementor Support for Easy Page Crafting
Two Booking Options for Seamless Reservations
WooCommerce Integration for Effortless Online Stores
MailChimp Integration for Email List Growth
Compatible with Plugins: Revolution Slider, elegro Crypto Payment, Booked, Instagram Feed, and More.
2. Re:bytes | Electronics & Computer Repair Service WordPress Theme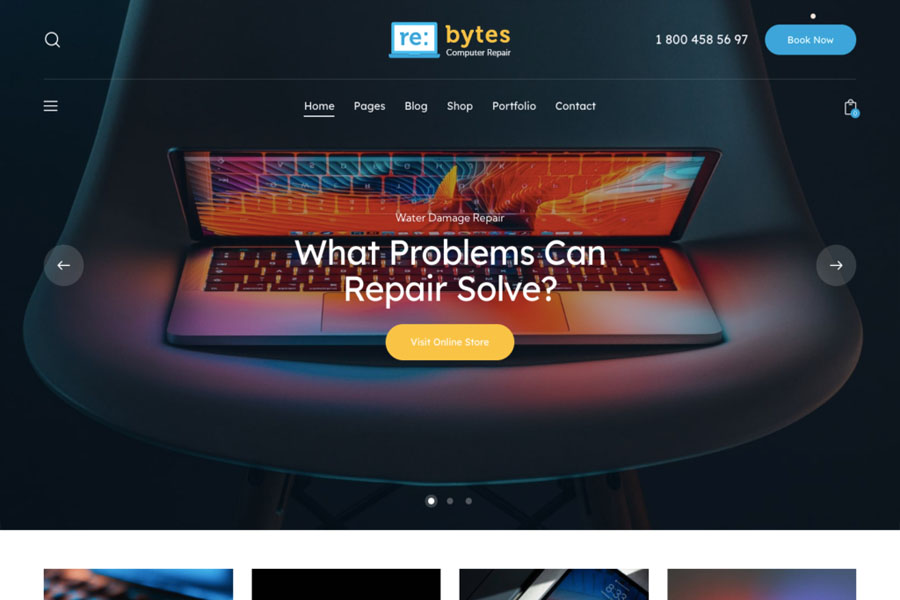 For those venturing into the realms of electronics and computer repair, Re:bytes stands out as the ultimate WordPress theme. Its feature-rich design ensures your website shines across all devices and browsers, offering a seamless user experience. Crafted with the Elementor page builder, the theme allows for code-free modification, making it accessible for all skill levels.
Key Features of Re:bytes:
Stunning Design for Electronics and Computer Repair
Elementor Page Builder for Code-Free Modification
4 Ready-to-Go Homepage Demos
Ideal for Electronics Repair, Hardware Diagnostics, Repair and Support, and Tech Store Websites
Full Compatibility with WooCommerce and Elegro Plugins for E-commerce Functionality.
3. Planty – Industrial Fabric & Factory WordPress Theme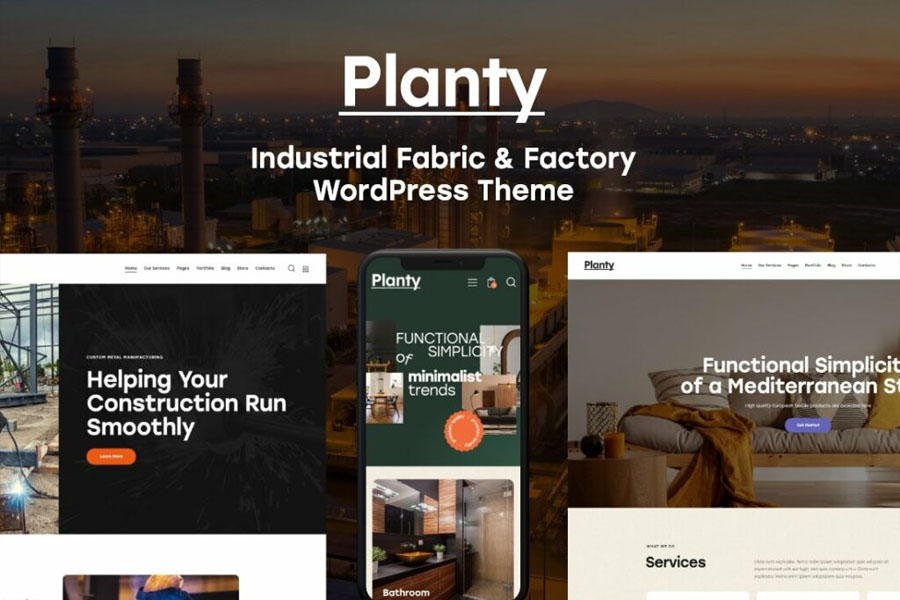 Launching a website for a factory or industrial business? Look no further than the Planty theme, an ideal option designed to meet your needs. Featuring 7 stylish homepage options, Planty offers a plethora of premade demos that allow you to infuse industrial content instantly. The One-Click Installation option streamlines the setup process. Beyond homepages, Planty includes pre-designed services, departments, and career modules to effectively promote services, showcase products, and introduce your team to a broad audience.
Key Features of Planty:
7 Stylish Homepage Options
One-Click Installation for Quick Setup
Pre-made Services, Departments, and Career Modules
Seamless Promotion of Services and Products
Fully Responsive Design for Spotless Content Representation on All Devices
Integration of CTA Elements: Slideshows, Widgets, Social Media Feeds, and More.
4. Dom – House Services Elementor WordPress Theme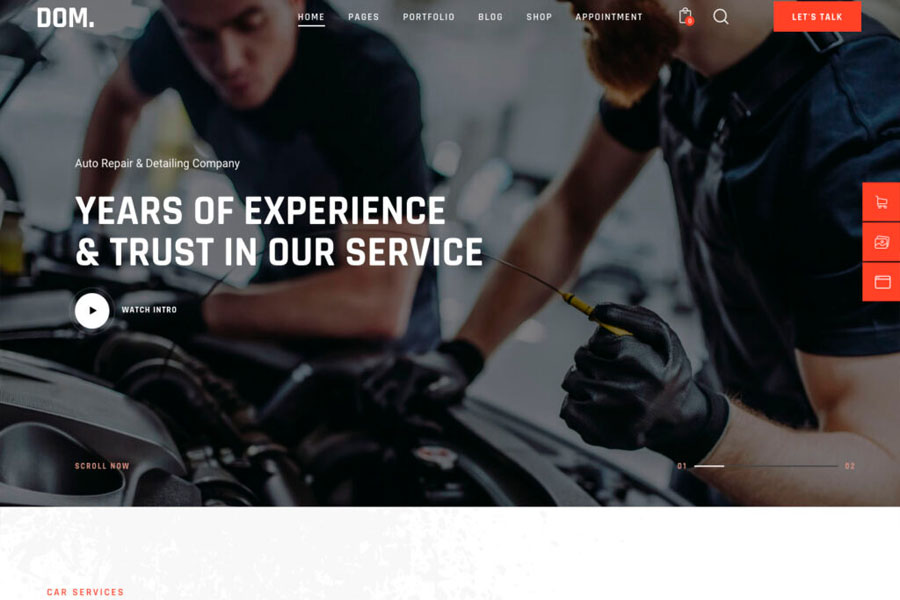 If you're a beginner looking for a user-friendly theme, Dom is crafted with you in mind. Built with the Elementor page builder, this multi-skin WordPress theme offers 8+ homepage skins tailored for various projects, including Flooring, Mechanic, Gardening, WoodWorker, Catering, Electrician, Phone Repair, Roofing, and Pest Control. Fully compatible with plugins like Slider Revolution, Newsletter Popups, Contact Form 7, MailChimp, WPML, and TRX Addons, Dom provides an array of ready-made inner pages, custom layouts, shortcodes, and widgets for seamless customization.
Key Features of Dom:
Elementor Page Builder for Easy Customization
8+ Homepage Skins for Various Projects
Compatibility with Multiple Plugins for Enhanced Functionality
Abundance of Ready-Made Inner Pages, Custom Layouts, Shortcodes, and Widgets.
5. Air Supply | Conditioning Company and Heating Services WordPress Theme + RTL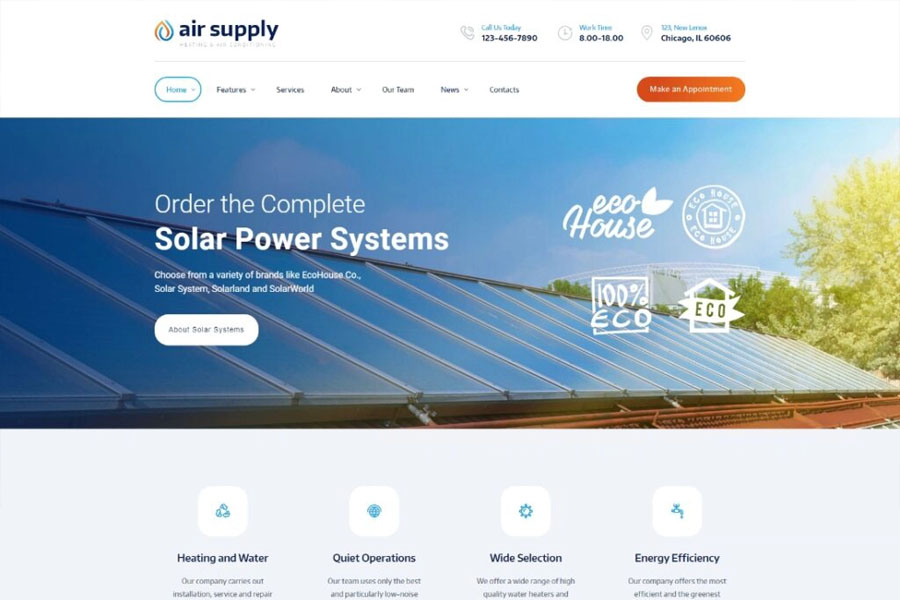 Crafting a well-designed, high-performance website can elevate your business, and Air Supply is the key. Tailored for air conditioning & heating services, this premium WordPress template extends its versatility to engineering services, online stores, news portals, or home repair blogs. Built with a user-friendly drag-and-drop approach, making changes to the theme requires no coding knowledge. Air Supply promises to deliver the best with features like WPBakery integration for effortless page layout creation, customer reviews and testimonials for social proof, the Booked plugin for online reservations, and optimized speed for enhanced user experience.
Key Features of Air Supply:
Versatile Design for Multiple Business Purposes
User-Friendly Drag-and-Drop Interface
WPBakery Integration for Effortless Page Layouts
Customer Reviews and Testimonials for Social Proof
Booked Plugin for Online Reservations
Optimized Speed for Enhanced Browsing Experience.
6. ProRange | Painting & Renovation Construction Company WordPress Theme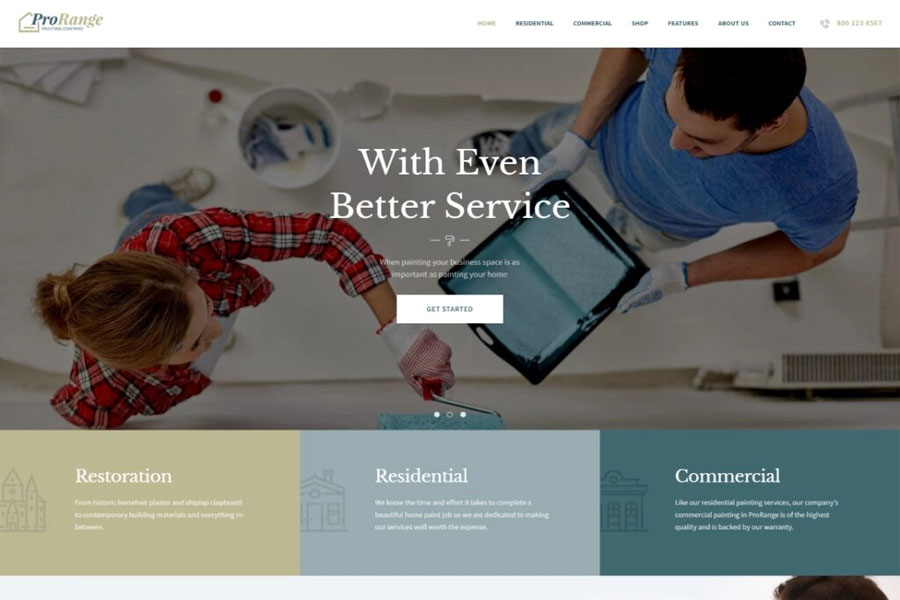 ProRange sets the stage for showcasing your business culture with a stylish and modern web presence. Ideal for building services agencies, painting companies, or plumbing firms, this premium WP template is not only visually appealing but also multilingual-friendly thanks to the WPML plugin. Boasting several pre-built page layouts, Instagram Feed support for creating beautiful galleries, and compatibility with MailChimp & Contact Form 7 plugins for effective communication, ProRange follows the best SEO rules, ensuring top-of-the-line performance and regular updates.
Key Features of ProRange:
Stylish and Modern Design
Multilingual-Friendly with WPML Plugin
Pre-built Page Layouts for Time Efficiency
Instagram Feed Support for Beautiful Galleries
MailChimp & Contact Form 7 Integration for Effective Communication
Best SEO Practices for Top SERP Results.
7. Franco | Steel Factory & Industrial Plant Manufacturing WordPress Theme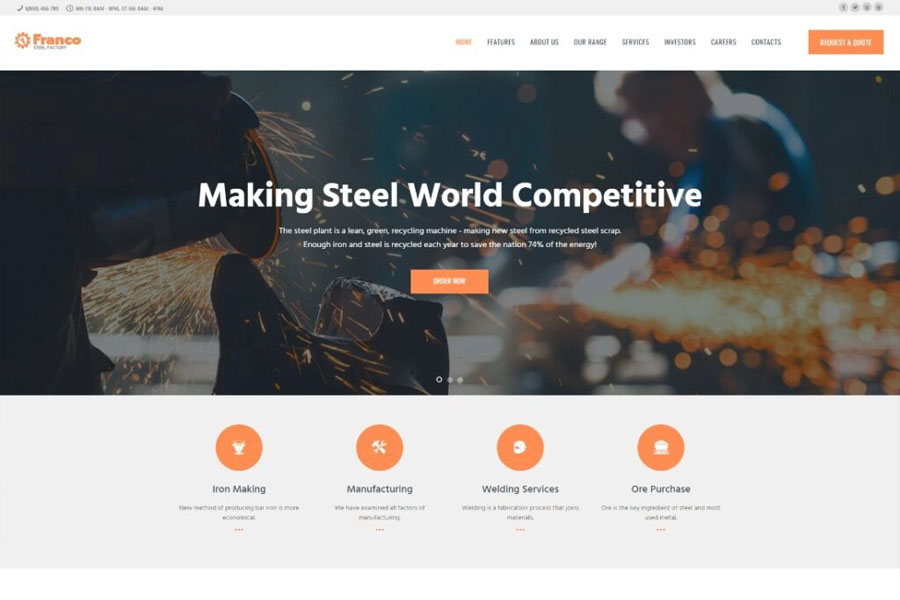 Looking to showcase your expertise and generate leads? Franco is the answer. Tailored for engineering businesses, Franco allows you to build a website representing your plant, factory, architecture bureau, or repair workshop. With a fully responsive design, your web page ensures a great user experience on any device. Speed and responsiveness are prioritized, following the best web design practices. Franco also boasts best-inbuilt SEO features, easy installation and self-editing capabilities using the WPBakery page builder, and monetization options for business growth.
Key Features of Franco:
Ideal for Engineering Businesses
Fully Responsive Design for Cross-Device Compatibility
Best-inbuilt SEO Features for Top SERP Results
Easy Installation and Self-Editing with WPBakery Page Builder
Monetization Options for Business Growth.
8. Handyman | Construction and Repair Services Building WordPress Theme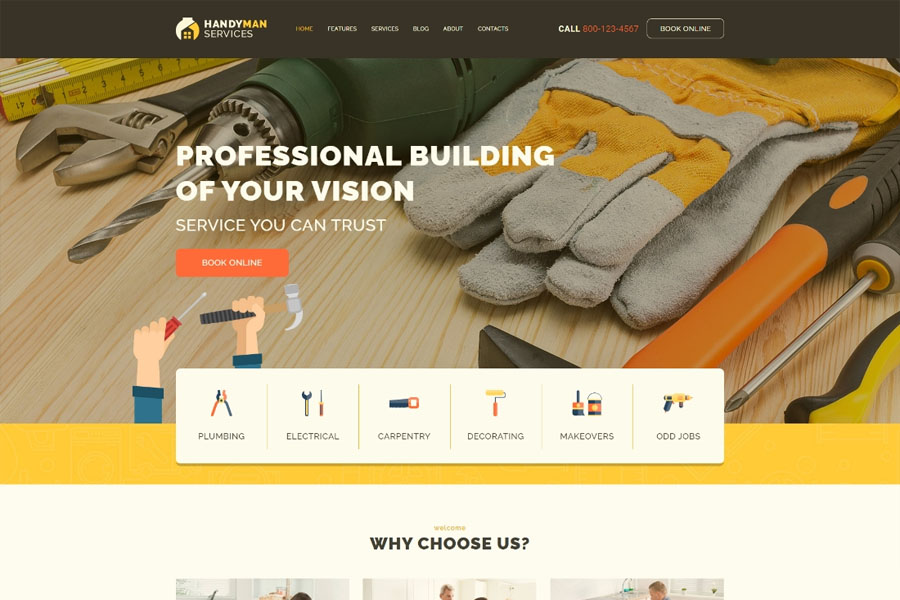 Craft a dynamic online presence with Handyman, a WordPress theme that asserts its perpetual functionality. If you aim to make your website a powerful asset in growing your engineering business, opting for the best engineering WordPress themes is paramount. Tailored with precision, Handyman is a perfect fit for maintenance agencies and repair business firms. Its customizable features allow you to mold the theme according to your preferences while ensuring it continues to serve your audience and attract new users worldwide.
Key Features of Handyman:
Free Lifetime Updates and Six Months of Tech Support
Pre-designed Page Styles for Quick Start
WPBakery Page Builder for Custom Page Layouts
Contact Forms for Audience Engagement
Online Appointment Booking Functionality
WooCommerce Integration for Effortless Online Stores
GDPR Compliance Plugin for Data-Safe Pages.
9. Plumbing | Repair, Building & Construction Elementor WordPress Theme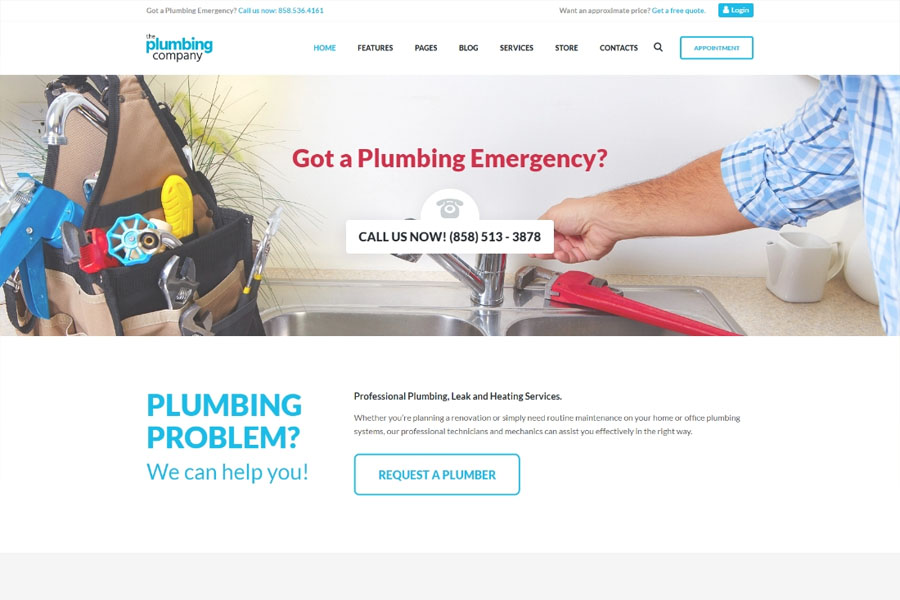 In the realm of engineering services, expertise is your commodity. Showcase it effectively with one of the best-selling engineering WordPress themes – Plumbing. Tailored for plumbing companies, it is versatile enough to suit repair and construction topics seamlessly. Its clean design, customizable to specific needs, prioritizes performance, ensuring that your online presence stands out.
Key Features of Plumbing:
Online Booking Appointments for Increased Reservations
Visual Showcase of Products or Services Through Images
Keep Audience Informed About Prices, News, and Services
Customer Reviews and Testimonials for Social Proof
WooCommerce Plugin for Effortless Online Selling.
10. HomeRoofer | Roofing Company Services & Construction WordPress Theme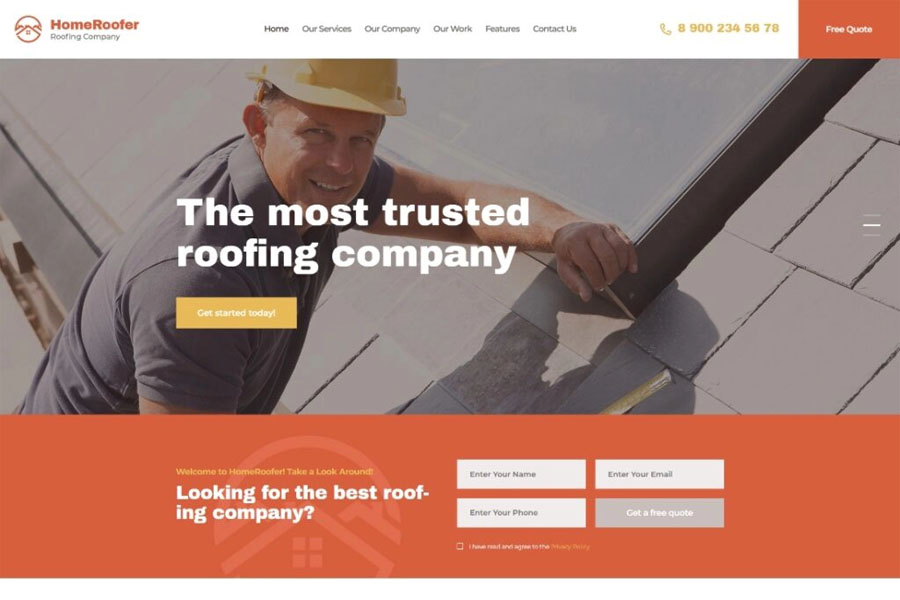 Revolutionize the perception of your firm with HomeRoofer, a modern and highly acclaimed WordPress theme. Its engaging and informative design remains consistent across all devices, making it ideal for construction, roofing, industrial companies, cleaning agencies, and house repair firms. Whether you're creating a portfolio, handyman blog, or tools store, HomeRoofer provides the perfect platform. Designed with SEO optimization in mind, it promises a prominent position in SERP results, and its pre-built page layouts, coupled with the flexibility of WPBakery page builder, allow you to showcase your content creatively.
Key Features of HomeRoofer:
Engaging and Informative Design for Consistency Across Devices
Versatility for Construction, Roofing, and Industrial Companies
SEO Optimization for Top SERP Results
Pre-built Page Layouts and WPBakery Page Builder for Creative Flexibility
Outstanding Gallery & Post Layouts for Showcasing Products or Services
Pre-made Shortcodes & Widgets for Creativity.
The Final Words About Engineering WordPress Themes
Selecting the best engineering WordPress theme can be a delightful journey, as each option is top-notch in its class. The key lies in aligning the theme's functionality with your business needs. Designing your engineering website should be an enjoyable process, reflecting the essence of your business while maximizing your online potential. Take your time, consider your requirements, and embark on the journey of creating a digital presence that truly represents your engineering prowess.
Sponsored Content