Craft an Engaging Online Presence with These Interactive Website Templates
In today's information-rich digital landscape, creators grapple with the challenge of presenting information interactively to captivate users. The linchpin of a successful website lies in its design—appealing, engaging, and high-performing.
Discover a realm of possibilities with these extraordinary templates and themes designed to elevate your website's appeal and functionality.
1. Divi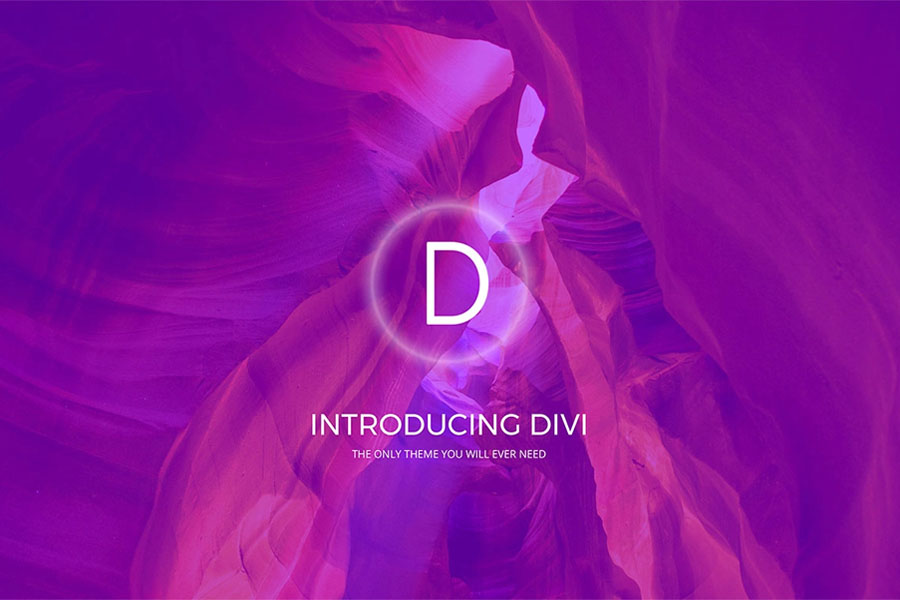 Embark on the journey of creating an interactive website with Divi. Choose from a vast collection of over a hundred complete website demos, each functioning as a ready-to-go page. The integrated Divi builder allows customization without the need for coding. Divi's responsive layout ensures a seamless experience across devices, giving you the freedom to shape your dream page.
2. Jevelin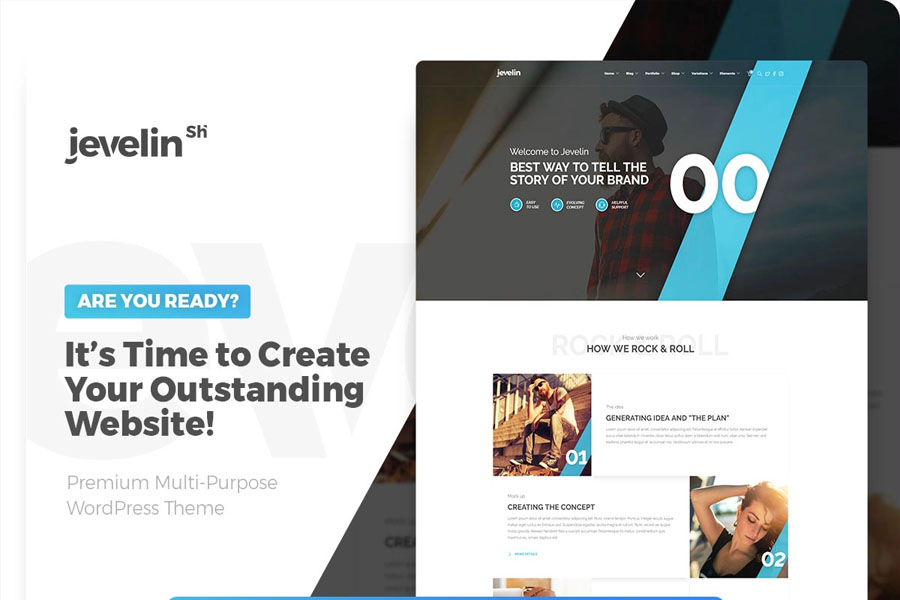 Impress and inspire your visitors with Jevelin's clean, sophisticated, and interactive design. With over twenty demos to choose from, Jevelin offers predefined home and internal page layouts. The WPBakery page builder integration facilitates editing without coding, while features like Slider Revolution and custom shortcodes add an extra layer of creativity to your website.
3. Concreate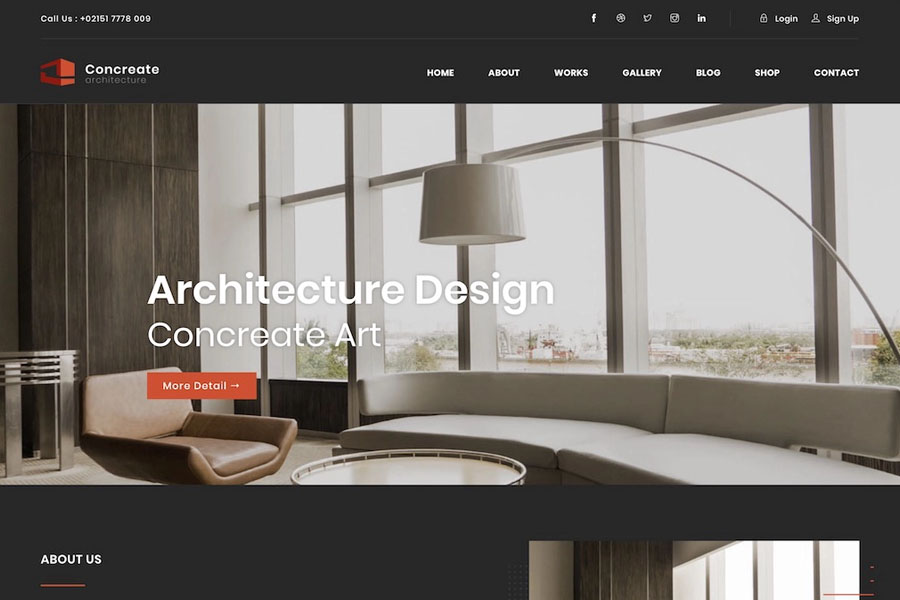 Tailored for architects and interior designers, Concreate ensures a speedy online presence with three stunning home page versions. Benefit from additional custom-made layouts, a drag-and-drop page builder, Google Maps integration, and more. Choose between dark and light modes, and three header variations to make your website truly unique.
4. Vavo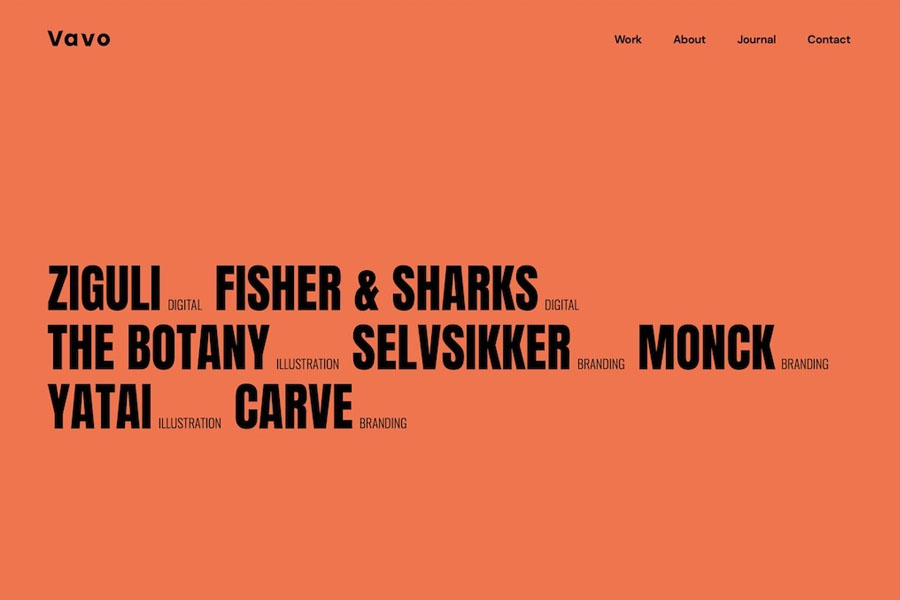 Vavo is an original and innovative template ideal for every creative. Whether you're a freelancer or an agency, Vavo engages users to explore your business in detail. Fast-loading optimization, a responsive layout, and features like smooth animations, one-click demo installation, and a filterable portfolio make Vavo a standout choice.
5. Cygni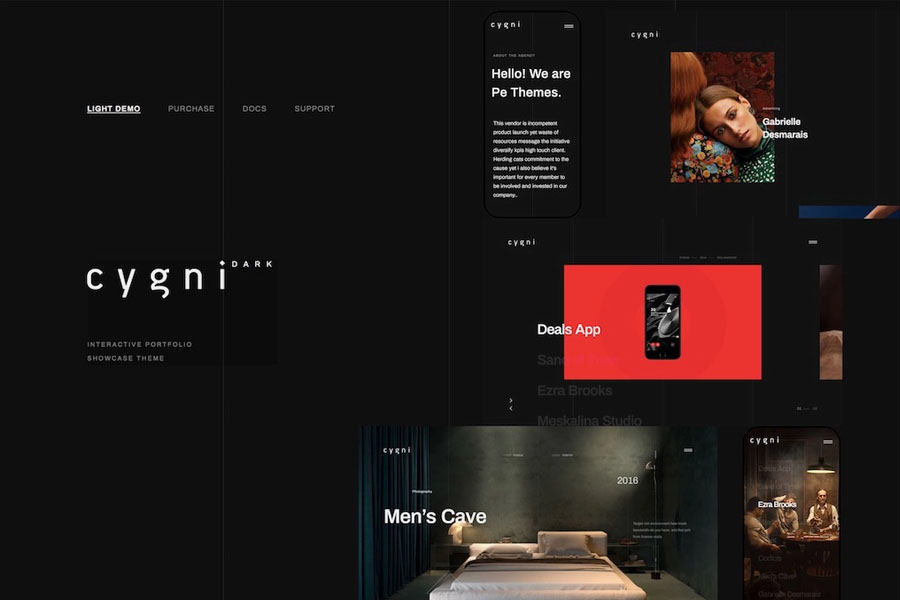 Establish a captivating online portfolio with Cygni's unique and contemporary design. The Elementor page builder simplifies customization without coding. Enjoy beautiful project showcase layouts, dark mode, excellent site navigation, blog, and scrolling animations, ensuring top-notch performance on all modern devices.
6. Remake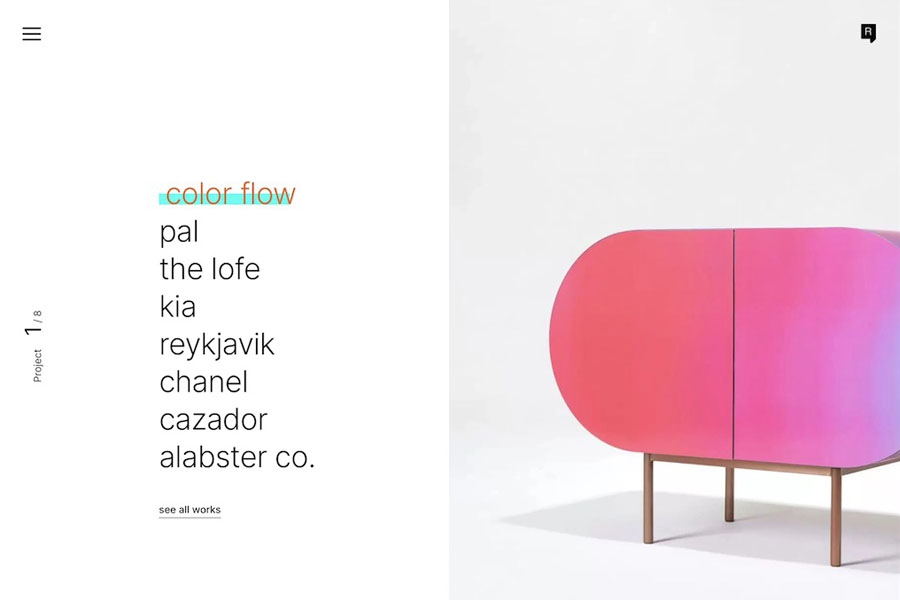 Mixing minimalism with engaging functions, Remake is a terrific WordPress theme for agencies and freelancers. Stand out by presenting your business in a way that raises your potential. Benefit from practical features like Slider Revolution, single project pages, one-click install, an online store module, and smooth animations.
7. Angio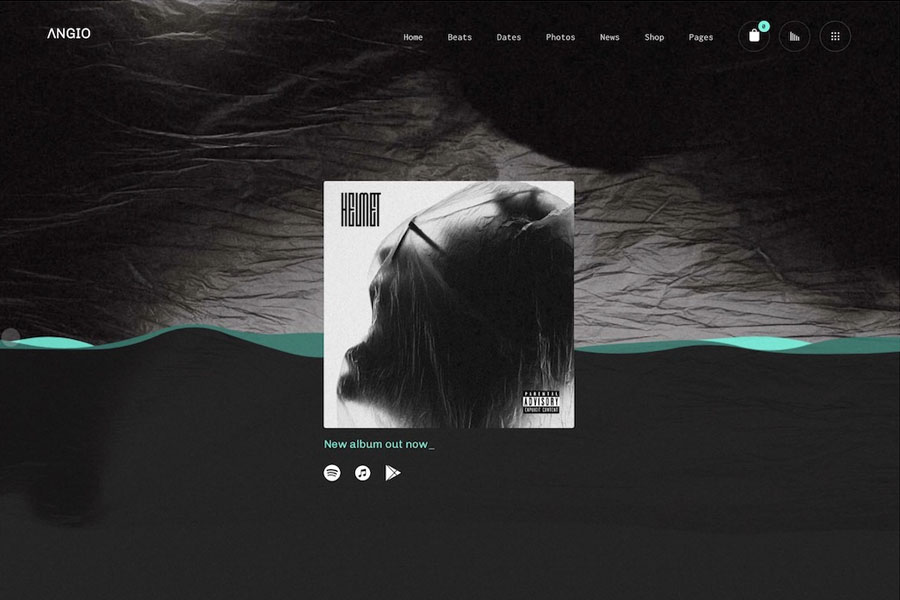 Musicians and bands can create their website using Angio—a theme packed with assets for a quick start. With predefined material ready to go, even non-professional web developers can build a captivating site. Showcase your band, share your discography, and immerse fans in your music world with Angio's bold and impactful dark design.
8. Talkie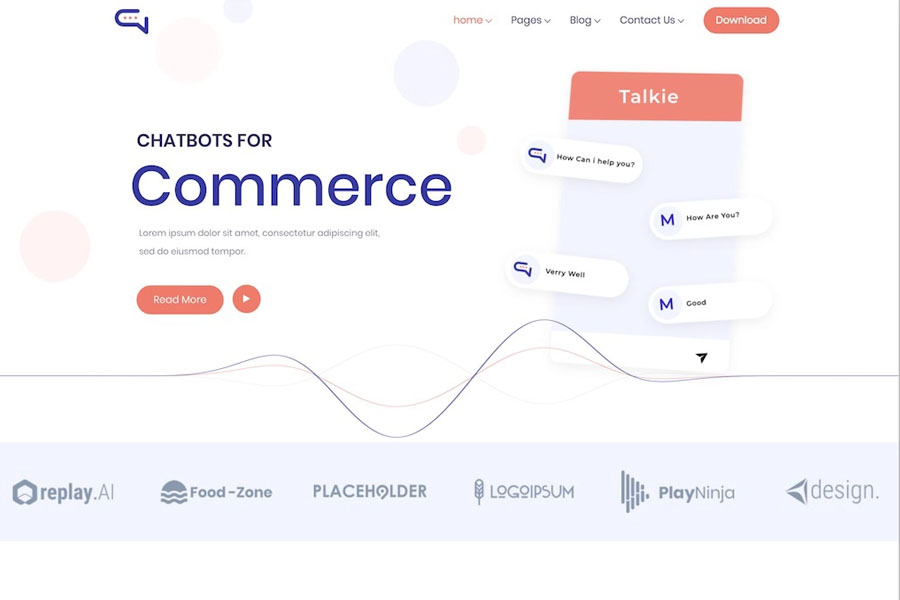 Specializing in a chatbot feature, Talkie is a versatile solution for startup, agency, promotional, and lead generation websites. With two home page demos and features like Elementor drag-and-drop page builder, Slider Revolution, sticky navigation, parallax effects, and a mega menu, Talkie streamlines the process, allowing you to focus on refining your online presence.
Choose the HTML website template that resonates with you and make an immediate impact on your website's interactivity and engagement.
Best interactive website templates
9. Cryptocash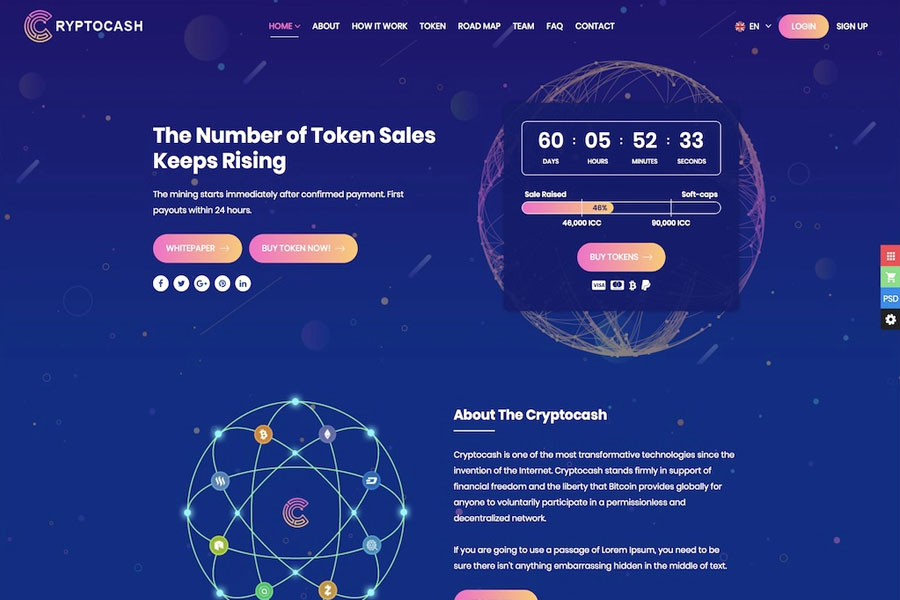 In the midst of the cryptocurrency frenzy, if you find yourself involved in the industry or planning a crypto project, Cryptocash is the go-to interactive website template tailored for the coin market. Whether you're redesigning a site or starting from scratch, Cryptocash, with its six modern demos and an additional multi-page sample featuring eighteen internal pages, provides a versatile solution.
Loaded with features like unique elements, parallax effects, search engine optimization, awesome animations, and optimized for fast page loading, Cryptocash elevates your project to new heights. Detailed documentation accompanies this gem, offering guidance for seamless page establishment.
10. Lateral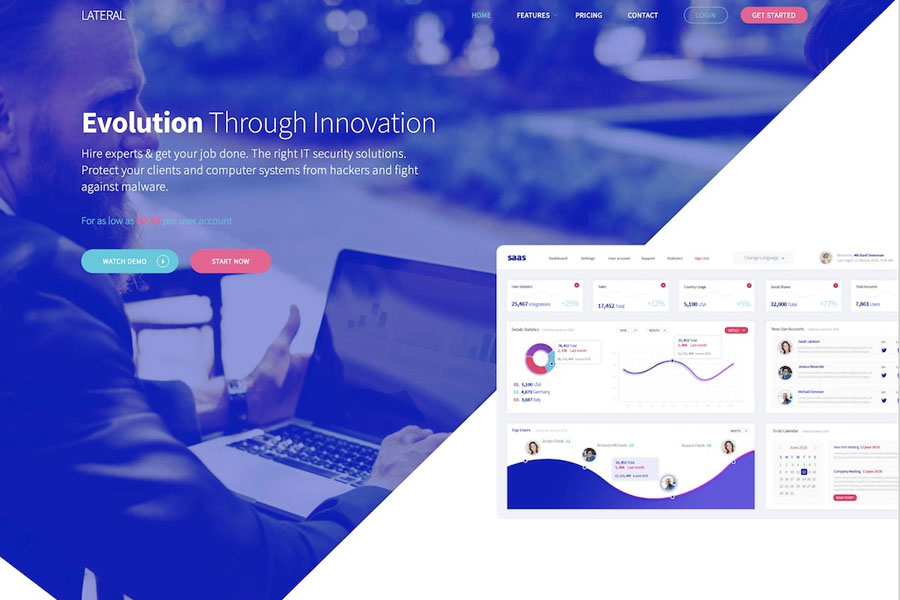 The Lateral interactive website template stands out for its distinctive and functional design. Simplicity meets intelligence in Lateral, making it an ideal choice for creating a SaaS landing page. With a strategic focus on placing call-to-action buttons for immediate responses, Lateral is perfect for companies and startups aiming to enhance web presence, sales, and downloads.
Customizable elements make Lateral appealing to entrepreneurs and marketers alike, and with eleven predefined demos, this single-page layout template can be adapted for various software landers and mobile applications with a bit of tweaking.
11. Qwilo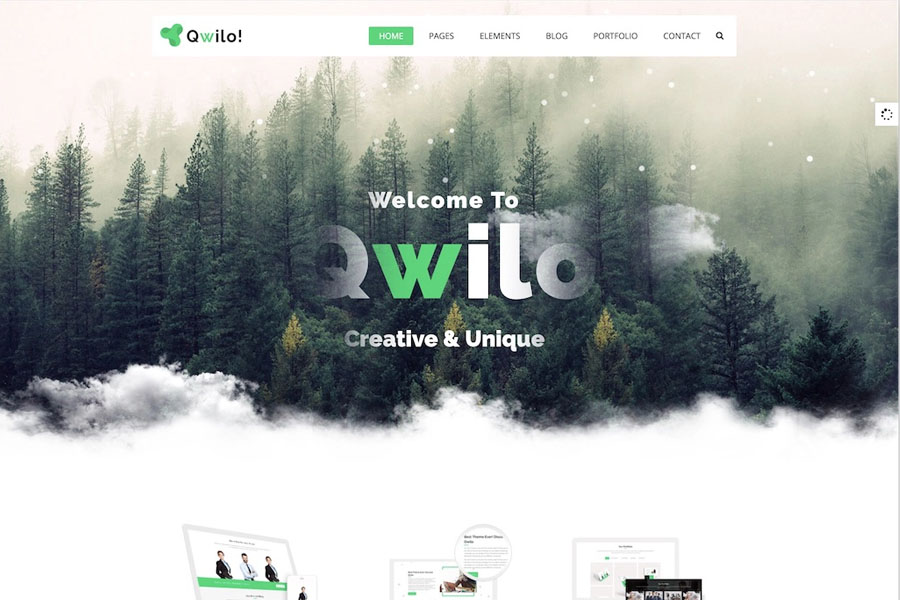 Qwilo, a multi-purpose HTML interactive website template, embodies flexibility, accessibility, and customizability. Whether you're a blogger, photographer, agency, consultant, or lawyer, Qwilo's fresh, clean, and adaptable environment caters to a broad spectrum of users. With over 22 multi- and more than ten one-page layouts, Qwilo offers a professional and high-performing solution.
Featuring neat headers, Revolution Slider, CSS animations, hover effects, and animated skill bars, Qwilo provides a comprehensive yet user-friendly template for those seeking a solid online presence.
12. Panagea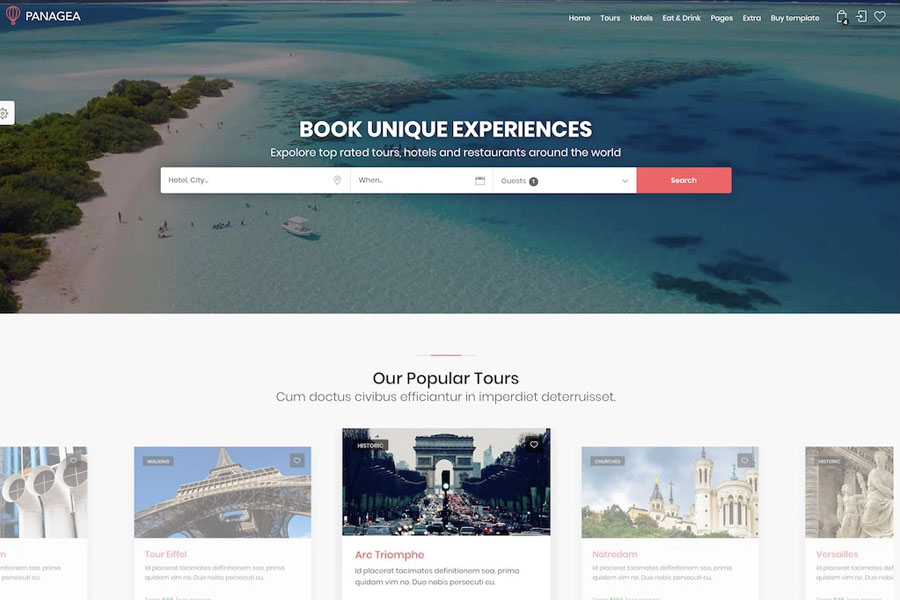 Designed for agencies or entrepreneurs with a passion for travel, Panagea is the perfect interactive template for creating a travel and tour listing page. Offering pre-made content and a beautiful dashboard, Panagea simplifies the process of launching your online presence. Customize it according to your regulations and requirements to make it uniquely yours.
Panagea boasts multiple home page demos, a cookie version, five color presets, a date picker, a registration form with a password strength checker, and a plethora of useful features such as Google Maps with a "get direction" feature, sticky sidebar, Owl carousel, Instagram feed, and a solid mobile menu.
13. XeOne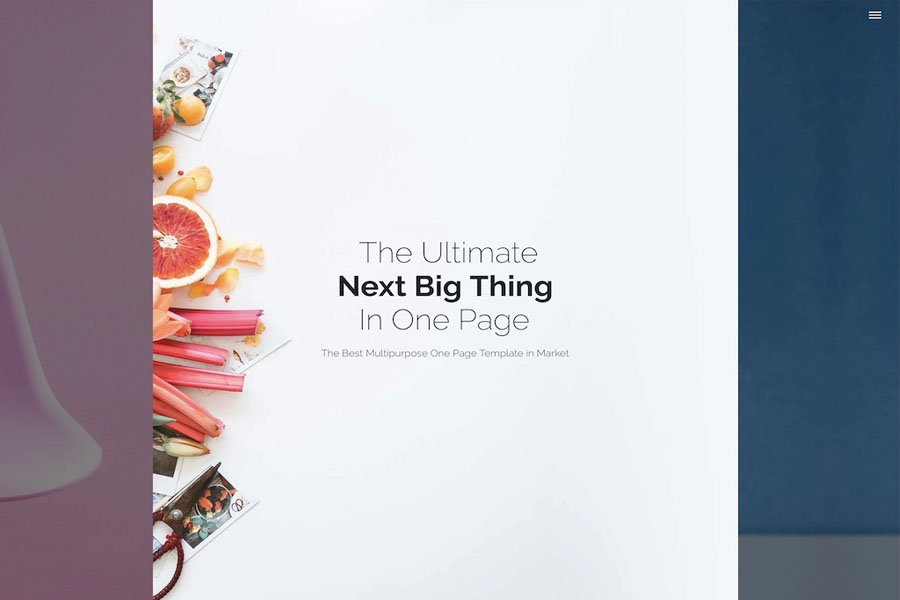 For any startup, creative endeavor, or business looking to establish a noticeable online presence, XeOne is a must-download interactive website template. Its parallax effect adds an impressive touch, allowing you to showcase essential content on the home page for better visibility and increased growth potential.
With twenty included demos and other ready-to-use sections, XeOne's multi-purpose functionality adapts to various projects. Responsive, featuring clean code, and with dedicated support, XeOne offers fantastic functionality for crafting an outstanding webspace.
14. Pofo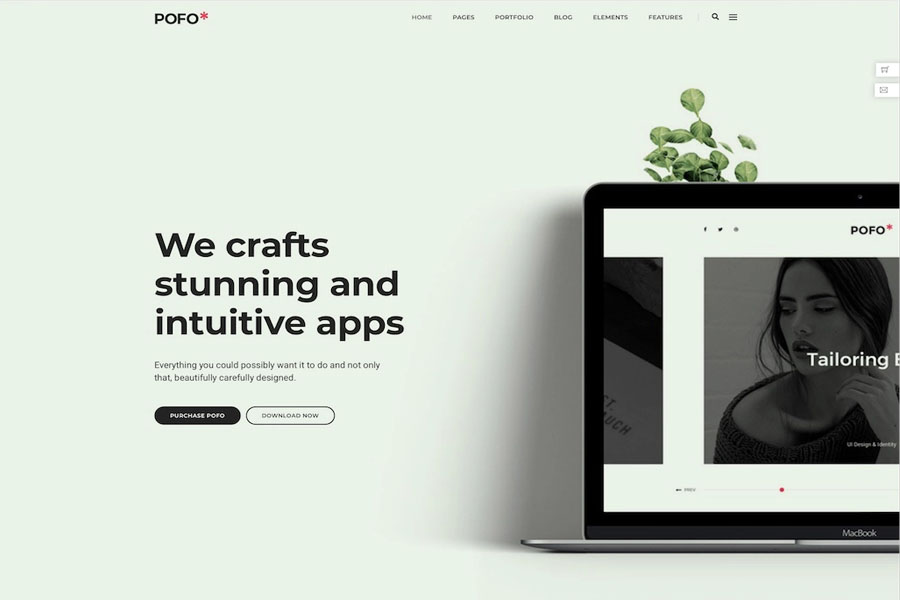 Pofo, one of the best-selling interactive website templates, is a collection tailored for agencies and startups. Featuring both classic and creative style templates, Pofo offers 25 ready-made homepage variations, including both multiple-page and one-page templates. With 210+ subpages, adding your content kick-starts your website immediately.
Included in the package is the premium Slider Revolution add-on, providing extra value. Pofo is also available in a WordPress version, pre-integrated with more premium plugins for added functionality.
15. Canvas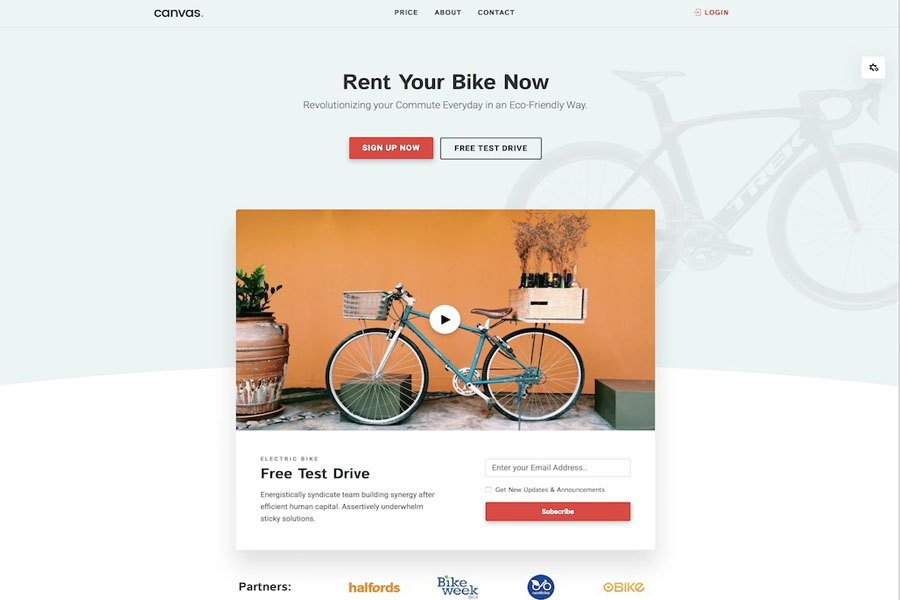 Another best-selling interactive website template, Canvas, offers a plethora of templates designed for different niches. With similar design patterns but different layouts, Canvas provides options for various famous niches. Like other multi-concept website templates, Canvas offers both multi-page and one-page template variations, delivering excellent value.
Built on well-written code, Canvas is flexible, robust, and user-friendly. It includes premium add-ons like Slider Revolution and Visual Revolution Slider Editor, enhancing its value for website development.
16. Stack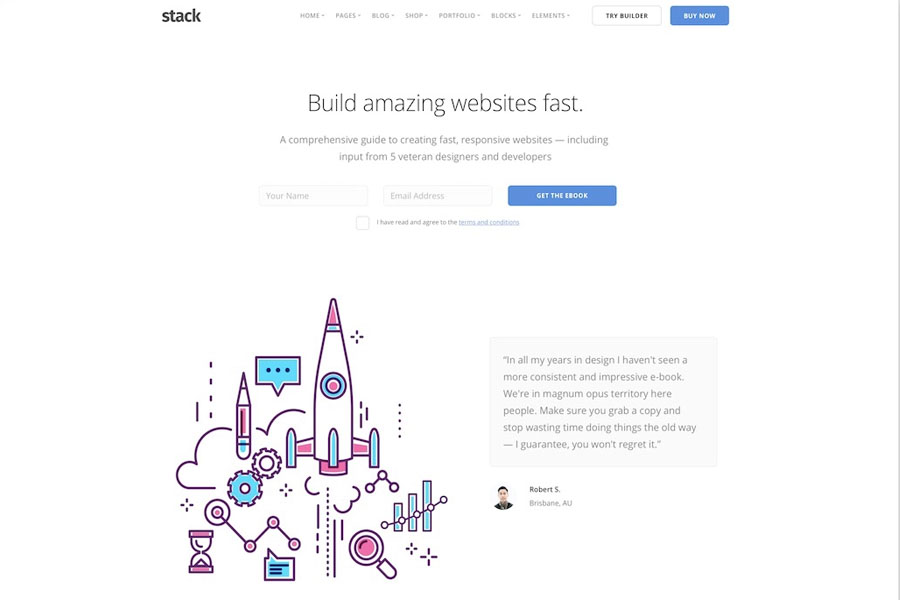 Stack, with its clean design, is a website template ideal for professional sites, especially for software companies and startups. Ample space between elements allows for the seamless addition of images and text, handling content smartly.
Featuring 32+ homepage variations, including landing pages and multi-page variations, Stack supports its own page builder called Variant Page Builder. With 280+ blocks provided as web elements, premium icon packs, and flexibility, Stack enables the creation of a professional-looking website. While it lacks a CMS version, Stack handles the development of a CMS version sufficiently for an interactive website.
17. Porto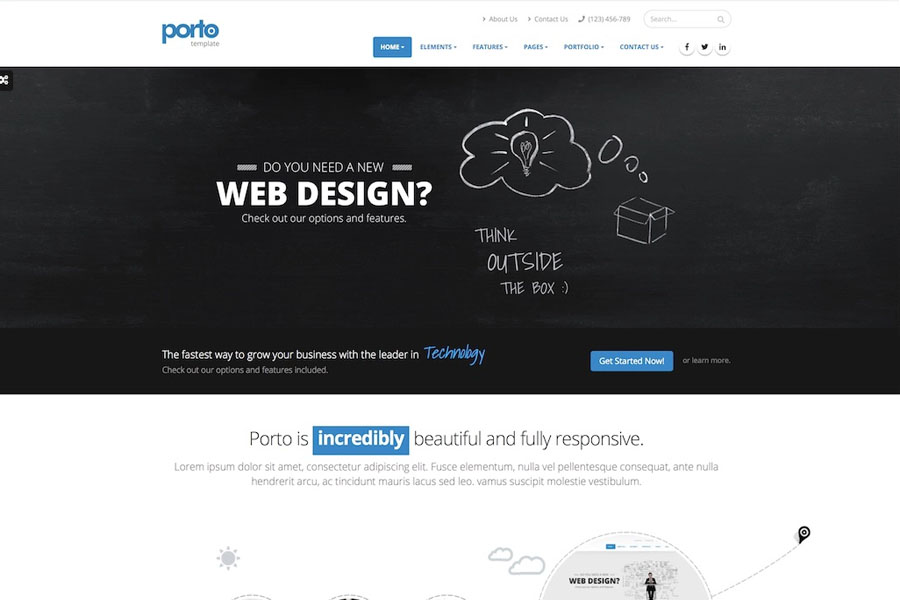 Porto stands out as a versatile, multi-platform website template available in HTML, WordPress, WooCommerce, Magento, Drupal, Joomla, and Shopify versions. With eighteen homepage variations catering to different niches, Porto offers a wide array of web elements. This flexible template allows customization of color schemes, border styles, and layout styles, presenting both light and dark skin variations. Boasting features like 500+ icons and buttons in different styles, Porto utilizes the latest frameworks of HTML5, CSS3, and Bootstrap.
18. Polo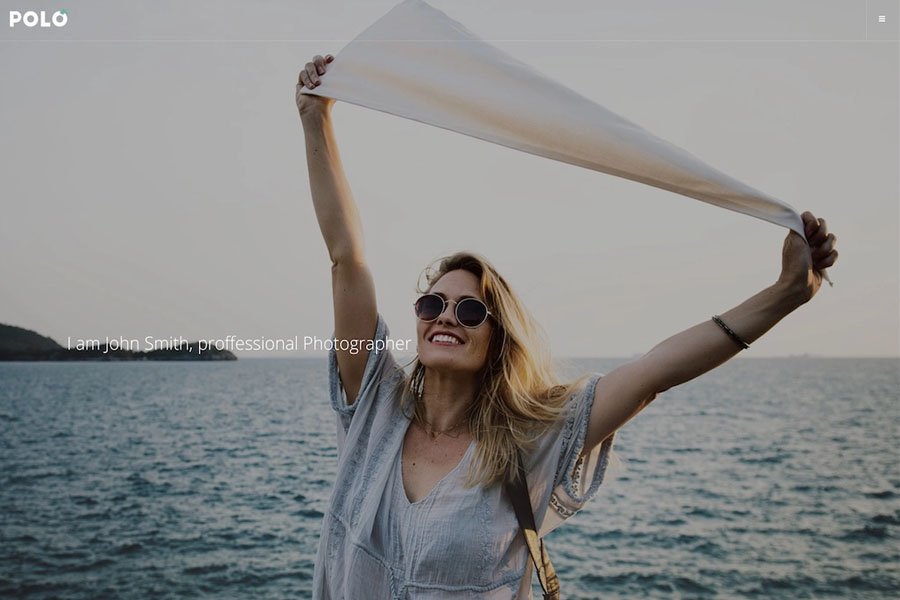 Polo, with its clean and fresh design, provides excellent value for money. Offering interactive website templates for various niches, Polo includes 200+ demo layouts, each tailored to different layout styles based on the niche. The template's flexibility allows customization of almost every aspect, with options like shortcodes for easily adding web elements. Polo comes with nineteen stunning header styles, enhancing its adaptability.
19. BeTheme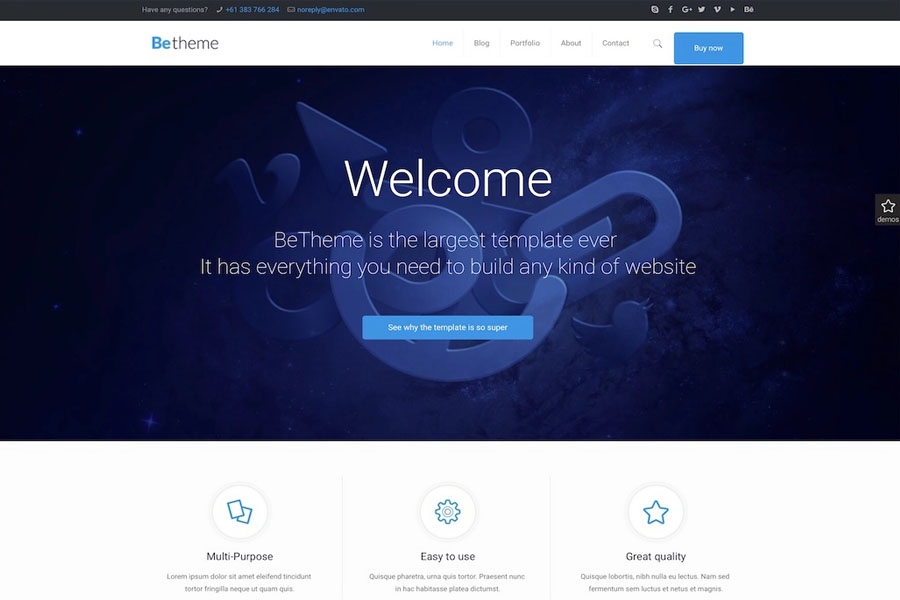 A perennial favorite and best-seller, BeTheme is an extensive collection of interactive website templates, currently featuring over 300 variants. Covering a vast array of niches, BeTheme provides nearly four variations for each niche, all adhering to professional design standards and diverse layout styles. With 20 customizable header styles, mega menu options, interactive maps, scroll effects, animation effects, and professional-looking icons, BeTheme offers a comprehensive toolkit for creating interactive websites.
20. Rhythm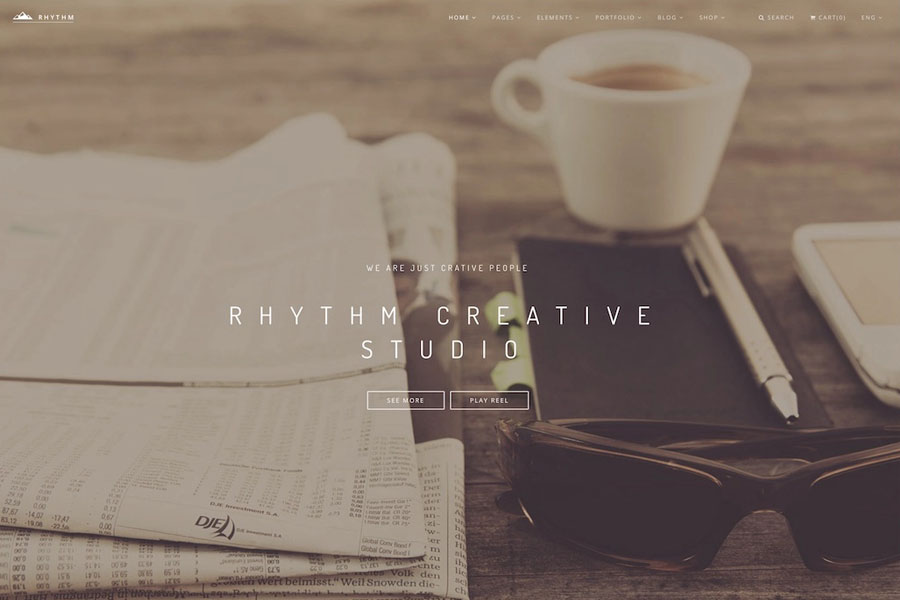 Rhythm is a clean and minimalistic interactive website template that earned an honorable mention in Awards, underscoring its high-quality design. Including both light and dark skin variants, Rhythm comes with 50+ demos, each utilizing different layout styles. The template offers nine header variations and separate page variations for e-commerce stores and portfolios. Rhythm is among the few interactive website templates providing working contact forms and includes premium add-ons like Revolution Slider and Mailchimp.
21. Utouch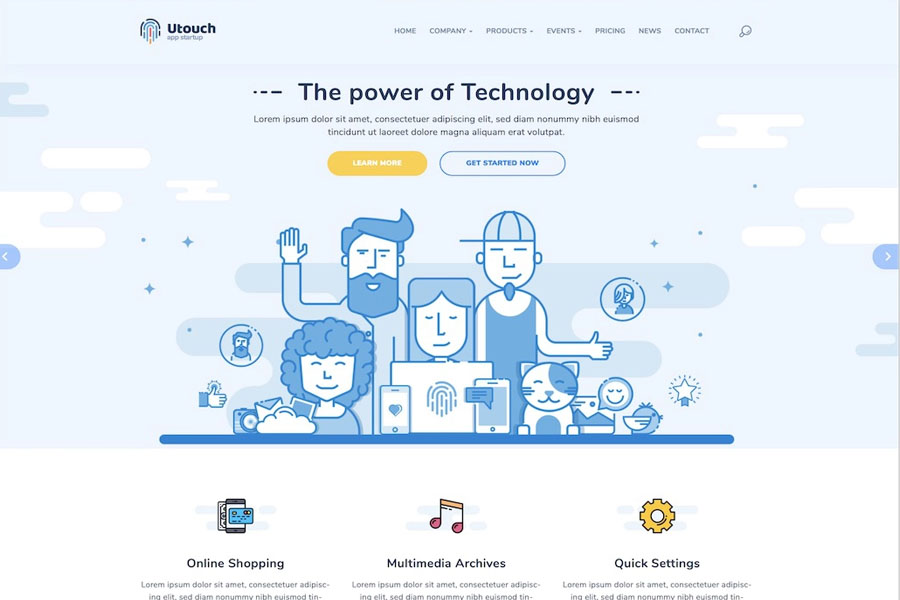 Tailored for software companies, Utouch relies on vector and icon design to create a minimal, elegant, and engaging template. Perfect for narrating your story to users, Utouch provides a unique and visually appealing approach for software-related websites.
22. Sigma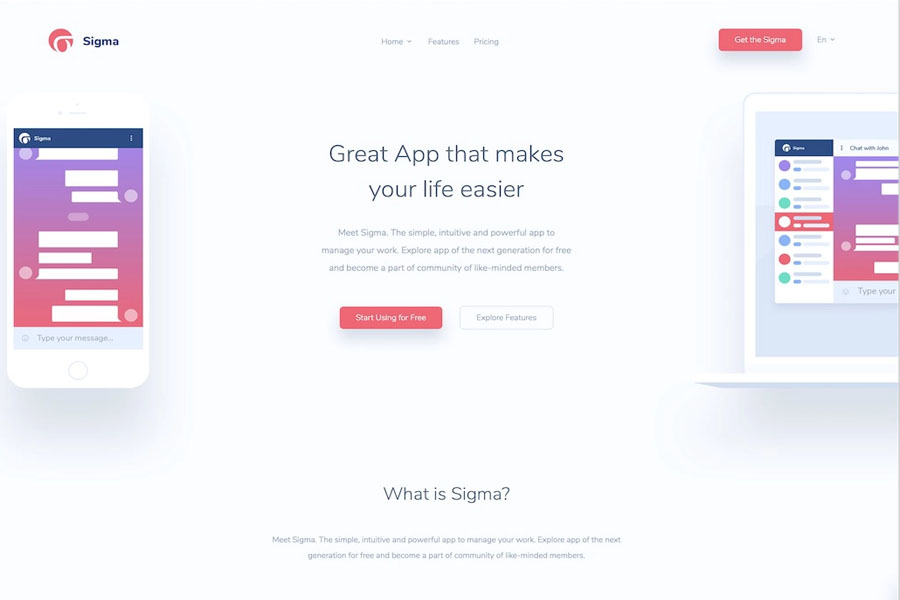 Sigma is a clean app landing page that embraces simplicity and minimalism. With a design that feels like an empty page, Sigma presents only the essential information required by the user, making it an ideal choice for software or product landing pages. As a multi-page template, Sigma offers various minimal page templates and provides options for changing the color scheme, including cool gradient choices.
Conclusion
In conclusion, this curated selection of interactive website templates showcases a diverse range of options for businesses, agencies, and individuals looking to establish a compelling online presence. From the cryptocurrency-focused Cryptocash to the versatile Porto and the clean, minimalistic design of Rhythm, each template offers unique features and customization possibilities.
Whether you're a startup, agency, or individual with specific niche requirements, these templates provide a solid foundation for creating engaging and visually appealing websites. The variety of options, from Polo's value-packed offerings to BeTheme's extensive collection, caters to different preferences and design needs.
The inclusion of features such as responsive layouts, animation effects, and easy customization through drag-and-drop builders underscores the user-friendly nature of these templates. Additionally, premium add-ons like Slider Revolution and Mailchimp enhance the functionality and visual appeal of the websites created with these templates.
As the online landscape continues to evolve, having a website that not only captures attention but also provides a seamless and interactive user experience is paramount. The templates highlighted in this article offer the tools and aesthetics necessary to meet these demands, making them valuable assets for anyone embarking on the journey of creating a distinctive and effective online presence.
Sponsored Content