Are you looking for a way to monitor and regulate file downloads in WordPress? You might want to keep track of how many times a file is downloaded.
Or perhaps you need to restrict access to material to registered users or customers exclusively.
We'll compare some of the finest WordPress download manager plugins to track and manage your file downloads in this article.
What Should You Look for in a WordPress Download Manager Plugin?
You might wish to utilize a WordPress download manager plugin for a variety of reasons. Some or all of the following may be required:
Lock a file so that it can only be accessed by registered users with a certain role.
Only paying consumers should be able to view a file.
Provide a restricted quantity of digital file copies.
WordPress file reorganization and tagging
Prevent bots or spammers from downloading your files frequently.
Count the number of times a given file is downloaded.
Keep track of how many times a certain kind or set of files is downloaded.
As part of a broader offering, such as an online course, include downloadable files.
It's difficult to find a single plugin that can handle everything listed above, however depending on your use case, you may not require all of these functions.
We chose the top WordPress download manager plugins in our comparison to cover all scenarios and use-cases.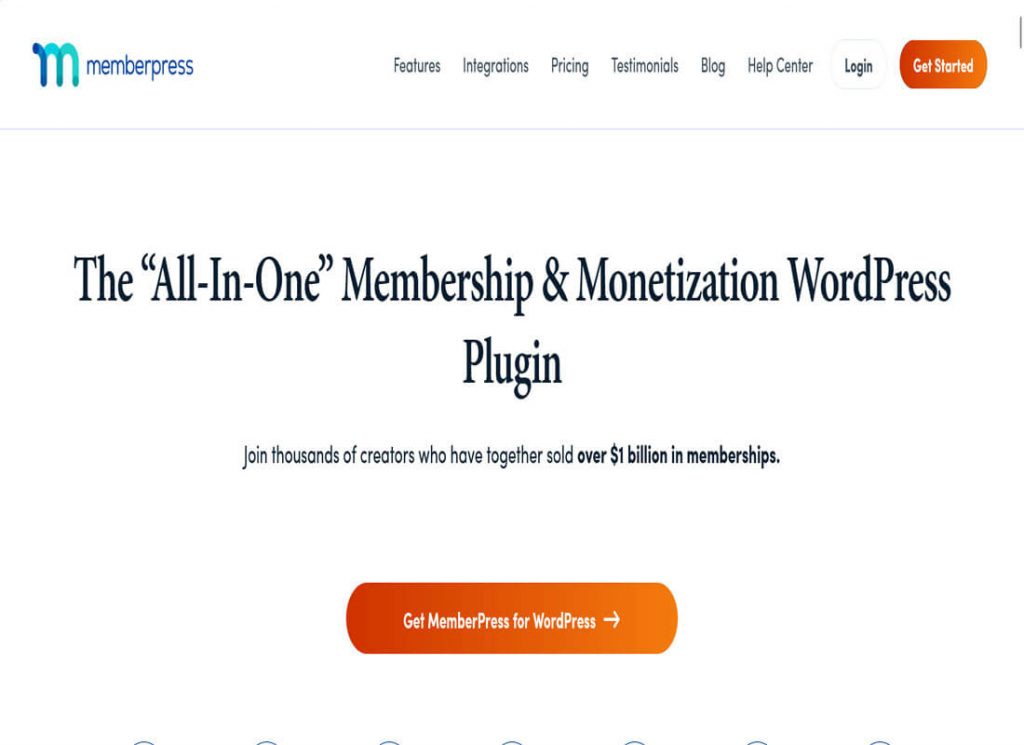 MemberPress is the most powerful WordPress membership plugin available. It makes it simple to sell digital downloads. You may also use it to sell memberships, restrict material on your site to members only, and much more.
The MemberPress Downloads extension provides advanced download management features. You may use a shortcode to upload numerous files, tag or categorize them, and list them.
MemberPress may be used to safeguard files as well as posts and pages. Files can be locked so that only people with the appropriate degree of access can view them.
You may also secure files by category and tag, which is a fantastic tool. You may create a rule that protects all files allocated to a specified category or tag. This makes it simple to limit files based on the user's subscription level.
Using MemberPress' shortcodes system, you may also list your files by category and tag. If you have a variety of downloads, this makes it very simple to categorize them for your consumers.
MemberPress also provides a great deal of versatility. It allows you to construct a comprehensive membership site instead of simply selling files. It even works with email marketing platforms such as Constant Contact, ConvertKit, and AWeber.
See our tutorial on how to simply construct a WordPress membership website for more information.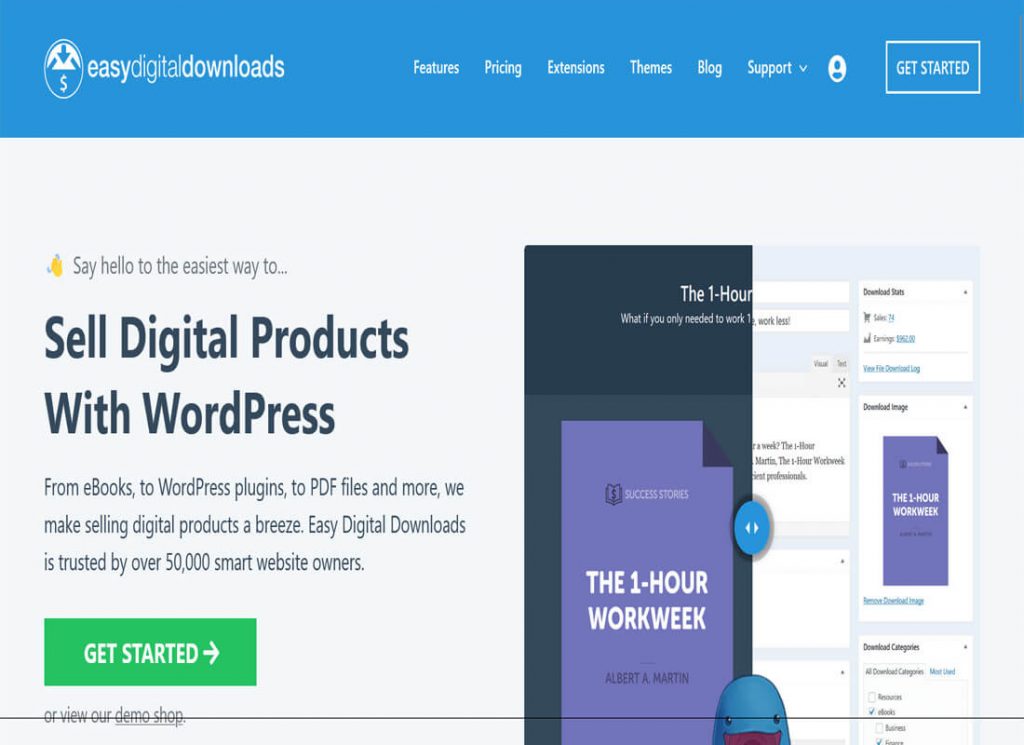 Easy Digital Downloads, as the names indicate, makes it simple to sell digital items on your website. It may also be used to provide and track free downloads.
The Easy Digital Downloads plugin will automatically safeguard your files. All sales and free downloads may be tracked by date, time, and IP address.
You may limit the number of times a consumer can download their files. You may also provide a time limit for the download link to expire. These are both effective methods of discouraging consumers from sharing their files with others.
Easy Digital Downloads may be integrated with a variety of different services, including email marketing providers such as ConvertKit and AWeber. You can also use it in conjunction with AffiliateWP to establish a referral scheme.
Easy Digital Downloads has a shopping cart system that allows clients to purchase many digital goods at once. You can quickly build a customer account page where logged-in customers may see a list of everything they've bought.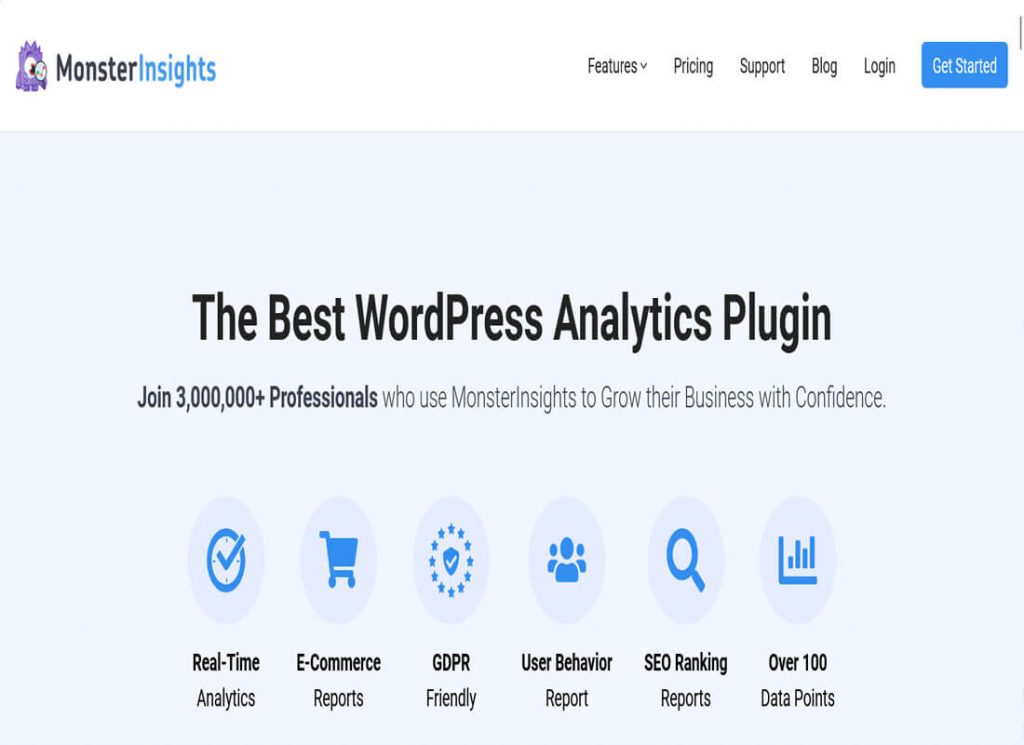 The best Google Analytics plugin for WordPress is MonsterInsights. If you want to see which files on your site are being downloaded the most, this is the best solution. This is critical if you provide a large number of free downloads and want to discover which ones are popular with your consumers.
You may choose which file types to monitor, such as photos, zip files, PDFs, and so on.
You may also label your files so MonsterInsights knows which categories are the most popular. In MonsterInsights, for example, you might divide "Free Reports" from "Printable Worksheets."
The file downloads report, along with MonsterInsight's other user analytics reports, may be seen on your WordPress dashboard.
See our tutorial on how to use MonsterInsighs to track file downloads for more information.
MonsterInsights works flawlessly with all of the plugins on this list, and we recommend installing it with any file download manager plugin you use. The free edition of MonsterInsights includes file tracking, but you can subscribe to the Pro version to gain access to more advanced capabilities.
MonsterInsights can also be used alone. Simply add your files to the WordPress media library and embed the links to them in your posts, pages, menus, and so on. After then, MonsterInsights will begin tracking your download statistics.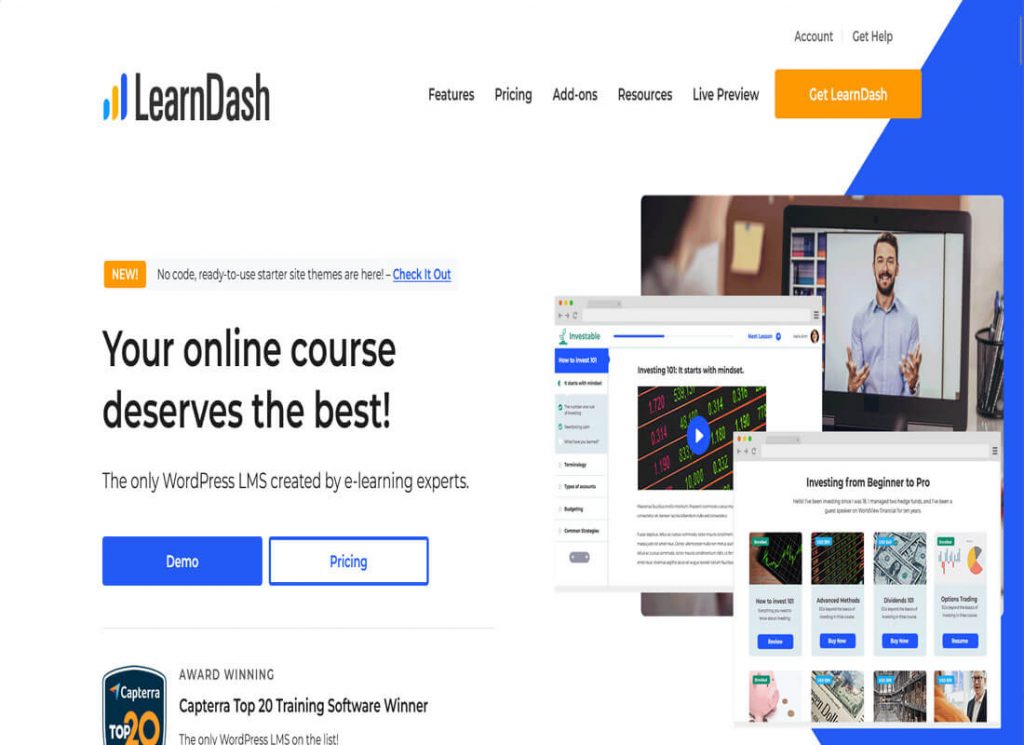 LearnDash is a popular WordPress LMS (learning management system) plugin. It's simple to use and packed with useful features.
LearnDash allows you to collect a one-time fee or set up a monthly subscription for your product. You may simply incorporate video and audio assets into your course, making it an excellent platform for selling these sorts of products.
Aside from locking material on your website, LearnDash can be used to receive fees, offer online courses, create assignments and quizzes, and much more. LearnDash also has dynamic forums where your users may engage with one another.
LearnDash works effectively on its own for accepting fees and providing password-protected information. It can also be integrated with some of the other tools on this list, such as MemberPress, WordPress Download Manager, and WooCommerce.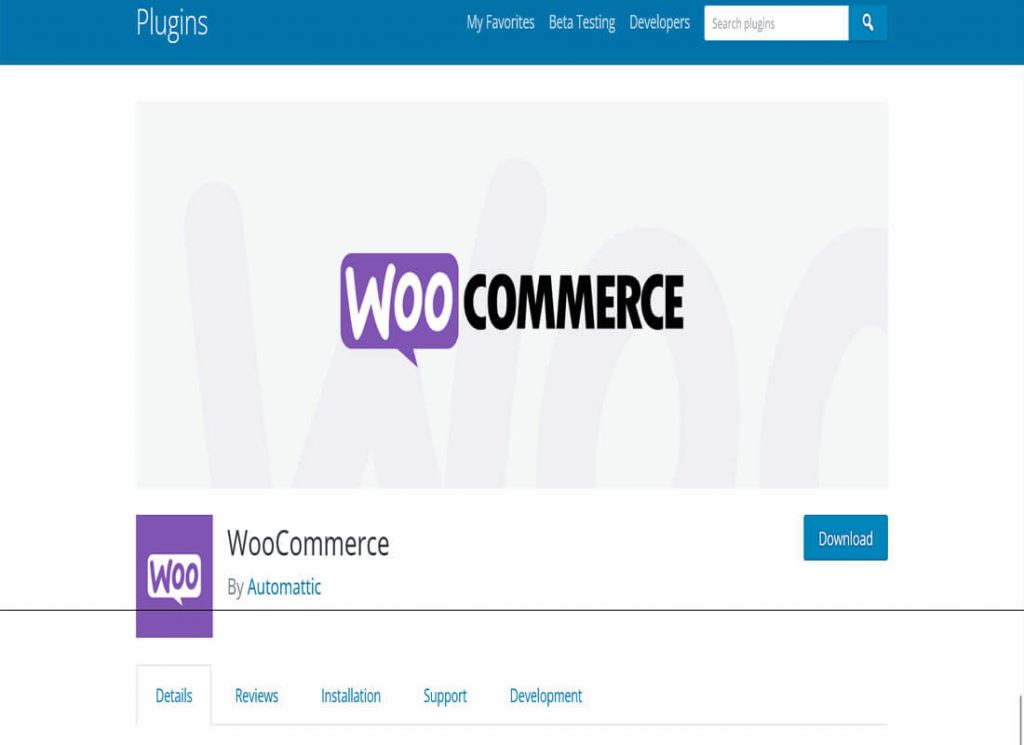 WooCommerce is a popular WordPress eCommerce plugin. It may be used to sell both physical and digital goods.
If you want to offer digital downloads, just add your download to WooCommerce as a product, and the consumer will only be able to access it after paying for it.
You may also utilize WooCommerce plugins to expand the functionality of your online store. For example, you may utilize smart coupons capabilities to make it easier to run deals and promotions.
WooCommerce provides a variety of download methods and file protection options. You can select the one that best matches your needs. Your downloads, like standard WooCommerce items, can have variants.
WooCommerce may also be used to build a product that has both a downloaded and a physical component. For example, you may provide an online video course that includes a real workbook.
See our entire WooCommerce beginner's guide for additional information.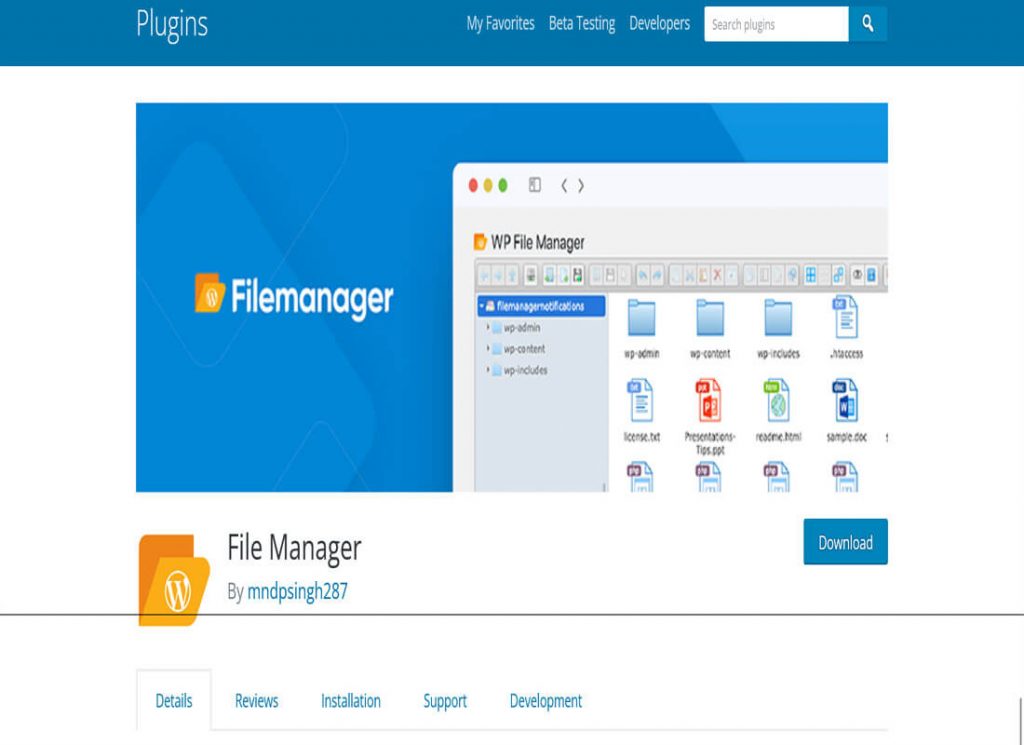 File Manager is a wonderful FTP-like file manager. You may use it to edit files directly from your WordPress dashboard rather than utilizing FTP to move them.
Wherever practical, we recommend utilizing an FTP client or your WordPress hosting file manager. However, there may be instances when you need to manage files rapidly through your WordPress dashboard.
File Manager also allows you to upload files to the WordPress media library. It generates thumbnails for all picture file formats. It also offers search capabilities, which makes it simple to locate your files.
You may also create private folders using the File Manager Pro Edition. You can restrict access to various user roles or even specific people.
The Pro Edition also allows you to restrict the sorts of files that may be uploaded and downloaded. You may even configure email notifications to receive an email anytime a file is downloaded.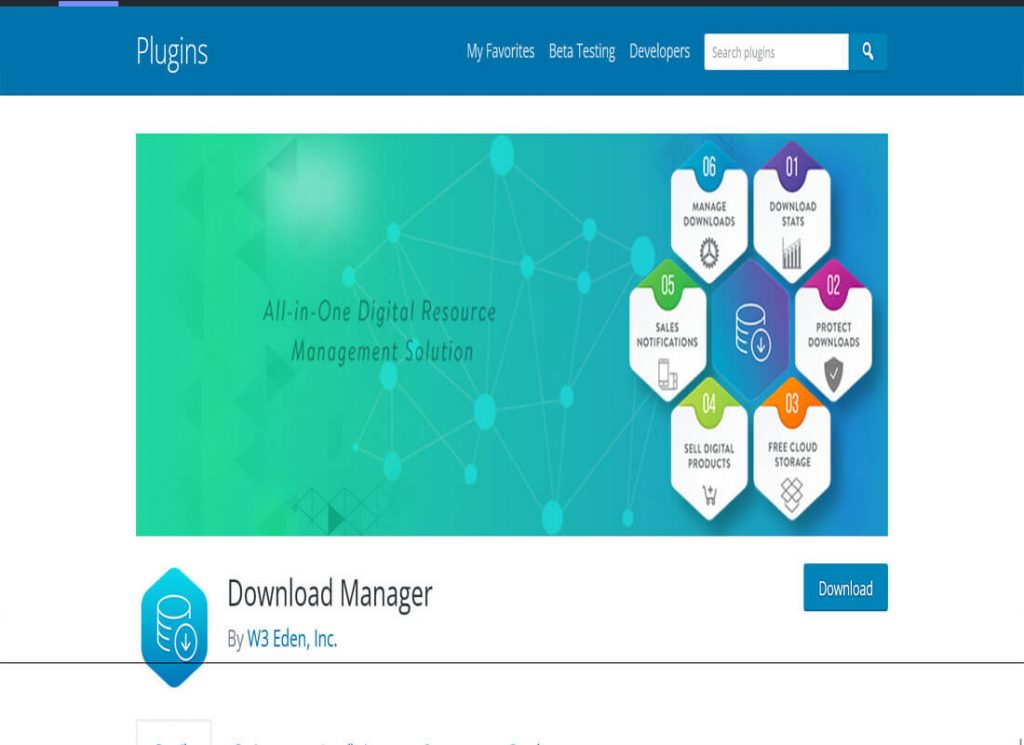 WordPress Download Manager is a wonderful, affordable choice. It may be used to handle both free and commercial file downloads.
You may establish a password for each file or designate user roles that can access your files.
You may use a Captcha Lock or IP Block function in a WordPress download manager to prevent bots or spammers. You may also limit downloads by assigning a download limit to each user. This can assist to enhance the speed and performance of WordPress.
You'll also receive download logs, which will show you the date, time, and location of the user who is downloading your files.
When a user downloads a free file, they are not required to complete the entire checkout procedure. With PDF and picture files, WordPress Download Manager gives the user the choice to open or download the file.
Using the free "Premium Package – Complete Digital Store Solution" addon, you can quickly assign a price to files.
WordPress Download Manager also has a variety of premium addons. BuddyPress integration, a User Review addon, a Download Limit addon, and more features are available.
Final Thoughts: The Best WordPress Download Manager Plugin
It might be difficult to select the best download manager plugin. Depending on how you want to manage your downloads, all of the plugins on this list are excellent choices.
If you wish to sell downloads while restricting access to members, MemberPress is the ideal download manager plugin for you. It includes all of the strong features, such as file protection by category and tag, email marketing integrations, payment gateways, and so on.
If all you want to do is track downloads, MonsterInsights is the plugin for you. It will supply you with all of the statistics you want. Simply upload the files to your WordPress file manager, embed them in a post, and MonsterInsights will provide download statistics.
We hope this post was useful in learning about the top WordPress download manager plugins. We also recommend reading our experts' list of must-have business website plugins and our comparison of the finest live chat software for small businesses.
If you like this post, please subscribe to our WordPress video tutorials on YouTube. We may also be found on Twitter and Facebook.
Thank you for visiting ThemeMasterly and taking the time to read this article! We sincerely appreciate it! You might now want to learn how to create a website using one of our free WordPress themes.
Sponsored Content