Are you a healthcare professional, clinic owner, or medical practitioner seeking a remarkable online presence? Look no further! We present to you the ultimate collection of 30 cutting-edge Health & Medical WordPress themes for 2023. Whether you're a doctor, dentist, surgeon, or wellness expert, these premium themes offer unparalleled versatility, customizable layouts, and zero coding requirements, making your website journey seamless and hassle-free.
Best Healthcare & Medical WordPress Themes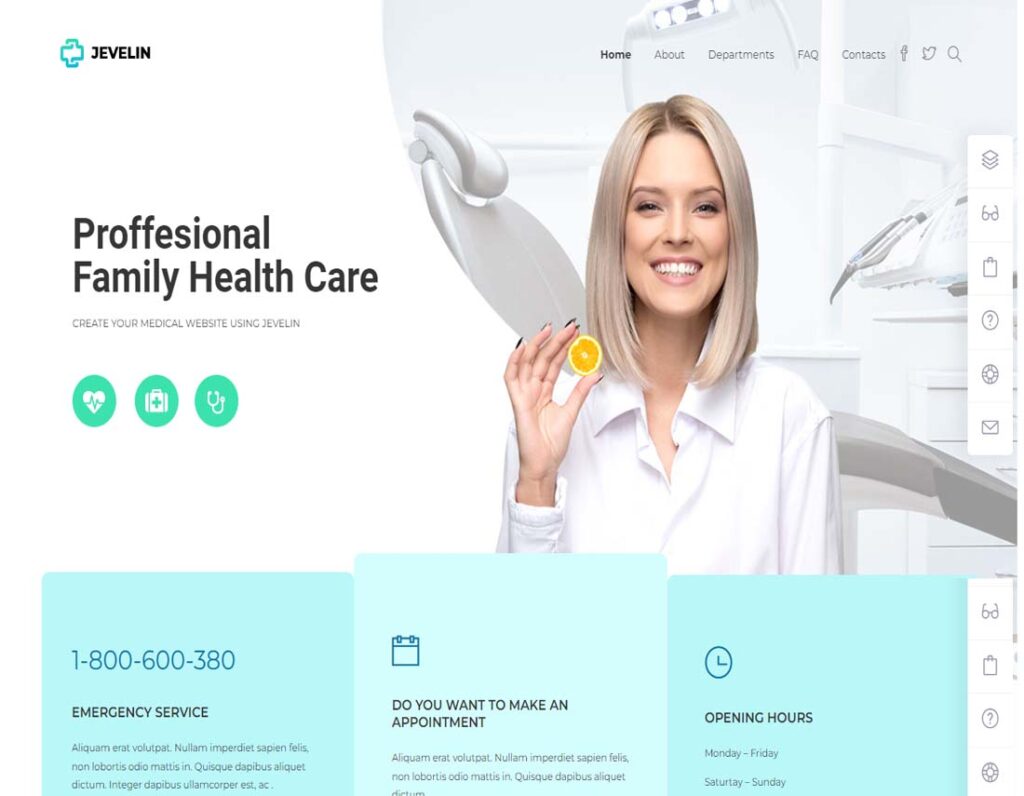 Jevelin stands as a versatile masterpiece among health and medical WordPress themes. Designed to seamlessly adapt to any industry and niche, Jevelin offers numerous demos and exceptional customization options, ensuring you have a captivating website up and running in no time. With features like sticky navigation, appointment forms, and mobile responsiveness, Jevelin creates a spectacular user experience, allowing potential patients to familiarize themselves with your expertise before booking appointments.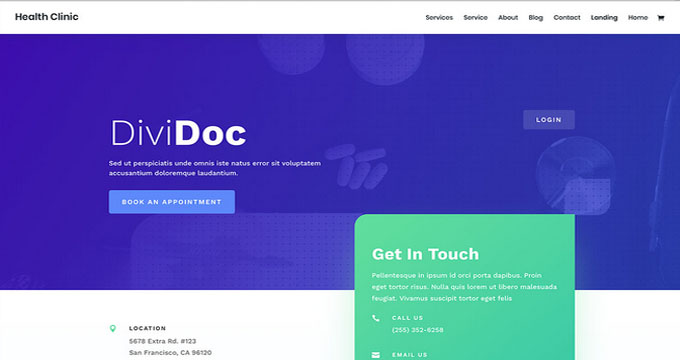 Divi sets new standards in WordPress themes for healthcare and medical websites. With its intuitive drag-and-drop page builder, you can effortlessly shape your web space without touching a line of code. Dive into the medical industry with Divi's predesigned content, or tweak it to perfection to align with your unique brand. It's versatility and user-friendly features ensure your online presence stands out in the medical realm.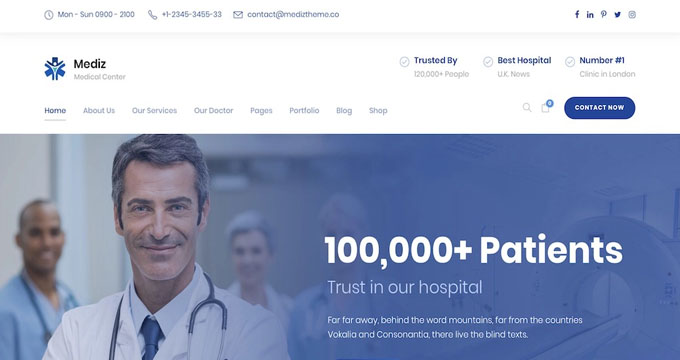 Mediz emerges as a top-tier health and medical WordPress theme, boasting 6 main demos and a host of practical page layouts. Say goodbye to the daunting task of building a website from scratch – Mediz's integrated drag-and-drop system empowers you to unleash your creativity without any programming expertise. From headers and footers to Slider Revolution and professional support, Mediz equips you with everything you need for a robust online presence.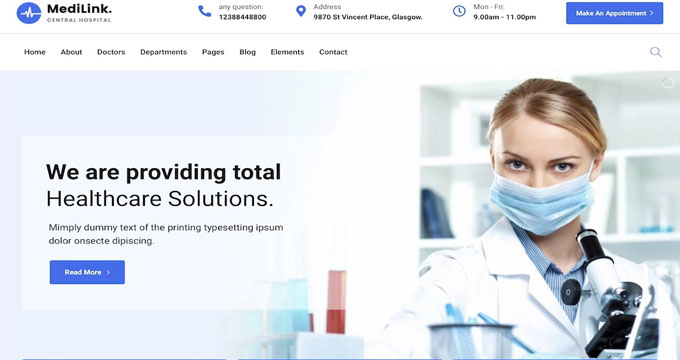 With 20 diverse one- and multi-page samples, Medilink empowers you to create a striking website quickly and effortlessly. Crafted specifically for healthcare and medical purposes, Medilink offers essential layouts and components, allowing you to effectively showcase your services and market your institution without the need for external assistance. Its user-friendly features, including appointment forms and Elementor page builder, ensure a seamless browsing experience for visitors across devices.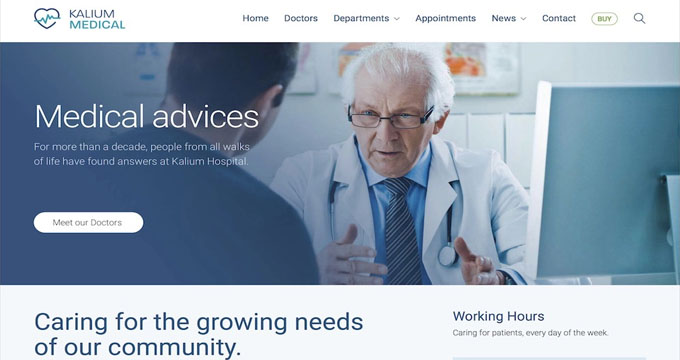 Kalium delivers a visually stunning solution for health and medical websites. Choose from an array of predefined demos tailored to your objectives, and effortlessly customize them to create a unique online presence. With features like Slider Revolution, one-click demo data import, and SEO optimization, Kalium ensures top-notch performance while effectively promoting your healthcare business to new heights.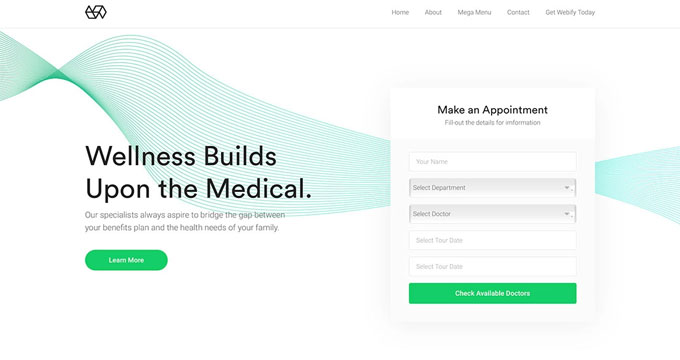 Webify emerges as a highly versatile WordPress theme perfect for health and medical pages. Equipped with essential features such as online appointment forms, call-to-action buttons, and Google Maps integration, Webify ensures an engaging and responsive layout across web browsers and devices, enhancing user experience and engagement.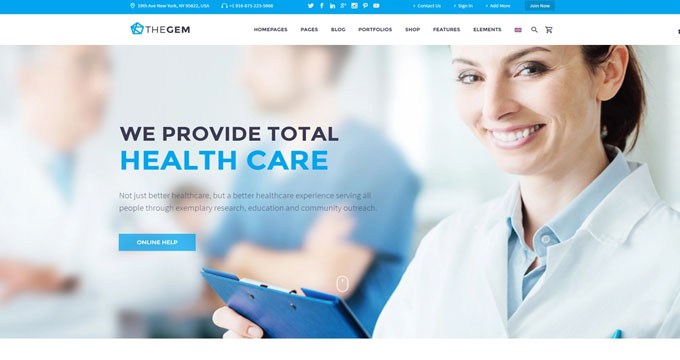 TheGem stands as a sleek and responsive multipurpose WordPress theme, ideally suited for the medical industry. With its intuitive WPBakery page builder and a plethora of demos, you can effortlessly craft a website that resonates with your medical branding. Its extensive customization options, color combinations, and Google Fonts enable you to create a personalized online presence that truly reflects your healthcare expertise.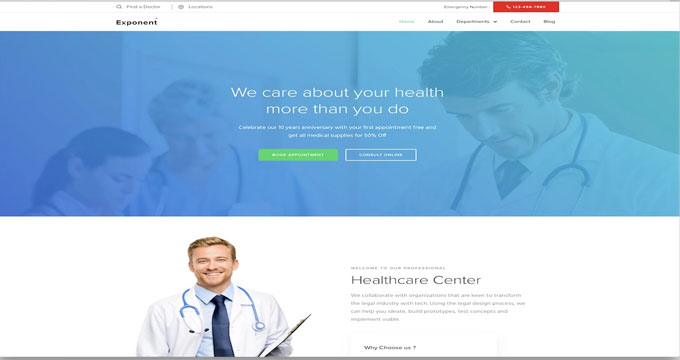 Exponent emerges as the go-to health and medical WordPress theme for hospitals, clinics, and practitioners. With a comprehensive layout ready to go, Exponent simplifies the process of creating an impactful online presence. Tailor the theme to match your branding, enhance your content, and leverage its additional features for an enhanced user experience, thereby positioning your medical services at the forefront.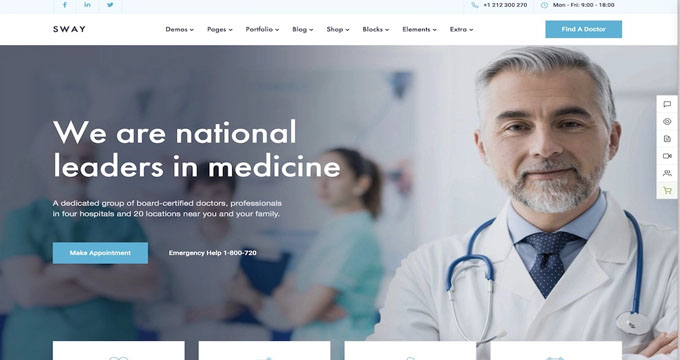 Sway effortlessly caters to hospitals, doctors, surgeons, clinics, and medical institutions, offering a professional WordPress theme that sets you apart from the competition. Engage your audience with detailed service presentations, doctor introductions, testimonials, and interactive Google Maps. Sway's integrated contact form and blog functionality further enhance your reach and engagement.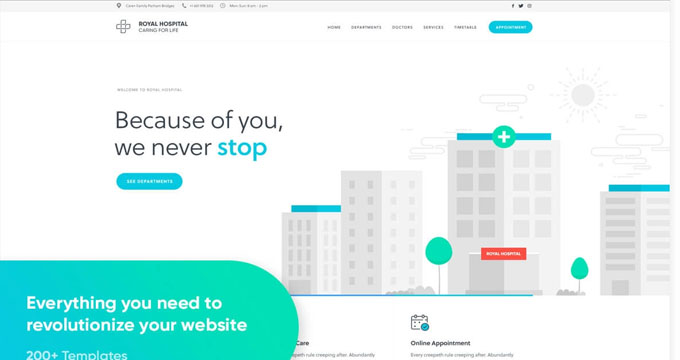 Revolution redefines health and medical WordPress themes with its captivating animations, sticky navigation, and testimonials slider. From medical-first websites to customizable content, Revolution empowers you to create an impactful online presence. Harness its ready-to-use content and pre-made web elements to ensure your health and medical website is live quickly, while adding your personal touch for a truly memorable user experience.
Stay tuned for more unique and creative descriptions of the remaining 20 health and medical WordPress themes on our list!
Discover the Future of Medical Websites: Unveiling 20 Exceptional WordPress Themes
In the dynamic realm of healthcare, your online presence matters more than ever. We've meticulously curated a list of 20 groundbreaking WordPress themes that redefine medical website design. Each theme is a testament to creativity, functionality, and user-friendliness. Whether you're a dentist, surgeon, or clinic owner, these themes offer unparalleled customization options and seamless integration – no coding required.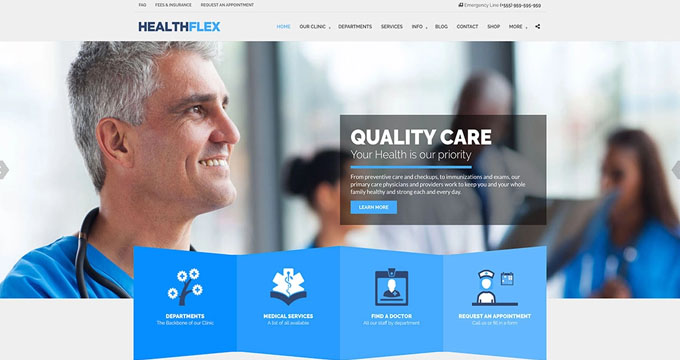 Introducing HEALTHFLEX – a WordPress business multipurpose theme engineered for convenience and raw power. Crafted with purpose, this theme transcends coding complexities, enabling you to create a professional and attractive website. Tailor-made for the health service industry, HEALTHFLEX is armed with premium plugins curated for crafting stunning medical websites. Seamlessly integrated commercial features and an intuitive interface solidify its prowess. Unleash your creativity with HEALTHFLEX – set up your medical website within minutes.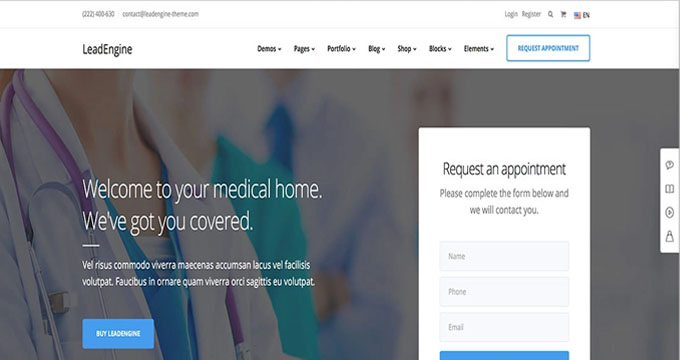 LeadEngine, a responsive and intuitive WordPress multipurpose theme, accommodates all skill levels. Regardless of your expertise, LeadEngine consistently delivers quality results. Designed for doctors, medical firms, and practices, LeadEngine's Medical demo encompasses your every need. With WPBakery's user-friendly interface, customization is effortless, freeing you from the constraints of coding. Craft tasteful, minimalist portfolios to showcase your professional services, and capitalize on LeadEngine's eCommerce-ready functionality to amplify your online presence.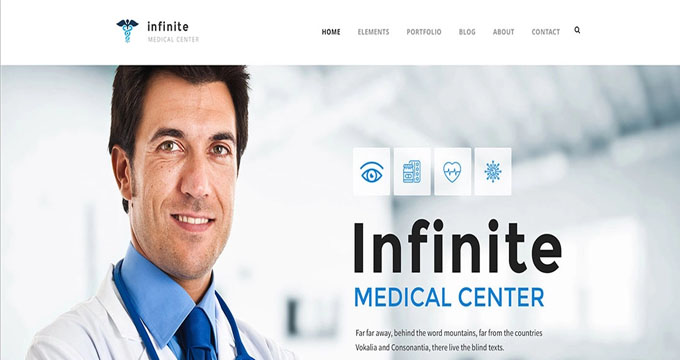 Unlock infinite potential with the aptly named Infinite WordPress multipurpose theme. A versatile blank slate, Infinite empowers you to create professional websites effortlessly. Engage users with dynamic content using Slider Revolution, Master Slider, and LayerSlider. Seamlessly integrate WooCommerce to transform Infinite into a powerful eCommerce platform. Infinite's adaptability and extendability grant you unparalleled confidence as you embark on your medical project.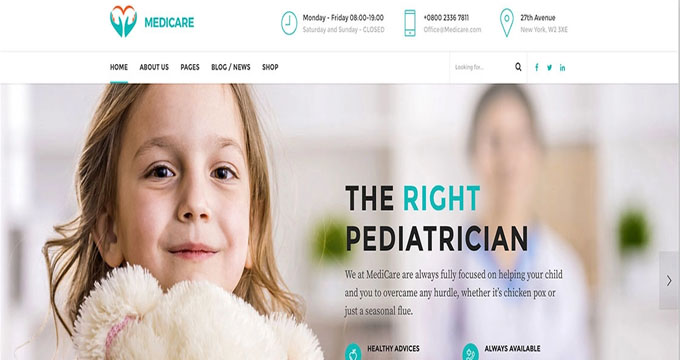 Enter the world of Medicare, a charming and professional multipurpose theme tailored for crafting feature-rich medical websites. From dentistry to psychiatric practices and veterinarians, Medicare caters to diverse medical fields. Simplifying the process, Medicare requires no coding knowledge, thanks to its potent admin panel settings. Create a website that reflects your unique vision effortlessly with Medicare.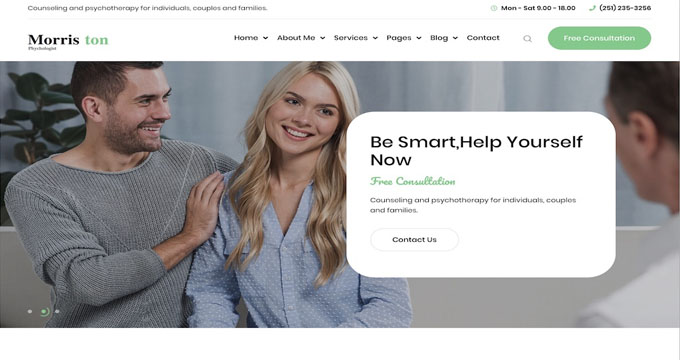 Morriston, a niche-oriented medical WordPress theme, specializes in psychologists and counseling services. Swiftly build a captivating website by mixing and matching available elements. Embrace the power of the Elementor builder to realize your branding vision. Engaging slideshows, call-to-action buttons, and optimized layouts enhance user experience. Morriston's fast loading speed and search engine optimization elevate your online presence to new heights.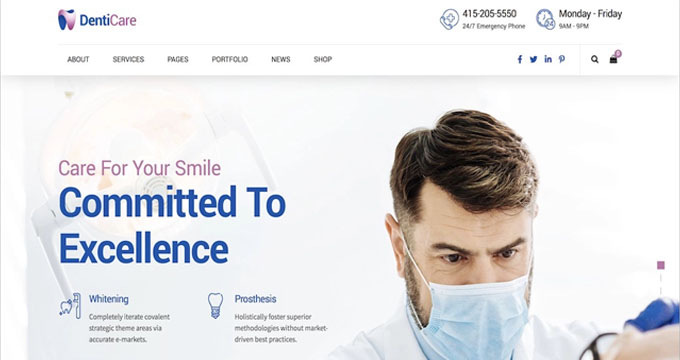 While initially targeting dentists and dental clinics, DentiCare's adaptability extends to diverse medical domains. Armed with four ready-to-use demos, you can establish a professional website effortlessly. DentiCare's arsenal includes a cost calculator, pricing tables, before-after sliders, and parallax effects. Tailor this refined medical WordPress theme to align with your precise needs and regulations, even embracing RTL languages for a global reach.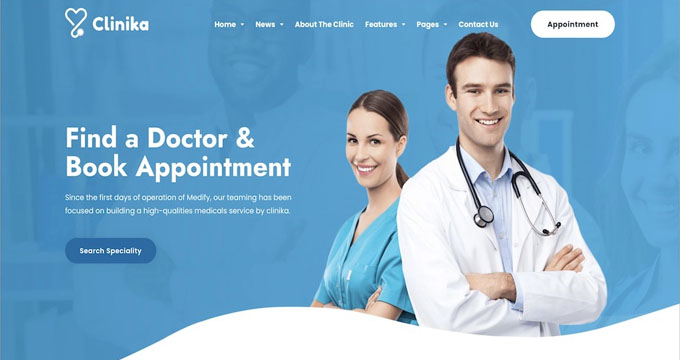 Clinika, a purposeful medical WordPress theme, is tailor-made for clinics seeking optimal online representation. Showcase your clinic's strengths and services, launch an eCommerce section, or delve into blogging – Clinika caters to every aspect. Swift setup options allow you to quickly launch your website, while its adherence to cutting-edge web trends ensures a user-centric experience. Unveil the potential of your clinic with Clinika.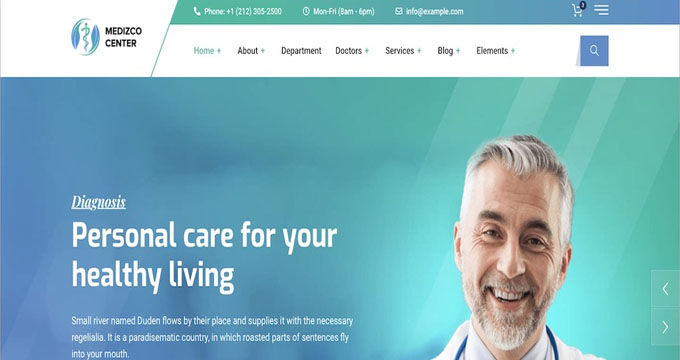 Medizco, a multi-functional health and medical WordPress theme, empowers doctors, hospitals, and health practitioners alike. Boasting nine homes, over 25 predefined page layouts, and a diverse collection of 40+ blocks, Medizco removes the burden of building from scratch. Customize effortlessly by simply dragging and dropping elements. Engage your audience with smooth animations, parallax effects, Google Maps integration, and an entire blog section. Elevate your potential with Medizco's comprehensive offerings.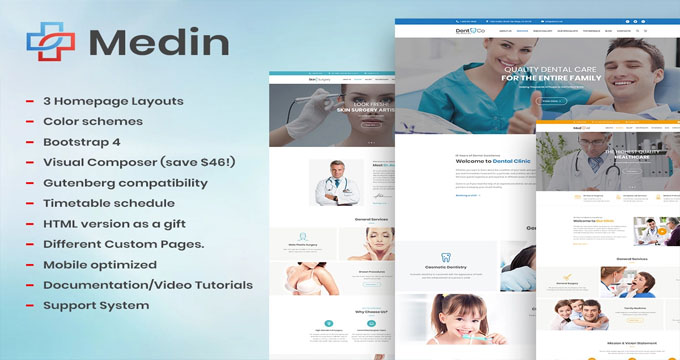 Medin revolutionizes medical website creation by eliminating the need to start from scratch. With the power of predefined demos, effortlessly create websites for surgeries, dentists, and clinics. Enhance the demo content to perfectly align with your vision. Medin's WooCommerce integration, timetable and schedule, preset color skins, and captivating before-and-after testimonials streamline your online booking process, ensuring organized business management.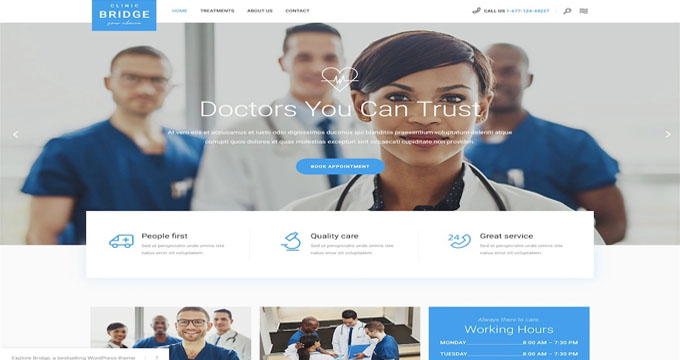 Bridge transcends its multi-purpose essence to embrace the healthcare sector. Whether you're a doctor, surgeon, or clinic owner, Bridge's adaptability stands ready to bring your vision to life. With over 610+ demos and robust features, customization options are limitless. Fine-tune your website's appearance with branding touches, setting the stage for a captivating user experience. Bridge empowers you to transform ideas into reality with unparalleled ease.
The journey into the realm of exceptional medical websites continues with these extraordinary WordPress themes. Stay tuned for the final installment of this innovative collection.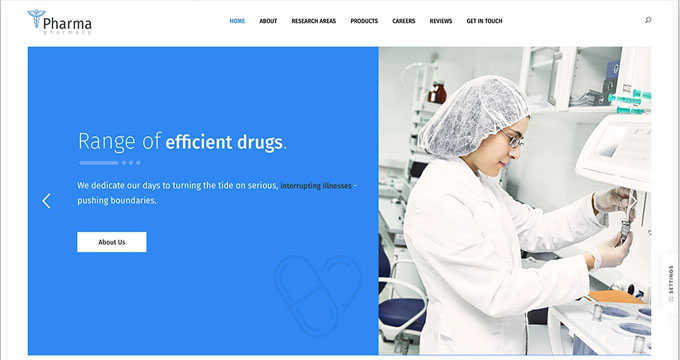 Step into a world of limitless possibilities with Composer – an adaptable WordPress theme tailored for professionals across diverse industries. With a repertoire of 90+ demos, each capturing a unique concept, Composer empowers you to showcase your creativity. Customize typography, colors, and headers to craft a unique identity. Harness the power of 300+ pre-made blocks and 200+ layouts for swift website development. Seamlessly connect with visitors through Contact Form 7 and MailChimp newsletter integration. WooCommerce and Yoast support, coupled with an array of time-saving shortcodes, ensure a seamless user experience. Responsive and retina-ready, Composer ensures your healthcare company's website resonates with trust and comfort. Need guidance? Dive into the detailed video tutorial for a harmonious design journey.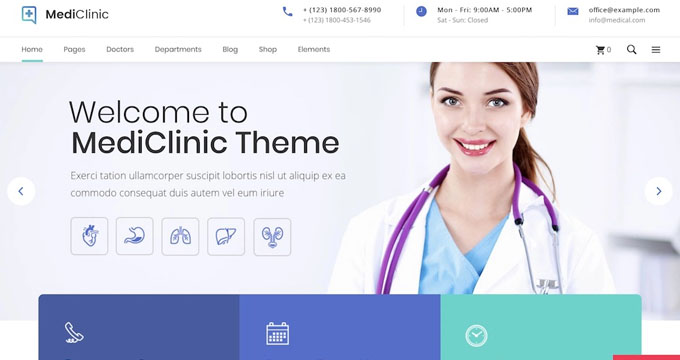 Discover MediClinic – a health and medical WordPress theme that embodies its name. With 12 distinctive home demos and a plethora of internal sections, MediClinic is your gateway to a tailored online presence. Craft your space effortlessly and align it with your brand regulations down to the finest detail. MediClinic's premium plugins, powerful admin, and comprehensive documentation redefine website development. Effortlessly import demo data with a single click, allowing you to focus on perfecting your medical institution's representation. Experience the pinnacle of excellence with MediClinic by your side.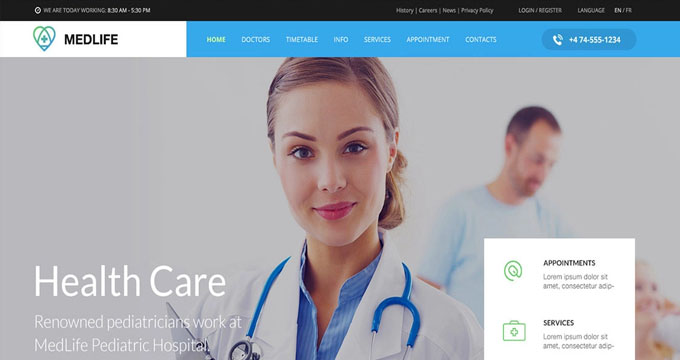 Kallyas transcends boundaries as a versatile multipurpose WordPress theme boasting 70+ homepage variations. Designed for professionals and personal bloggers alike, Kallyas adapts to your vision seamlessly. Leverage WooCommerce for comprehensive business management, and utilize pricing tables to enhance user engagement. Forge online communities effortlessly with bbPress and BuddyPress integration. Kallyas champions universal accessibility with fast loading and SEO optimization. Immerse yourself in beginner-friendly documentation and tutorials for a smooth, rewarding experience. With Kallyas, the canvas of medical website design becomes your playground.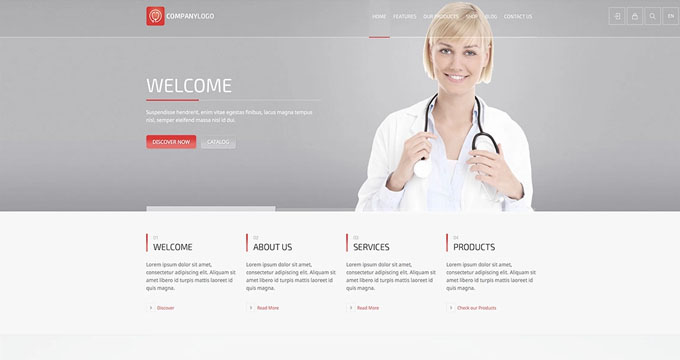 Unveil a new era of medical multipurpose themes with RT-Theme 20. Precisely honed with an expert touch, RT-Theme 20 offers an array of tools to craft modern, functional, and visually stunning websites. Effortlessly showcase products with built-in product showcase features. The uncomplicated single-click installation process ensures a seamless setup. Seamlessly accessible from any platform or device worldwide, RT-Theme 20 guarantees unparalleled smoothness. Elevate your medical brand's online presence with RT-Theme 20's cutting-edge innovation.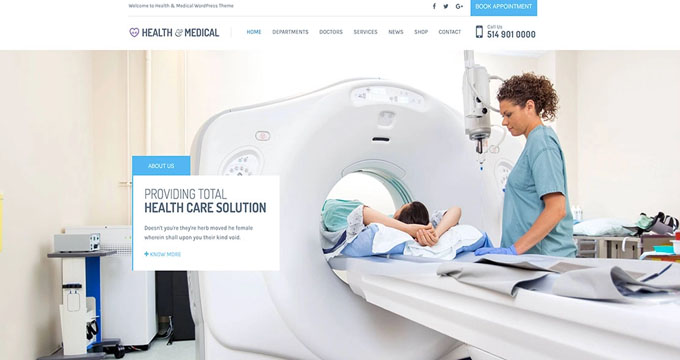 Health & Medical, a responsive and well-designed WordPress theme, is the ultimate canvas for healthcare clinics, hospitals, and dental institutions. Seamlessly incorporate WooCommerce for online transactions, while a dedicated blog enables you to share valuable insights and updates. With Health & Medical, aesthetics align perfectly with your visionary goals, ensuring an impactful and cohesive website for your healthcare endeavors.26. OneLife: Radiate Beauty and Excellence
Step into the world of Onelife – a captivating WordPress theme dedicated to beauty and plastic surgery in the medical field. Whether you're selling products or managing a private clinic, Onelife empowers your vision. Leverage WPBakery, mega menu, and Slider Revolution for stunning visual experiences. Onelife's doctor listings, appointment forms, and social sharing features enhance user engagement. Shortcodes simplify complexity, enabling hassle-free customization. With compatibility with MailChimp and WPML, Onelife heralds a new era of diverse and excellent medical websites.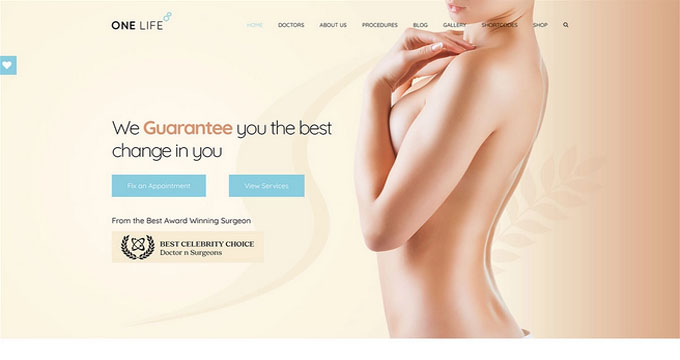 Step into the world of Onelife – a captivating WordPress theme dedicated to beauty and plastic surgery in the medical field. Whether you're selling products or managing a private clinic, Onelife empowers your vision. Leverage WPBakery, mega menu, and Slider Revolution for stunning visual experiences. Onelife's doctor listings, appointment forms, and social sharing features enhance user engagement. Shortcodes simplify complexity, enabling hassle-free customization. With compatibility with MailChimp and WPML, Onelife heralds a new era of diverse and excellent medical websites.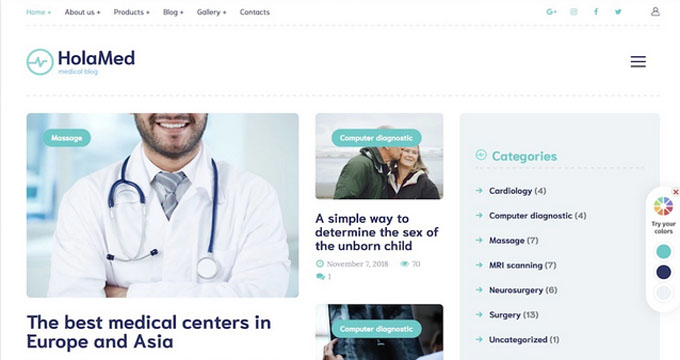 Unleash the potential of HolaMed – a versatile health and medical WordPress theme that caters to diverse business needs within the industry. Leverage available demos for swift website creation, and effortlessly customize colors, elements, and components to align with your branding vision. Engage users with parallax effects, animations, and a wealth of WPBakery elements. HolaMed's multi-level menu and convenient shortcodes enrich user experiences. From concept to creation, HolaMed makes crafting a medical website a breeze.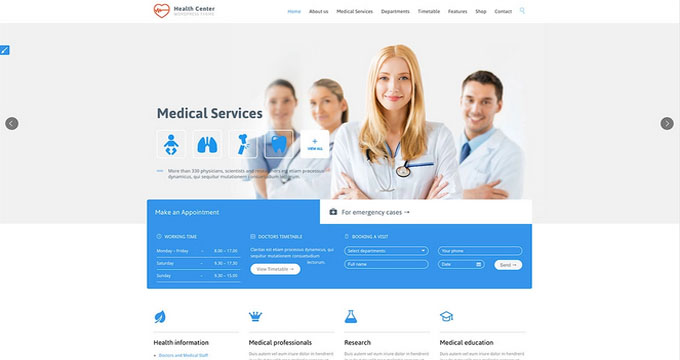 Enter the realm of Health Center – a dynamic WordPress theme tailored for medical websites, blogging, and equipment sales. Begin with the demo content and enhance it to perfection. Opt for a captivating one-page parallax version or a traditional multi-page layout. Health Center empowers you to shape your online identity with unbounded creativity.29. MediCenter: Mastering Medical Excellence Effortlessly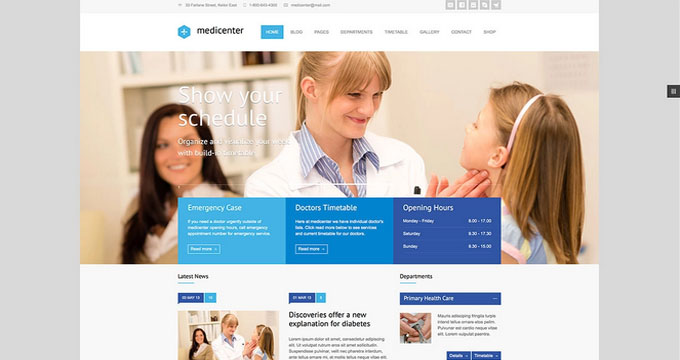 MediCenter, a modern and elegant health WordPress theme, is your canvas for health and medical ventures. With over 600 fonts, customizable color schemes, and a plethora of icons and shortcodes, MediCenter embraces individuality. The built-in schedule manager, diverse page layouts, pricing tables, and potent page builder empower you to sculpt your online space with finesse.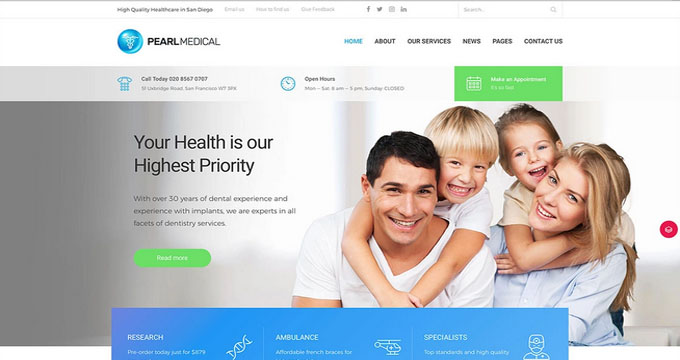 Pearl, an all-encompassing WordPress theme, is your ticket to an array of demo customizations. Whether your focus is health or medicine, Pearl has you covered. A responsive layout and an intuitive drag-and-drop builder ensure seamless operations. With advanced pricing modules, appointment booking, and a comprehensive feature set, Pearl unleashes unparalleled efficiency and creativity. Craft your medical website effortlessly and set the stage for success.
Embark on a transformative journey of medical website design with these remarkable WordPress themes. Stay tuned for further exploration into the world of online excellence.
Read More: 30+ Best WordPress Fitness Themes 2022 for Gym, Fitness Centers, and Crossfit Groups
Sponsored Content