In the dynamic realm of online content creation, harnessing the power of live streaming is a game-changer. Whether you're promoting services, conducting online classes, hosting live events, or fostering a gaming community, the right WordPress live streaming theme can elevate your digital presence. Let's delve into the curated selection of themes that cater to various niches, ensuring you not only captivate your audience but also have the technical prowess to manage your streaming platform effortlessly.
Best WordPress Themes For Live Streaming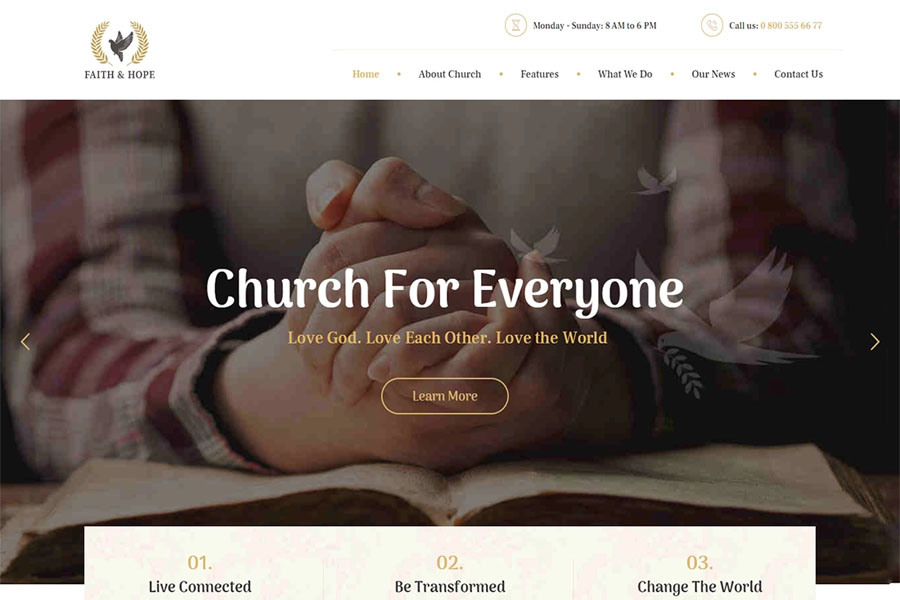 For those managing church websites, Faith & Hope emerges as an ideal choice. This modern church and religion WordPress theme feature a clean design and seamless integration with the WPBakery page builder. The Event Calendar plugin simplifies the management of upcoming events, from sermons to summer camps. With WooCommerce compatibility, transforming your website into a Christian literature store or gift shop becomes effortless. Implement donations seamlessly with the integrated ThemeRex donations plugin, fostering a sense of community and support.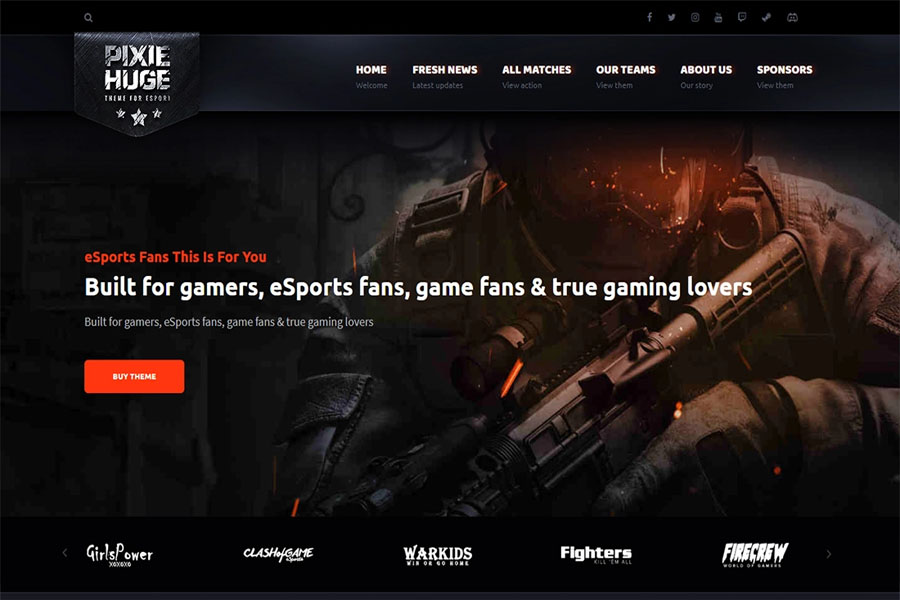 PixieHuge steps into the spotlight as an eSports gaming theme catering to clans and organizations. Embracing the latest design standards, PixieHuge offers unlimited teams and players, making it an ideal choice for gaming communities. Integration with Twitch, Mixer, and YouTube platforms enables seamless live stream features. The theme's compatibility with bbPress facilitates the creation of forums, while WooCommerce integration supports online stores. With PixieHuge, managing content sections to align with your preferences becomes an intuitive experience.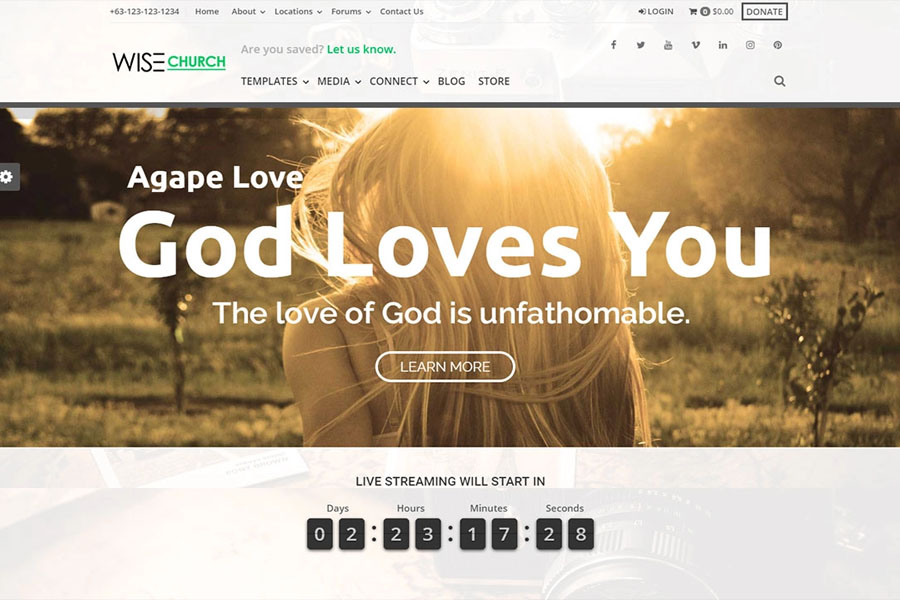 Non-profit organizations looking to extend their reach through live streaming can rely on Wise Church. Beyond its visually appealing design, Wise Church shines with its live streaming and live chat features. The HLS player, schedule, support, and guide enhance the user experience for live streaming. The theme's responsive interface ensures accessibility from any device, while the integration of the Give Donation plugin streamlines online donations. With additional support for WooCommerce and bbPress, Wise Church becomes a comprehensive solution for non-profits.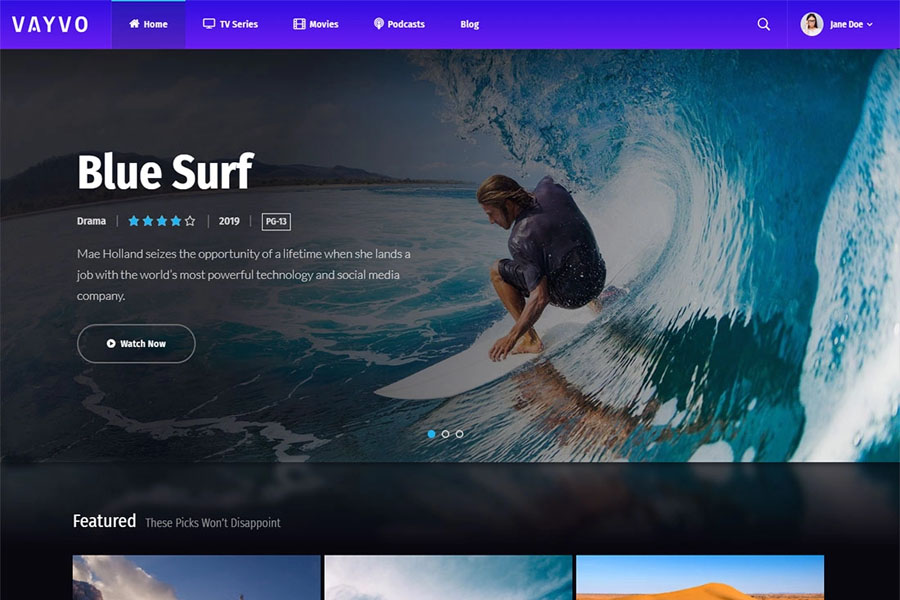 Vayvo takes live streaming to the next level with its innovative features and membership theme capabilities. Built on WordPress, this theme offers seamless customization through the Elementor page builder. Integration with the ARMember Membership plugin facilitates subscription management and user registrations. Content restriction tools enable control over access to pages, ensuring a tailored experience for your audience. Compatible with Boosted Element Addons, Vayvo empowers users to add ratings and detailed reviews, fostering a vibrant and engaging community.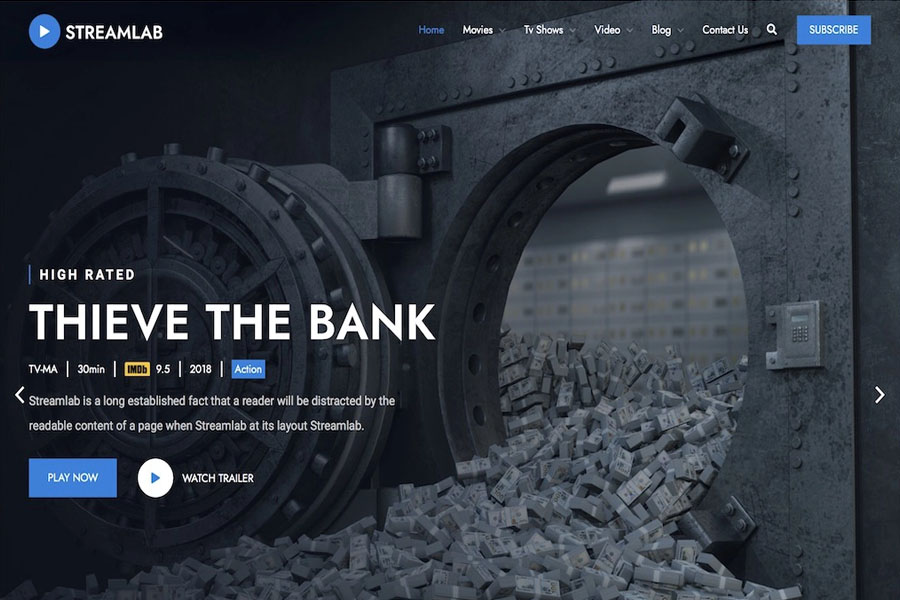 Enter the world of captivating designs with Streamlab, a WordPress video streaming theme designed to immediately capture attention. Whether you opt for the out-of-the-box version or tailor it to your liking, Streamlab delivers with practical features and predefined page layouts. From paid subscriptions to Elementor compatibility, wishlist functionality to smooth page transitions, Streamlab offers a holistic streaming experience. Extensive documentation and dedicated support ensure you have the assistance you need to make your streaming platform stand out.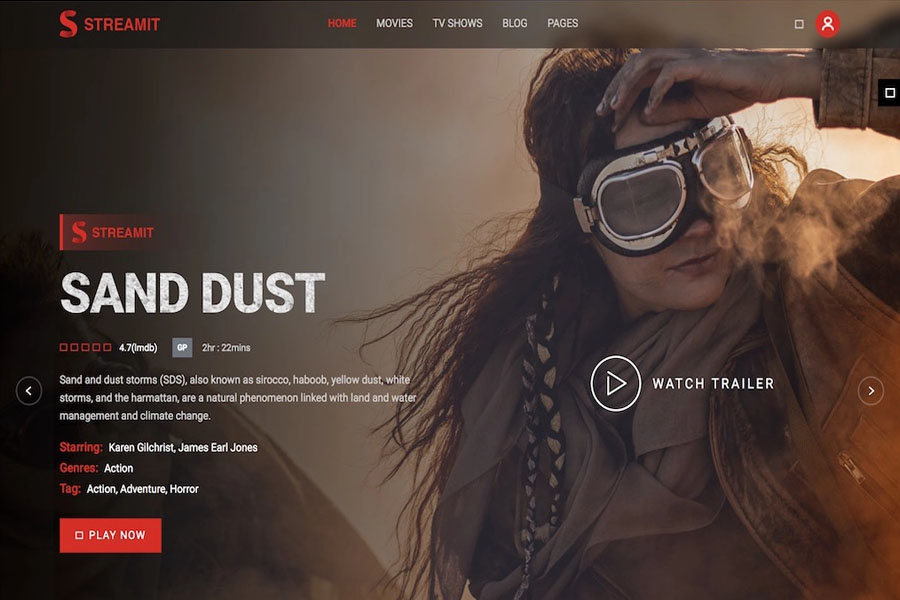 Tailored for both beginners and professionals, Streamit stands as a WordPress live streaming theme that thrives on simplicity. Say goodbye to coding complexities and embrace the joy of creating your streaming platform hassle-free. Streamit's mobile-ready layout, cross-browser compatibility, and RTL language support make it accessible to a global audience. Highlights include subscription plans, versatile page layouts, Slick Slider integration, Contact Form 7 support, and seamless social sharing. Whether you're targeting a niche audience or a broader demographic, Streamit offers the flexibility and extensibility to meet your streaming aspirations.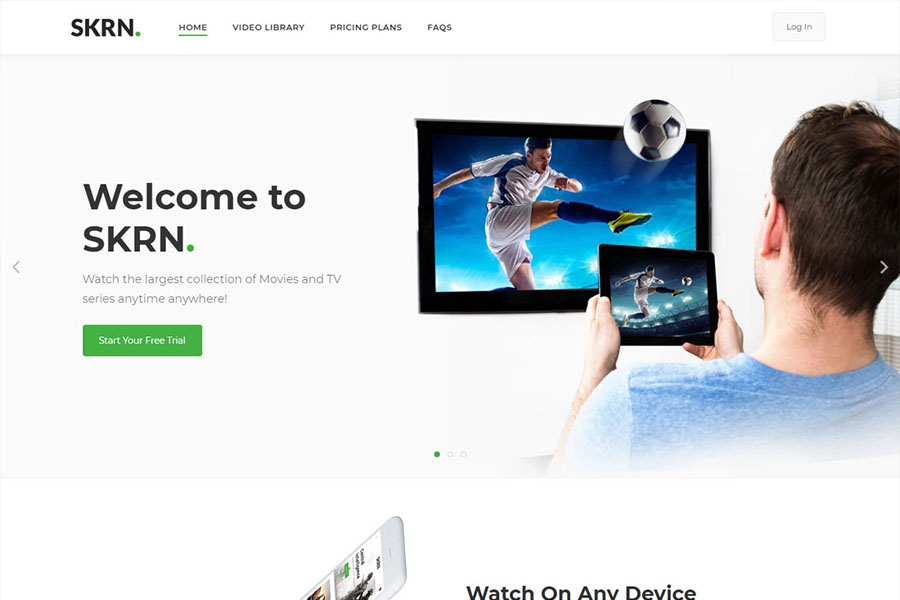 Looking to add a dash of excitement to your upcoming event? Enter SKRN, a media streaming app WordPress theme designed to create and manage captivating live streaming websites. Offering versatility, SKRN allows the creation of diverse content, which can be monetized through subscription plans (experience its performance firsthand with a free trial).
SKRN seamlessly integrates various WordPress plugins, including the ARMember Membership plugin for membership systems. The Elementor builder and Boosted Elements add-on empower users to craft pages effortlessly, complete with sliders, maps, pop-ups, and more. Enhancing user engagement, SKRN introduces a Video Rating System, providing an intuitive way for users to review content. Furthermore, its SEO optimization ensures your content reaches higher spots in Google, amplifying your online presence.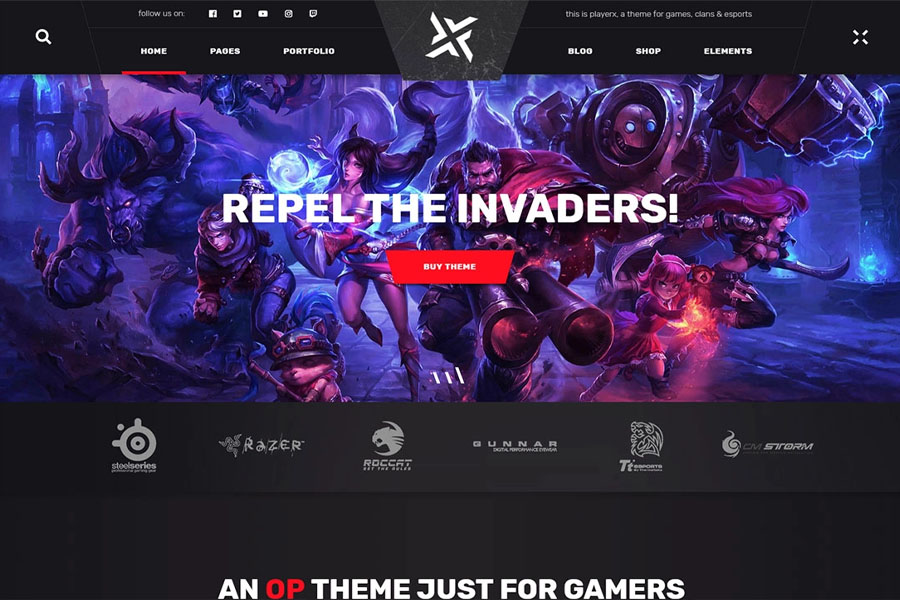 For gaming enthusiasts, eSports aficionados, and gaming studios, PlayerX emerges as a powerful WordPress live streaming theme. This theme caters to announcing streams, showcasing match lists, and presenting gaming clans. With a plethora of layout options, PlayerX provides ample elements and widgets to enhance your eSports website's quality. Integration with WPBakery, WooCommerce, Slider Revolution, and Contact Form 7 ensures flexibility and ease of use. Social share functionality, Twitter feed widget, Instagram feed widget, and other features make PlayerX a shareable and engaging platform.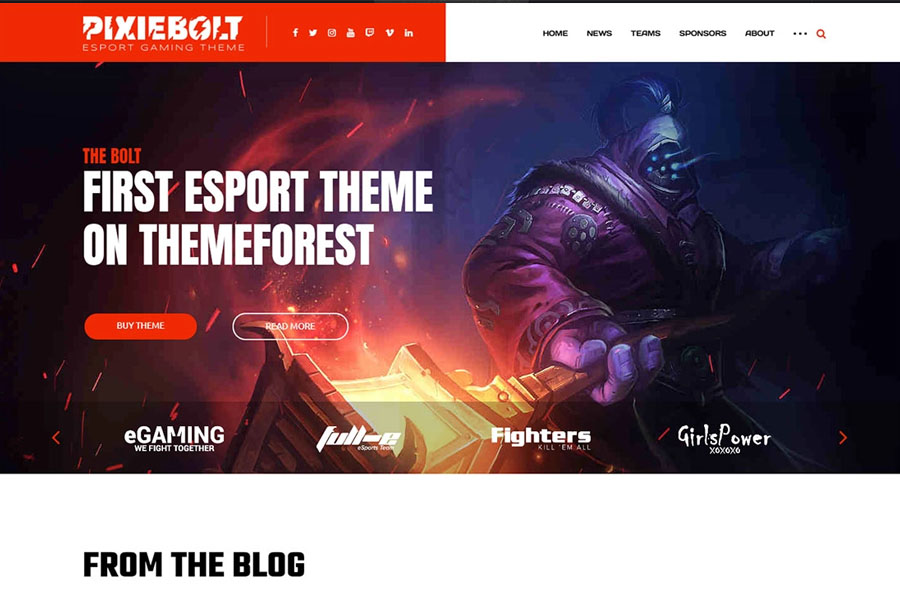 PixieBolt steps onto the scene as an eSports gaming theme designed for small teams, large eSports organizations, gamers, and similar groups. This theme incorporates the latest design trends and premium elements, ensuring it meets the unique needs of eSports organizations. Users can enjoy live streams through integration with Twitch, Azubu, and Hitbox platforms. With video tutorials and bbPress compatibility for forum creation, PixieBolt offers comprehensive support. The WooCommerce plugin integration facilitates the sale of items on your website, complemented by ad spaces for effective monetization.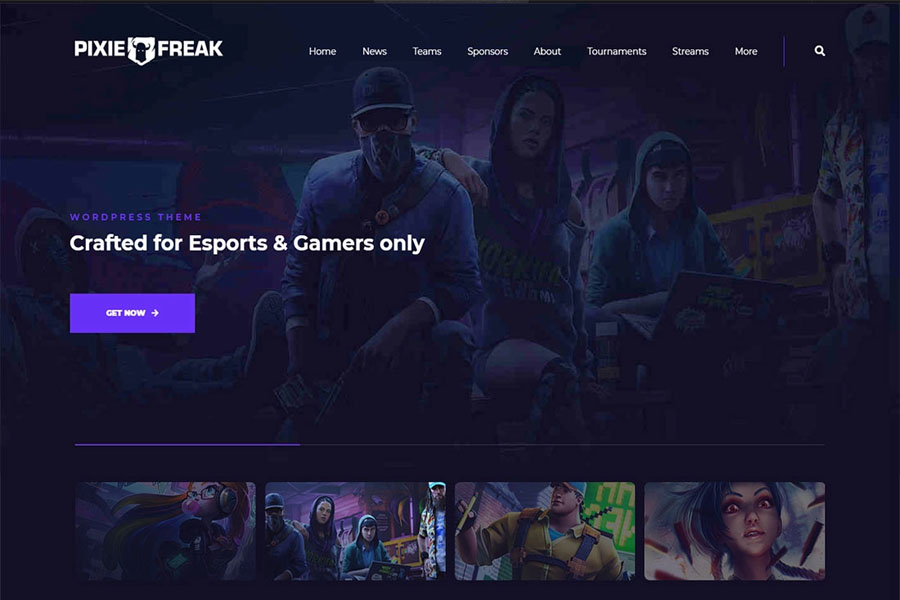 PixieFreak, a resourceful and smart WordPress live streaming theme, caters to all eSports and gamer needs. Built with the bbPress plugin, it simplifies the task of gathering gamers worldwide into your eSports community. Showcase eSports teams, multiple players, teams, matches, and results to keep your fans updated. WooCommerce integration enables effortless setup of an online shop for selling eSports items. PixieFreak ensures responsiveness, allowing users to access your streams seamlessly via mobile or other devices.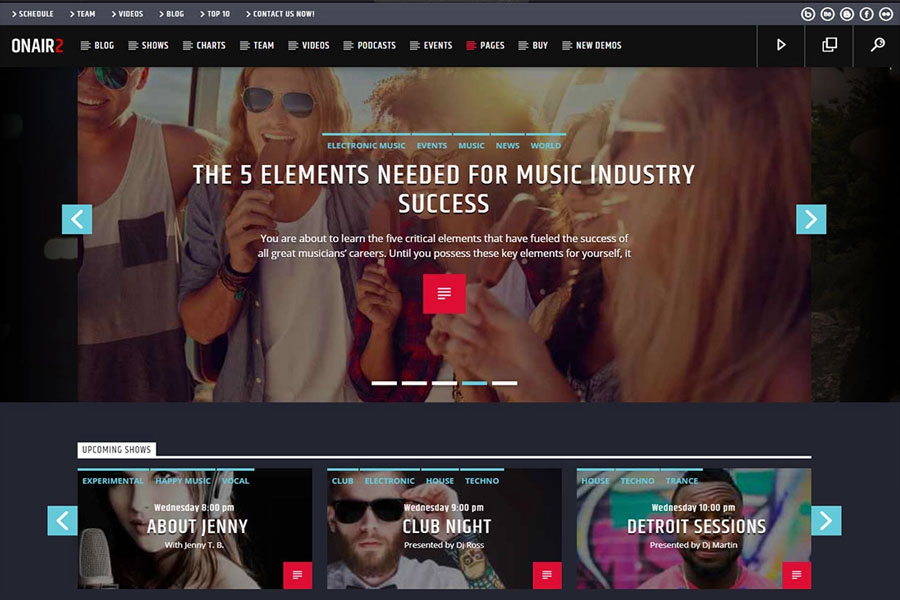 Ideal for radio station websites, Onair2 stands as an awesome and intuitive WordPress live streaming theme. Perfect for non-stop music, radio shows, schedules, podcasts, and more, Onair2 is fully compatible with major streaming platforms such as ShoutCAST, IceCast, Radio.io, Airtime, and Radionomy. The theme boasts 3 ready-to-use demos and supports essential plugins like WPBakery, Slider Revolution, QT Places, and WooCommerce. Manage online donations effortlessly with compatibility with the Give Donations plugin and organize events seamlessly with Events Calendar integration.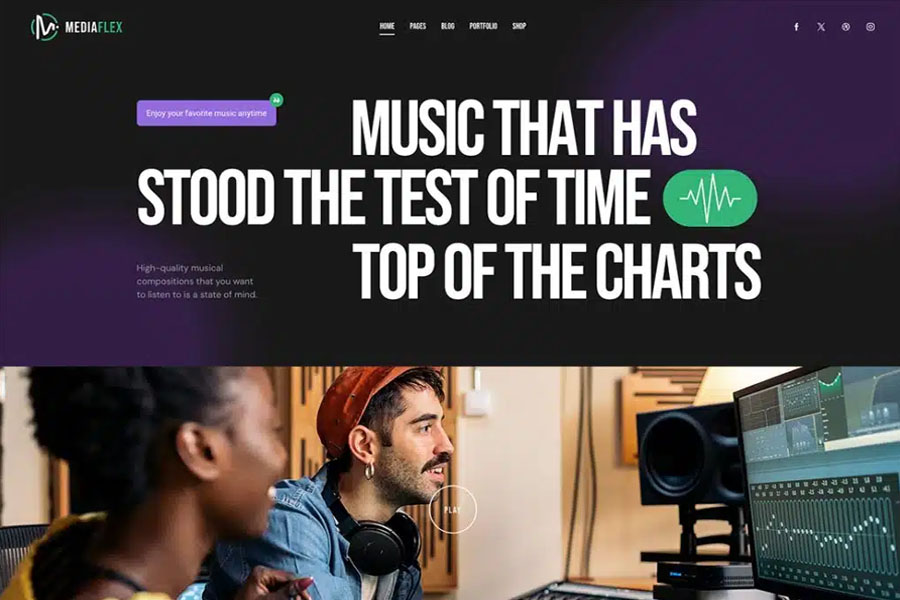 MediaFlex, a WordPress theme featuring a vibrant and modern design, offers 8 homepage layouts catering to podcasts, vlogs, news, DJ compilations, radio hits, and upcoming music events. Whether you're a TV producer, musician, or involved in the media industry, MediaFlex captivates audiences with its responsive and Retina-ready design. Compatible with popular plugins like elegro Crypto Payment, WooCommerce, and Contact Form 7, setting up and operating your website becomes a breeze. Display photo and video galleries of past or planned events with ease.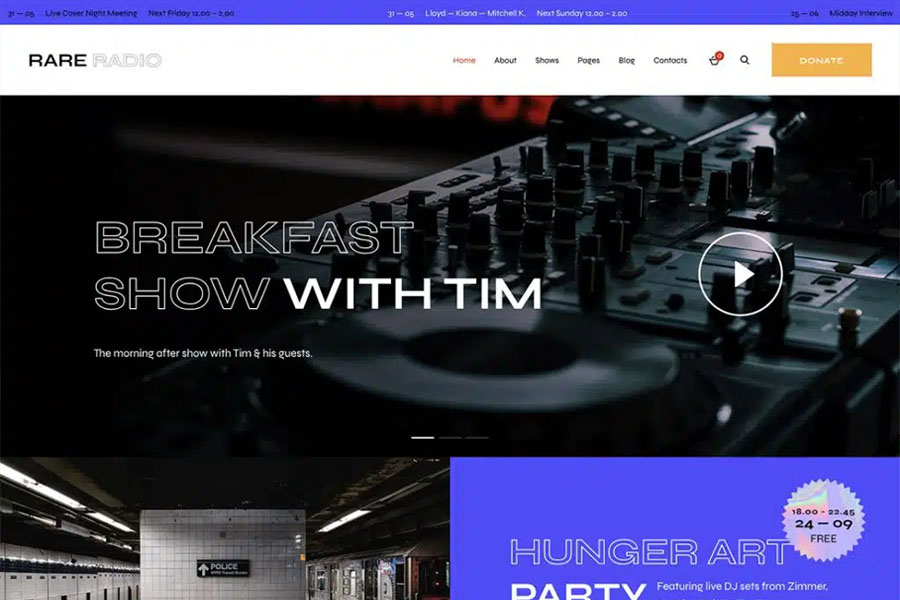 The Rare Radio, with its vibrant and dynamic design, suits music producers, musicians, and anyone in the music industry or blogging. With three homepage layouts, it provides essential information about DJ compilations, radio hits, discography services, and upcoming music events. Showcase photo and video galleries of past and planned events effortlessly. Compatible with premium plugins like Essential Grid, WPBakery Page Builder, Instagram Feed, and Rare Radio simplifies the process of setting up and managing your website.
Sponsored Content