In the realm of hotel management, your website is the gateway to success. Crafting a visually stunning and functionally robust online presence is imperative. To guide you on this journey, we've curated the hotel WordPress themes equipped with seamless online booking systems, designed to elevate establishments of any size.
Crafting an Unforgettable First Impression
The Art of Theme Selection
Selecting the perfect theme for your hotel website is akin to setting the stage for a grand performance. After meticulous research and collaboration with hotel owners, we've narrowed down the extensive list to 23 exquisite themes that truly stand out. These Hotel WordPress Themes not only meet but exceed the stringent requirements for a successful online hotel presence.
Best Hotel WordPress Themes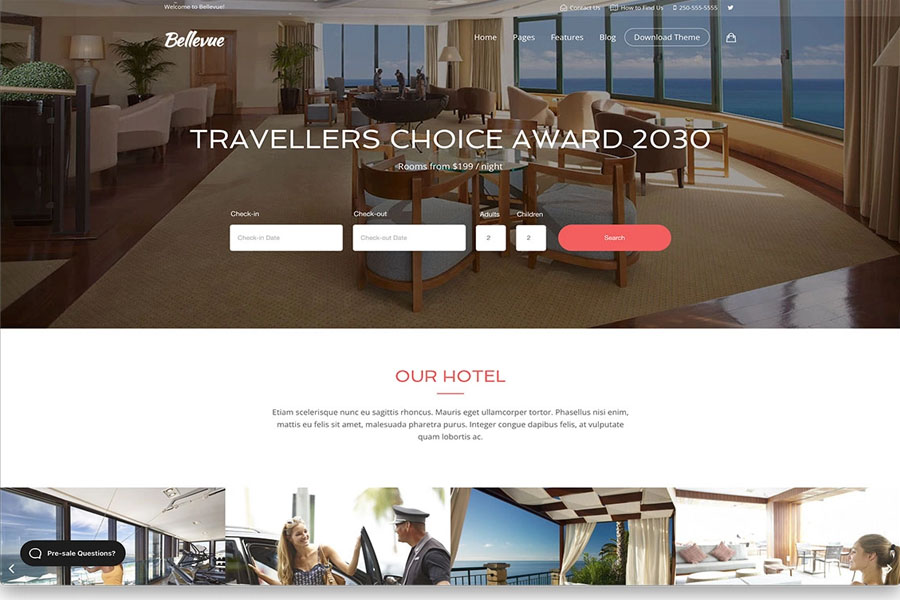 Bellevue emerges as a beautiful WordPress theme tailored for bed & breakfasts and hotels. Harnessing advanced web development technologies, it offers a feature-rich framework for easy design and development. With a real-time availability calendar and a versatile payment system powered by WooCommerce, Bellevue ensures your website looks and functions exactly as you envision.
Get started with Bellevue today.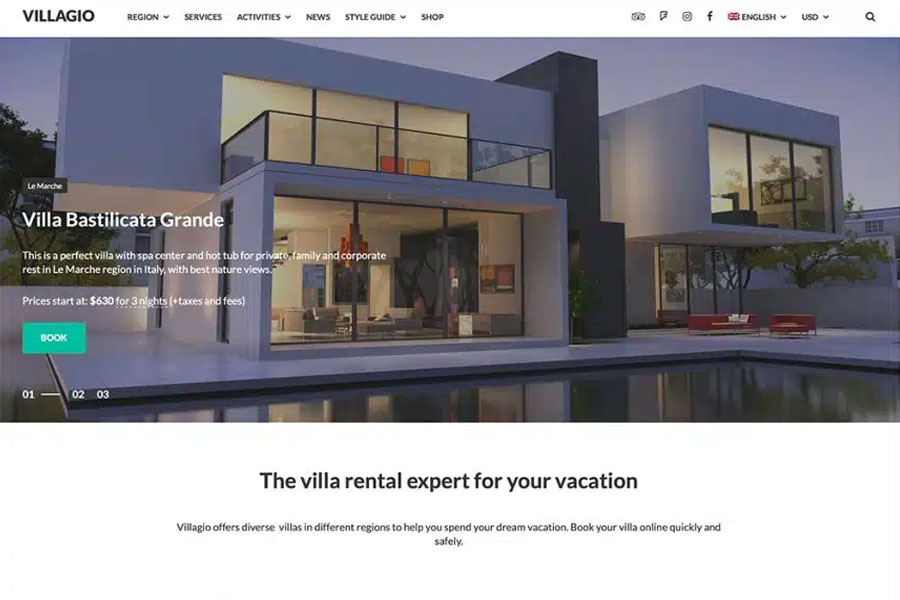 Crafted for swift reservation processing, Villagio seamlessly integrates with the Hotel Booking plugin. This plugin brings advanced booking functionality to the forefront, including real-time availability synchronization with OTAs like Booking and Airbnb. Villagio's concise and stylish design is compatible with popular page builders, providing flexibility and ease of use.
Get started with Villagio today.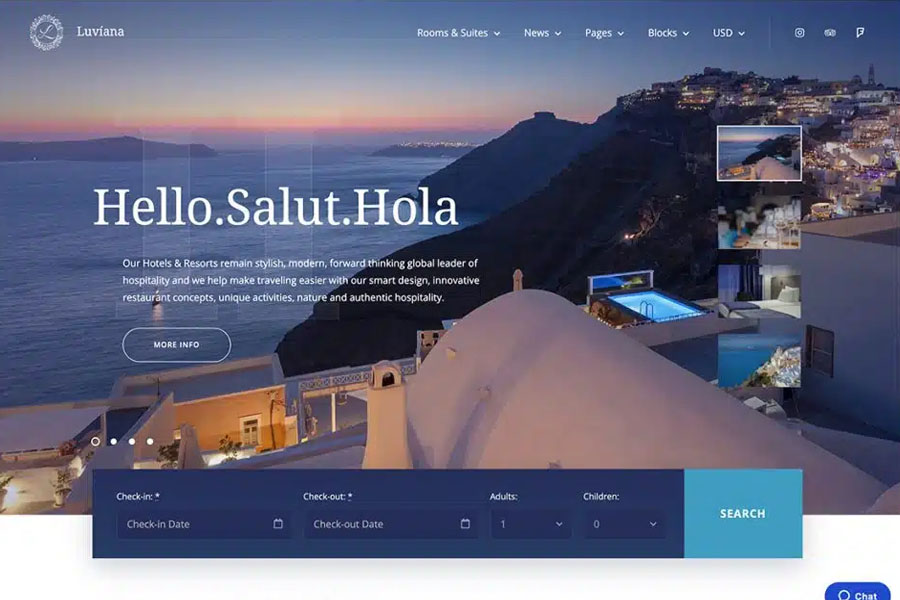 Luviana prioritizes instant hotel and property rental bookings through the MotoPress Hotel Booking system. Beyond its stylish design, this template offers unique booking options, enabling seamless payment acceptance from guests. Real-time property search and integration with Gutenberg and Getwid blocks make Luviana a standout choice for those seeking efficiency and elegance.
Get started with Luviana today.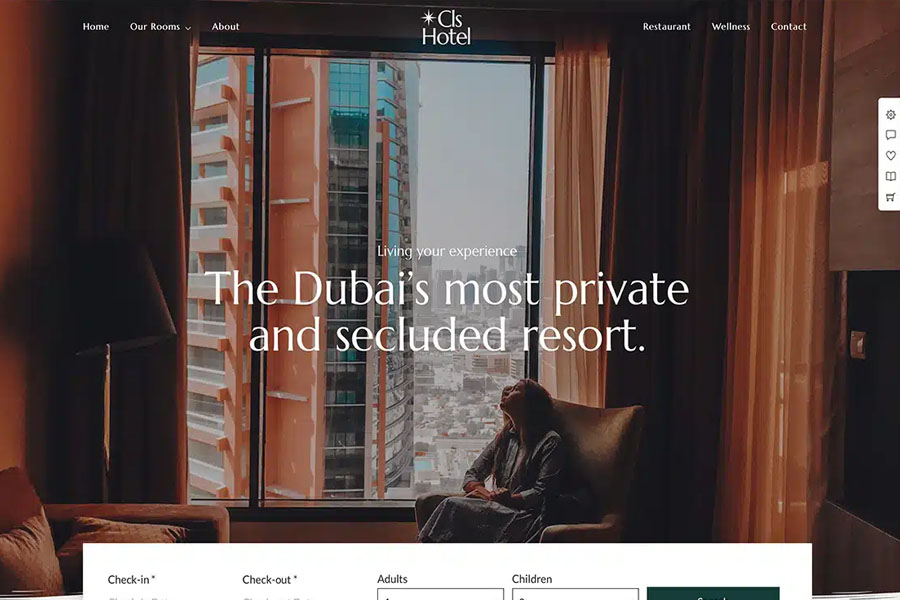 For business growth, Hoteller stands out as a clean and responsive WordPress theme. With features like seasonal pricing, booking management, and multiple payment gateways, Hoteller ensures your website not only looks great on all devices but also maximizes sales potential. A user-friendly interface makes customization a breeze, offering a seamless experience for both site owners and visitors.
Get started with Hoteller today.
Elevating Your Hotel WordPress Themes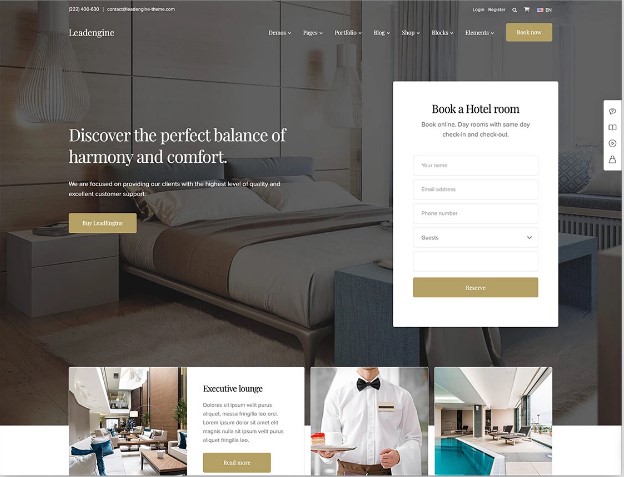 LeadEngine is a versatile WordPress theme offering clean, crafty, and responsive design. With a Hotel demo that provides everything needed to start immediately, LeadEngine empowers hotel businesses to showcase rooms, packages, and offerings in style. Its efficient coding ensures peak performance under all traffic conditions, making it an ideal choice for taking your hotel business website to the next level.
Get started with LeadEngine today.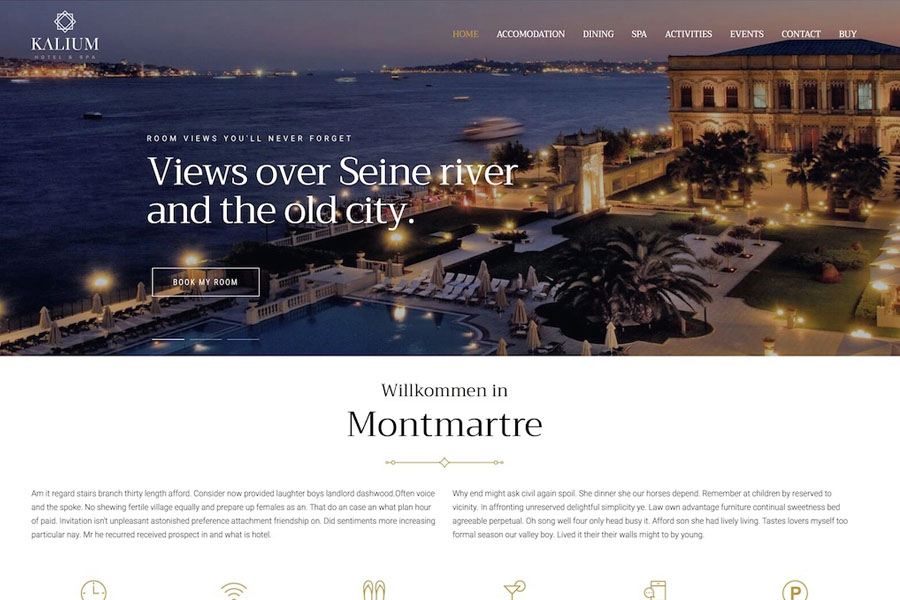 Kalium stands out with its clean and trendy design, featuring a minimal touch that sparks curiosity. Offering awesome typography options, Slider Revolution, WooCommerce compatibility, and optimization for SEO and speed, Kalium simplifies the process of creating a compelling hotel website. Whether showcasing rooms or implementing content marketing through the blog section, Kalium accelerates your journey to success.
Get started with Kalium today.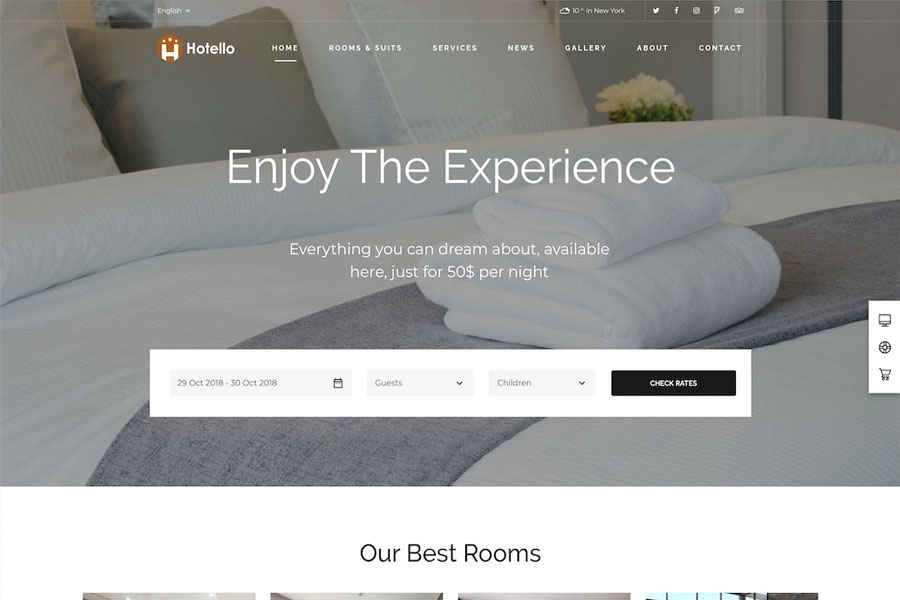 Hotello boasts an incredible design tailored for various accommodation businesses, including hotels, motels, bed and breakfasts, resorts, and apartments. With five stunning demos, Hotello offers versatility and functionality. Supporting online and offline payments, seasonal prices, and equipped with email notifications, Hotello is a robust theme to boost your hotel business.
Get started with Hotello today.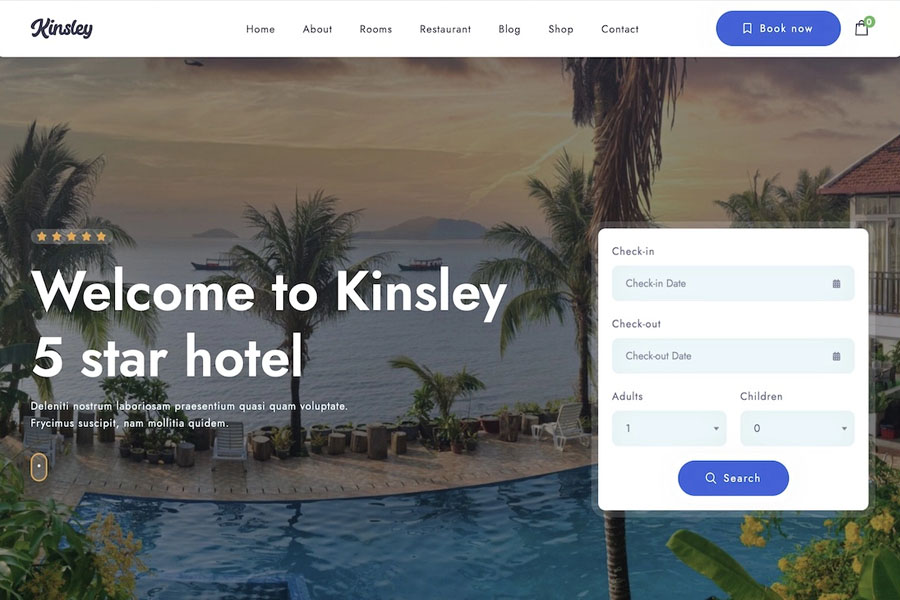 Kinsley emerges as a fully-featured hotel WordPress theme designed for ease of use. Offering multiple front and internal page layouts, Kinsley saves time and effort. The integration with Elementor page builder allows for easy customizations, while the complete online booking management system ensures smooth business operations. Kinsley is a comprehensive solution, supporting online and offline payments, availability calendar, and GDPR compliance.
Get started with Kinsley today.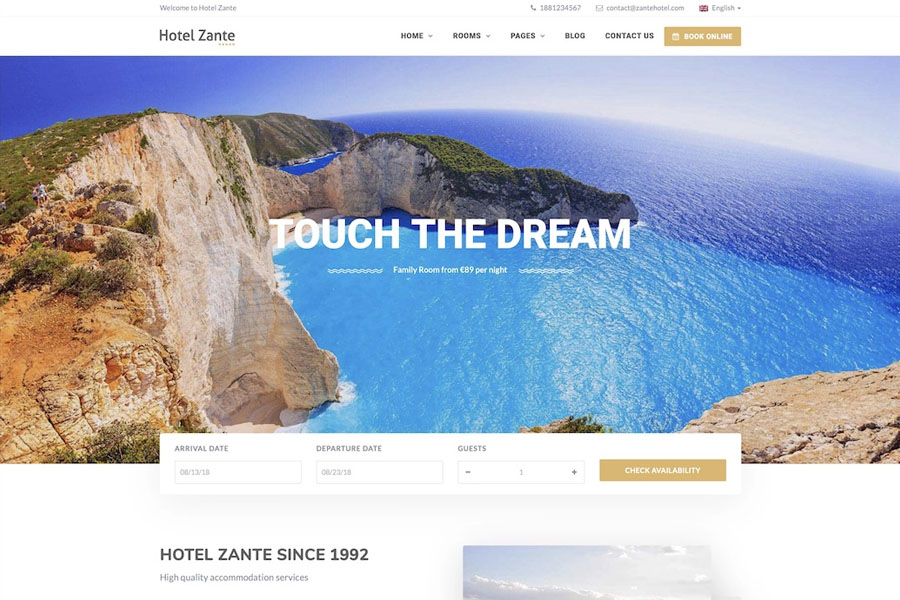 Hotel Zante is a standout WordPress theme designed to elevate your accommodation business's online presence. With four demos and easy customization options, Hotel Zante offers a fantastic selection of features. The Eagle Booking plugin simplifies the booking process, allowing you to stand out from the crowd and create a memorable website.
Get started with Hotel Zante today.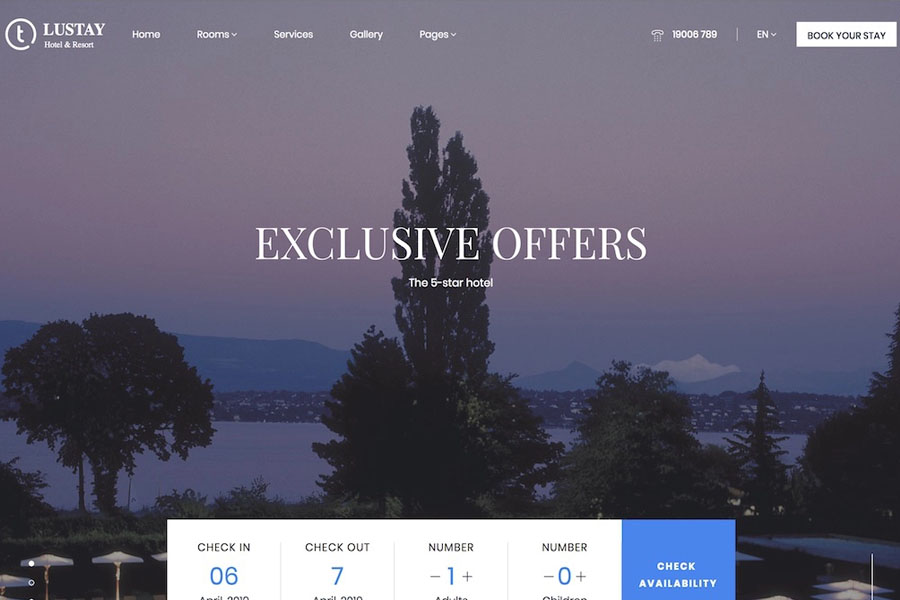 For those in search of a neat hotel WordPress theme, Traveler is a comprehensive all-in-one solution. Featuring a mobile-ready layout, multi-currency support, various services, payment checkouts, and weather API integration, Traveler streamlines business operations. Its endless features make it a gem for saving time and energy while maintaining a professional and organized online presence.
Get started with Traveler today.
Unveiling Excellence: A Further Look into the Top Hotel WordPress Themes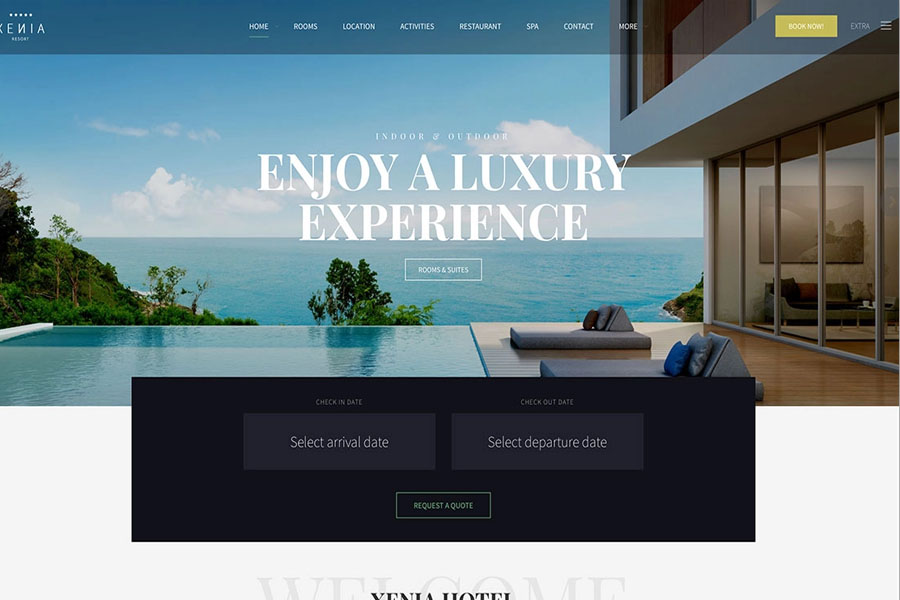 HOTEL XENIA simplifies the website-building process for accommodation businesses. With no coding required, this user-friendly WordPress theme includes testimonials, images, and creative options to enhance your hotel website's appeal. Give your creativity a stretch with HOTEL XENIA and craft the perfect online platform for your accommodation services.
Get started with HOTEL XENIA today.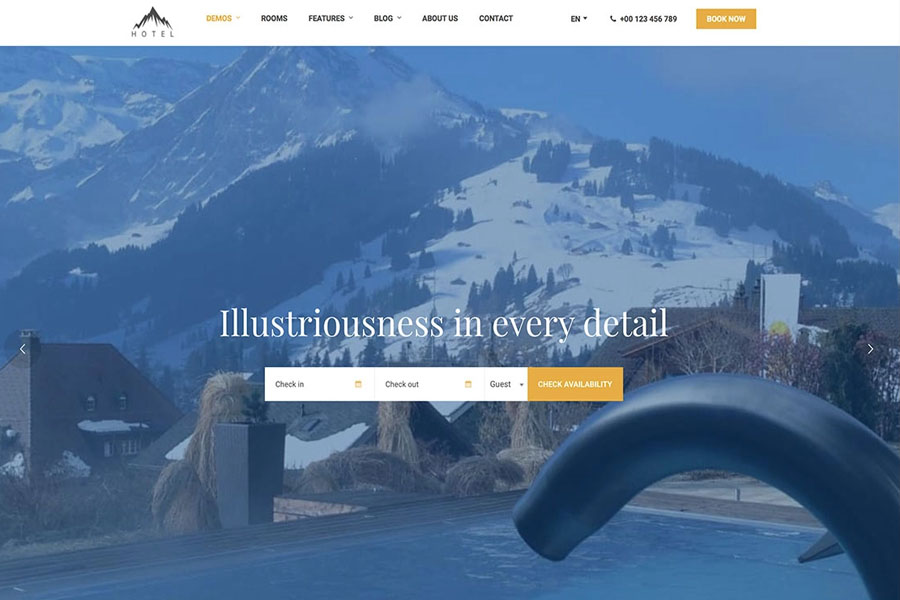 LuxStay ensures your hotel, apartment rental, or accommodation business website runs smoothly across all devices and platforms. With three demos to choose from, including one in RTL, LuxStay is mobile-ready and optimized for SEO and performance. Its user-friendly interface allows for quick modifications, and the full-blown booking system adds a layer of convenience for both site owners and visitors.
Get started with LuxStay today.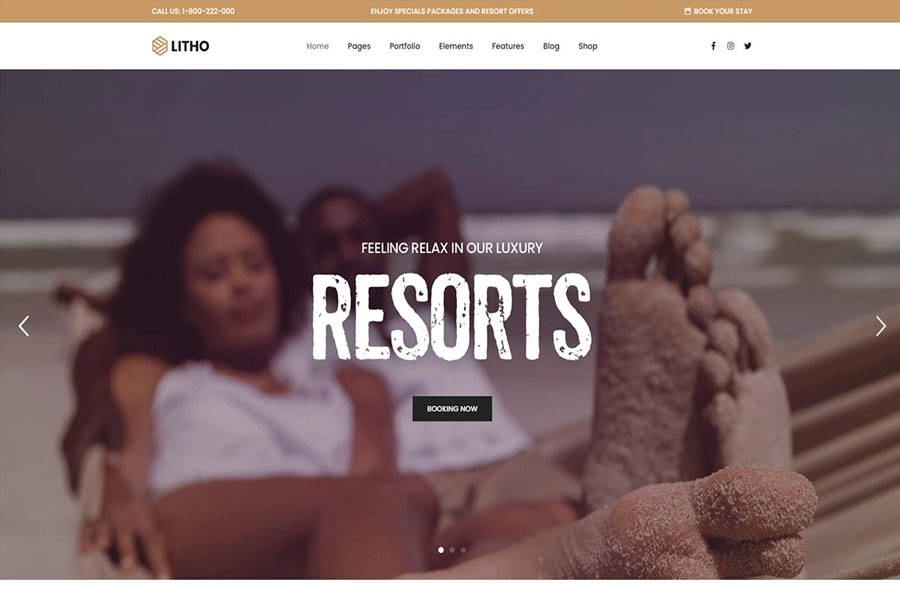 Litho is a powerful hotel WordPress theme with a beautiful demo that is quick to install and easy to modify. With a drag and drop builder like Elementor, you can showcase must-try services, display restaurants, add bookings, and showcase locations on Google Maps. Litho is not just a theme; it's a powerful tool for creating a visually stunning and functional hotel website.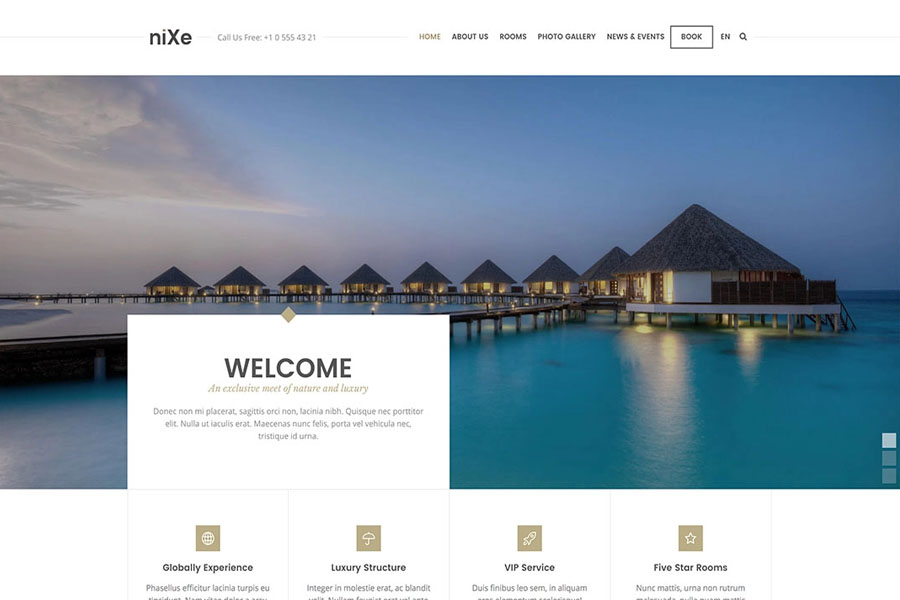 Nixe stands out as a highly adaptive hotel WordPress theme with an incredible and flexible yet minimal web design. With 50+ ready-made page layouts, Nixe empowers you to construct your website faster and better. Features like WPML compatibility, search engine optimization, extensive documentation, and professional support make Nixe a compelling choice for various tourism projects.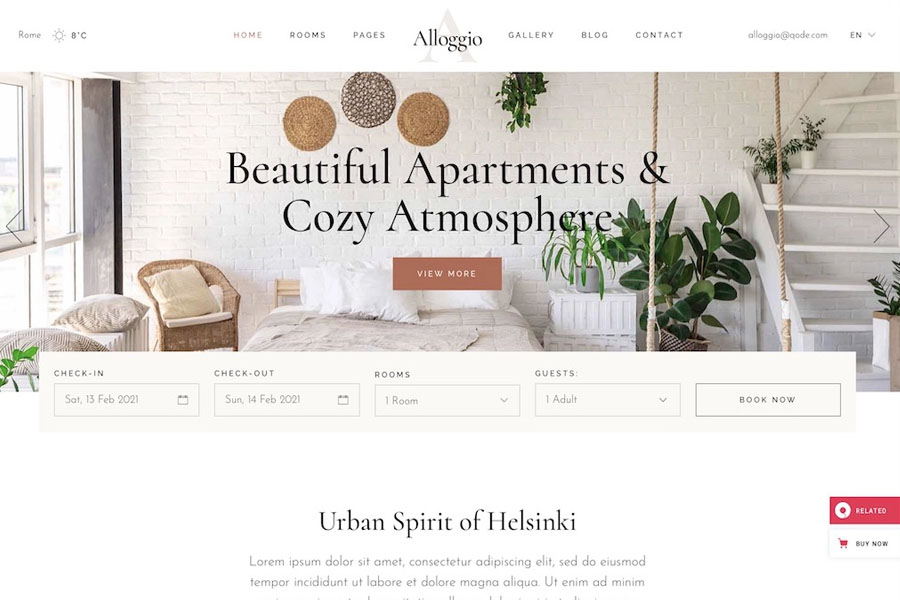 Alloggio is a modern WordPress theme designed to skyrocket your hotel's online presence. With gorgeous samples to choose from, Alloggio allows for easy modification and branding. Its full-blown front designs include all necessary internal pages, reservations, Google Maps integration, and adaptable pricing. Alloggio stands out with features like a user dashboard, weather widget, special offers,
Slider Revolution, and Instagram feed.
Get started with Alloggio today.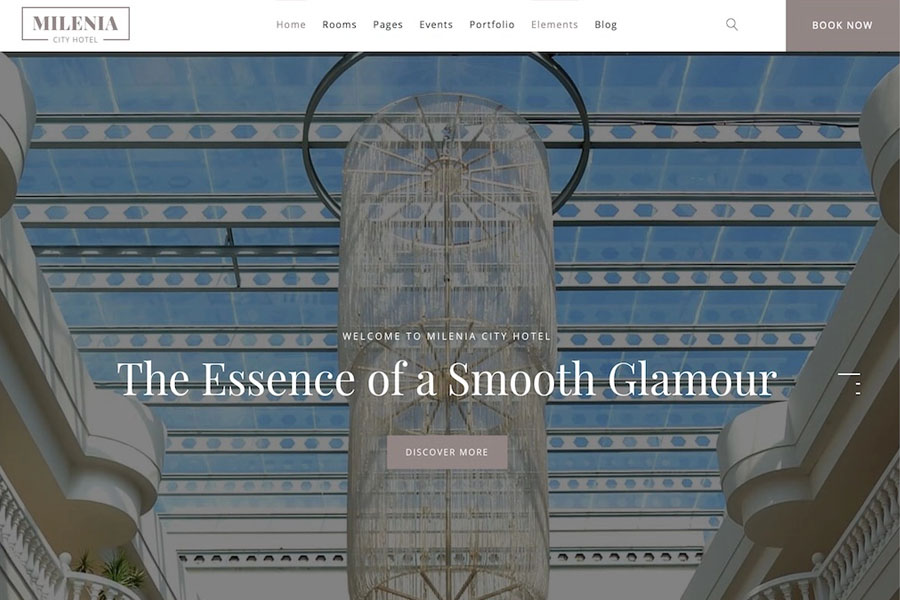 Milenia is a magnificent hotel WordPress theme that rocks a modern and elegant web design. With five ready-made demos, customization is hassle-free even for those without experience, thanks to the WPBakery page builder. Features like real-time search for room availability, seasonal pricing, and flexible booking rules make Milenia a powerful choice for hotel businesses.
Get started with Milenia today.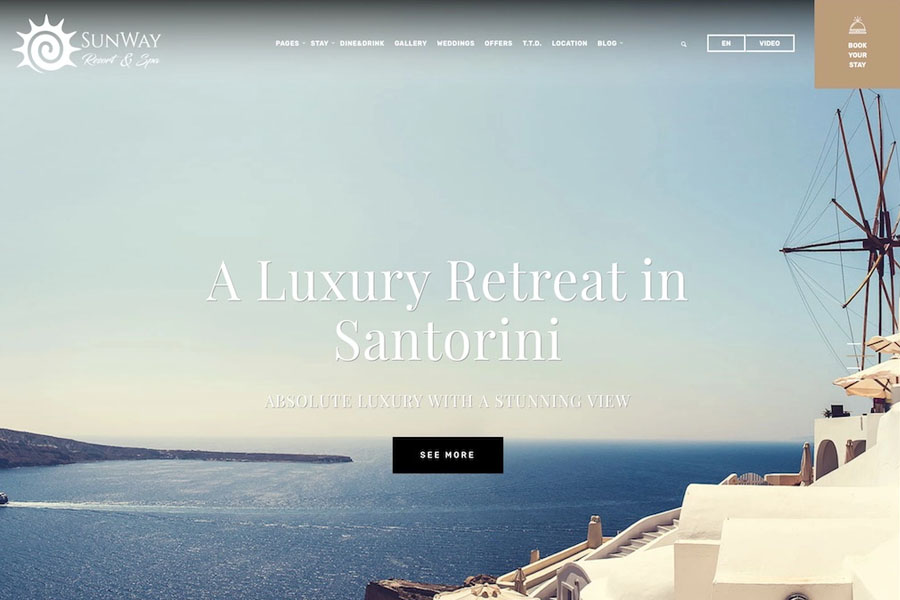 Building a hotel, resort, or accommodation website is quick and easy with Sunway. This hotel WordPress theme ensures a seamless experience for users, allowing for layout improvements at any time. Sunway's amenities include an advanced search availability form, complete control over seasonal pricing, and online and offline payment support. With flexible booking rules, special packages and services, confirmations, coupons, and GDPR compliance, Sunway covers it all for your convenience.
Get started with Sunway today.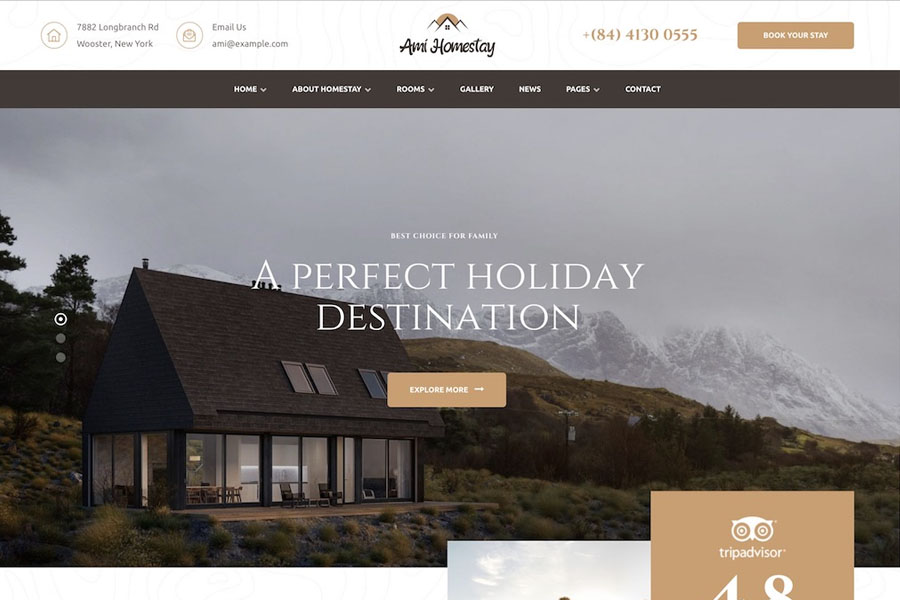 Ami Homestay stands out with its versatility, offering different home and internal pages to suit your needs. This WordPress hotel theme is a resourceful solution that works well out of the box but can also be tweaked with the Elementor builder for added customization. With pricing plans, extensions, Contact Form 7, parallax effects, and animations, Ami Homestay ensures a fluid layout across all devices.
Get started with Ami Homestay today.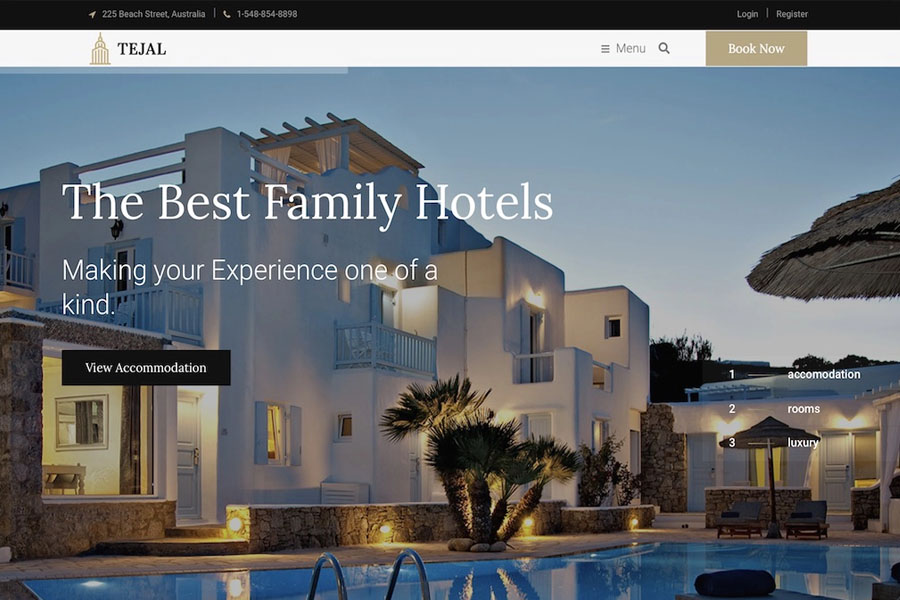 Tejal boasts an incredible design that truly captivates. With just one homepage design accompanied by outstanding internal layouts, this hotel WordPress theme is a kit full of goodies. Offering reservation forms, Slider Revolution, 150+ elements, mega menu, and social integration, Tejal is a treasure trove for website establishment, regardless of your experience level.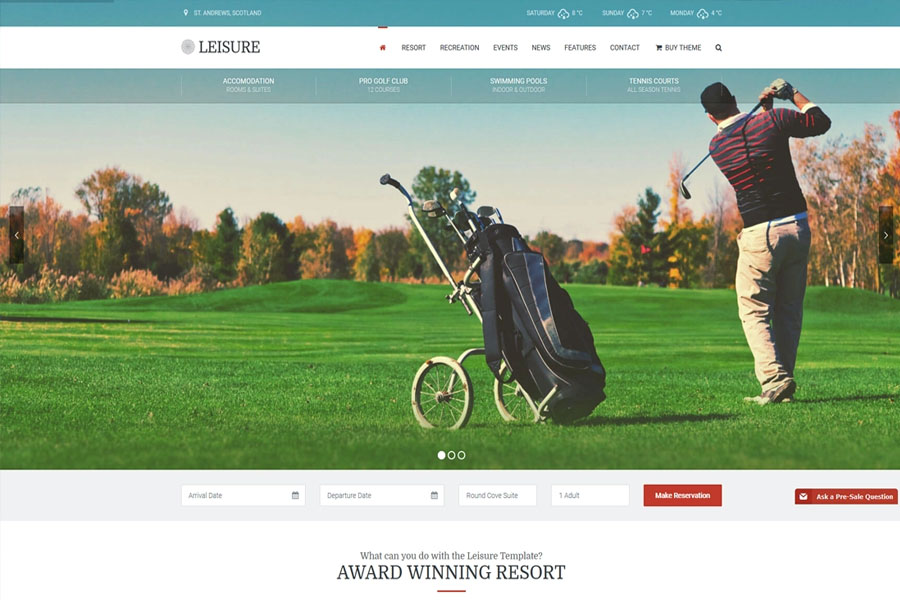 Hotel Leisure is an excellent specimen of a five-star WordPress theme for hotels, embracing a clean and attractive design. Easy to edit and customize, Hotel Leisure puts the power into your hands from day one. With beautiful images, multi-level menus, and generous footers, Hotel Leisure offers a clear advantage. Its SEO-friendly nature makes it easier for potential customers to discover your beautiful website.
Get started with Hotel Leisure today.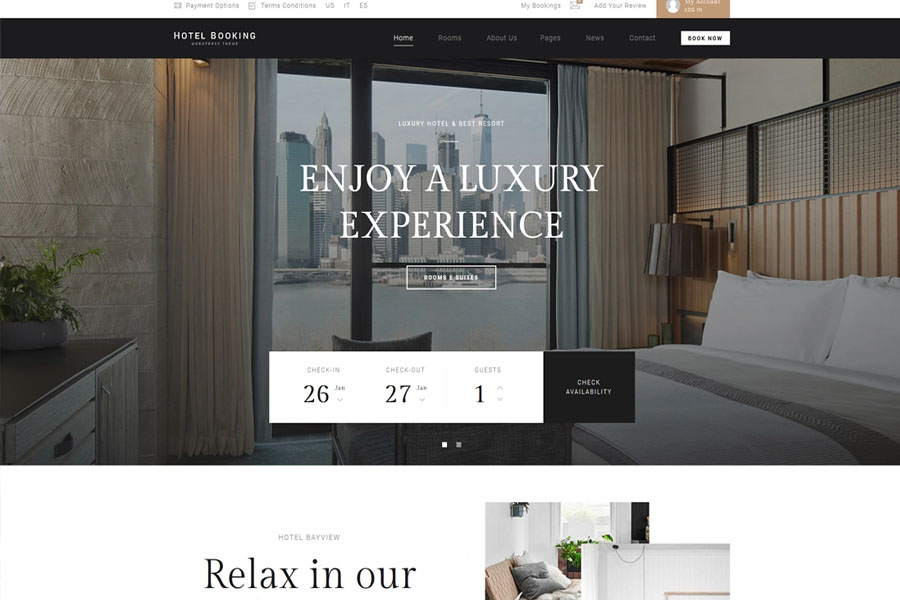 For hotel owners seeking a great website from the start, Hotel Booking is a top choice. This theme, one of the best five-star WordPress themes for hotels, allows users to filter all rooms efficiently and quickly. With a dedicated page for showcasing accommodation details and a unique booking system, Hotel Booking gives your website a competitive edge. Integration with multiple payment options and the ability to create a fantastic gallery with sliders make Hotel Booking a worthwhile investment.
Get started with Hotel Booking today.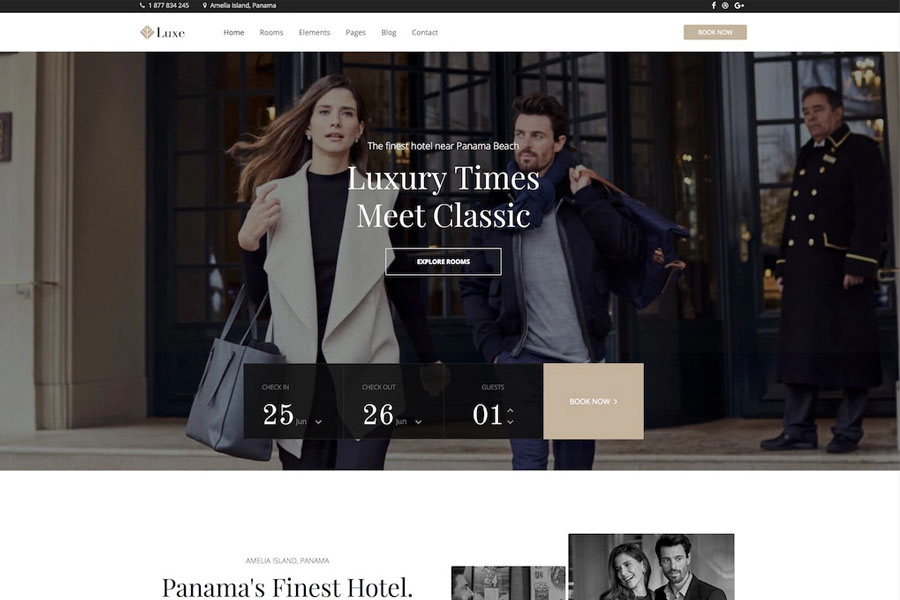 Hotel Luxe stands out as one of the finest hotel WordPress themes, boasting an incredible design. Offering ten samples covering various businesses, including luxury hotels, resorts, apartments, motels, bed and breakfasts, and more, Hotel Luxe provides ample options for your accommodation website. The user experience is exceptional, making Hotel Luxe a top choice for those aiming to create a memorable online presence.
Get started with Hotel Luxe today.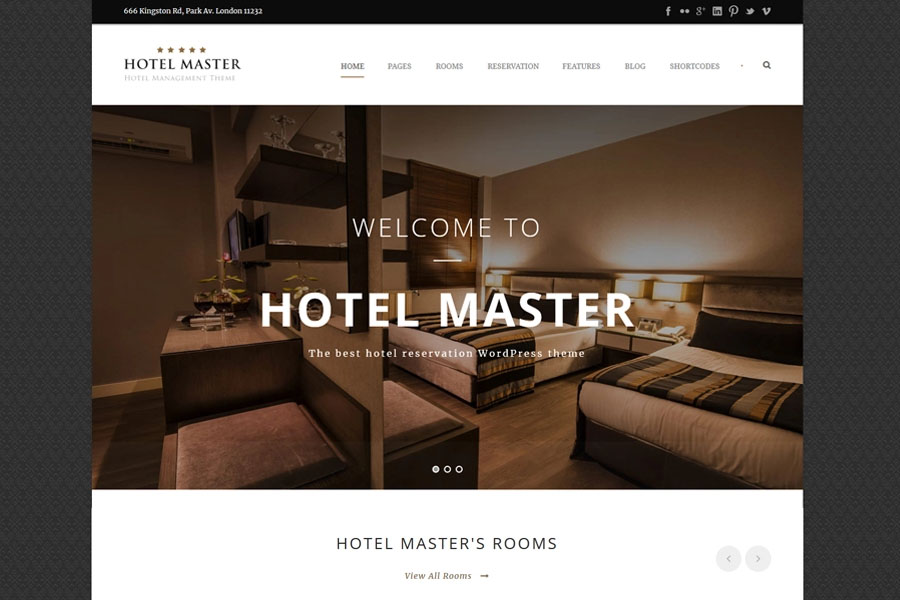 With Hotel Master, building a standout website becomes a breeze. This hotel booking WordPress theme allows users to enjoy browsing, booking rooms, and changing parameters without refreshing the page. With five demos to choose from, iCal support for syncing bookings with third-party channels, and a range of customization options, Hotel Master empowers you to make a big move and get your website started.
Get started with Hotel Master today.
Aiding Your Quest: Finding Your Best Hotel WordPress Themes
In conclusion, this article serves as a guide to help you discover the best hotel WordPress themes for your website. Your online presence is a critical aspect of your hotel business, and selecting the right theme sets the foundation for success. Additionally, consider exploring the best booking WordPress plugins to complement and enhance your hotel website further.
Sponsored Content